Give your bread a little crunch with this delicious sunflower seed bread recipe that includes a little whole grain too!
Sunflower bread is the kind of recipe you'll turn too routinely for ease and versatility, not to mention delicious flavor, in your homemade bread making routine.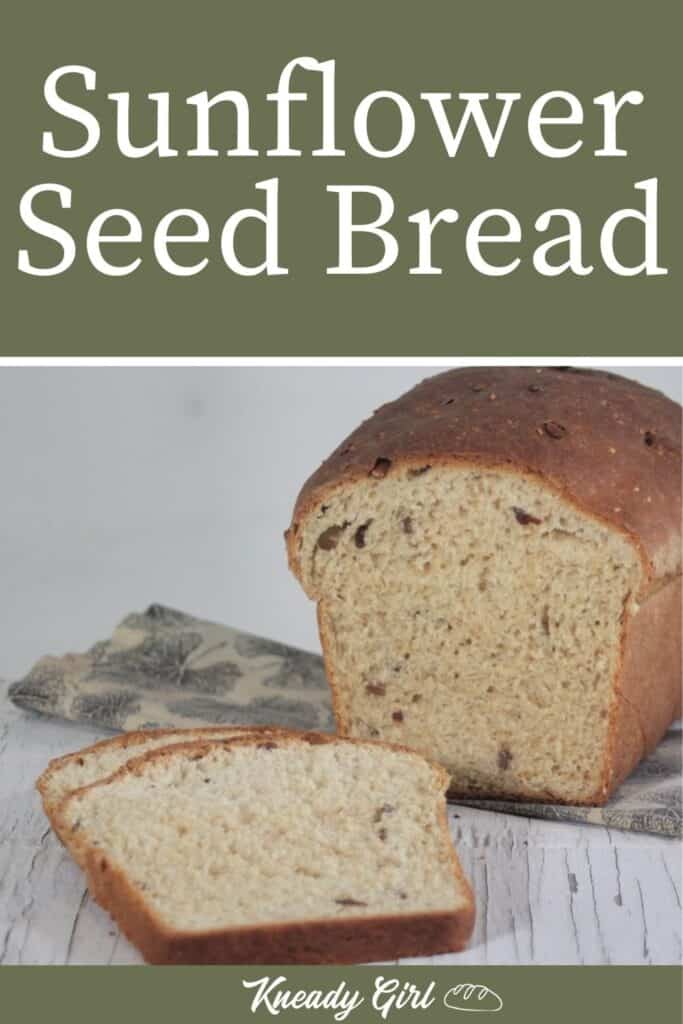 Sunflower Seed Tips
For this bread you're going to want sunflower kernels. I can buy these in the bulk section of my grocery store but they should be available most anywhere.
Don't buy the seeds and try to shell them yourself it'll take forever and it will ruin any desire you have to make your own bread.
For best results use unsalted sunflower seed kernels otherwise it will likely be too salty of a bread.
Don't Skip the Toasting
It's an extra step to toast the sunflower seed kernels, but it is absolutely worth it. I tried it both raw and toasted, the toasted adds a whole other level of flavor.
It won't seem like much but truly the best end result comes from taking the time to do the seed toasting.
Substitutions
I like most of my breads to have some whole grains in them. Hence a small mix of pumpernickel flour in this recipe.
Pumpernickel flour not your thing? Substitute any whole grain flour in equal amounts. Whole wheat or rye flour would work amazingly well.
Skip it entirely and use 100% bread flour, if desired. All purpose flour instead of bread flour would also work but result in a slightly different texture.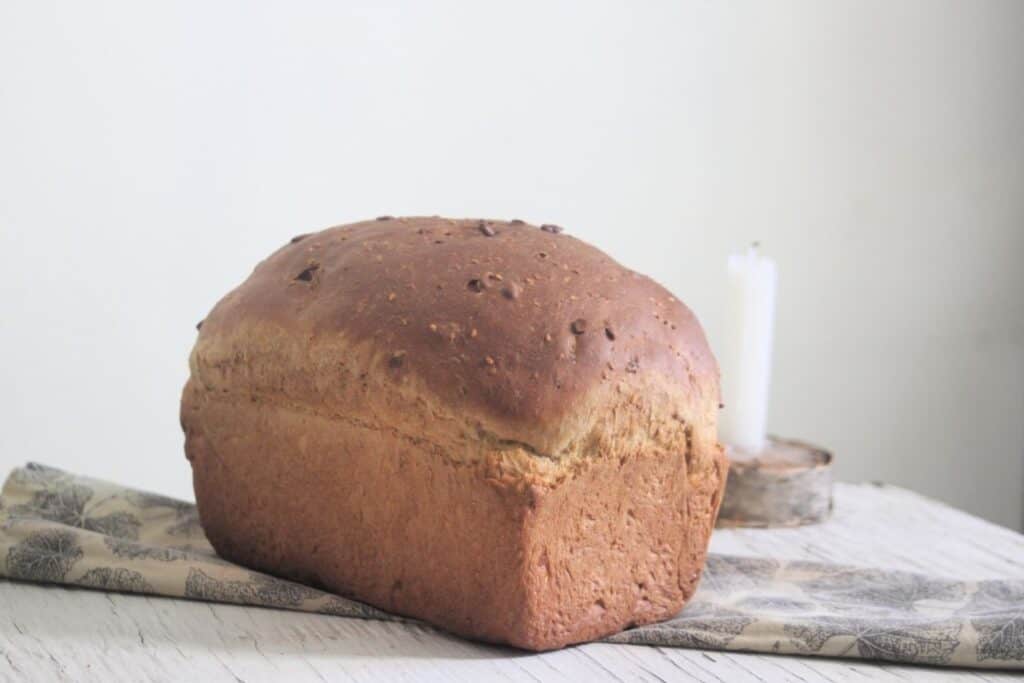 Other Seed Options
Feel free to use sesame seeds or even pumpkin seeds instead of the raw sunflower seeds. Try a mix of seeds based on personal preference for a delicious twist.
No matter which seeds you choose, do toast them the same way.
How to Serve
This homemade sunflower seed bread recipes produces hearty and yet soft loaves perfect for breakfast toast and sandwiches alike.
It's an amazing sandwich bread, soft enough for fillings like tuna fish and yet will stand up to thicker fillings like salami and cheese.
The nutty flavor perfect bread to slather it in peanut butter or sunflower seed butter for lunch boxes or breakfast.
A slice of this bread dipped into a soft boiled egg is quite divine.
Use this tasty bread as a perfect compliment to simple soup and salad meals.
How To Freeze
This bread freezes well.
Simply wrap baked and cooled loaves in plastic wrap
You could also slice the whole thing and freeze the slices in an airtight container. Simply pull out slices as you need them.
Use up frozen bread within 6 months for best flavor.
Other Seedy Bread Recipes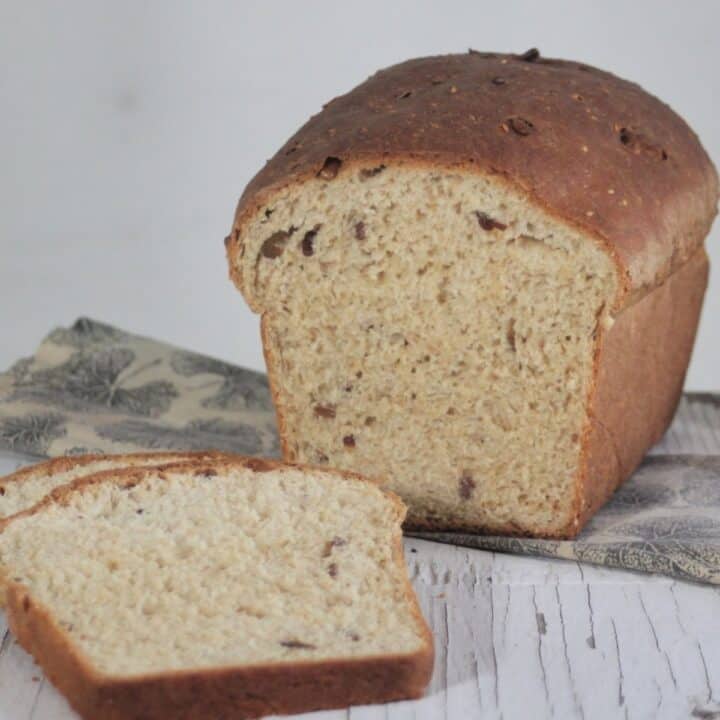 Sunflower Seed Bread Recipe
Rising Time:
1 hour
45 minutes
Total Time:
2 hours
55 minutes
Hearty and full of crunchy seeds and yet soft, sunflower seed bread is great for toast and sandwiches.
Ingredients
1 Cup Sunflower Seed Kernels
2 Eggs
2 Cups Milk
1/2 Cup Butter
2 Tablespoons Active DryYeast
1/2 Cup Warm Water
1 Tablespoon Salt
1/2 Cup Brown Sugar
1 Cup Pumpernickel Flour
4 1/2 Cups Bread Flour
Instructions
Toast Sunflower Seeds
Preheat oven to 350 degrees.
Spread sunflower seeds out evenly on a baking sheet.
Place sheet in the oven and bake for 8 to 10 minutes. Give the pan a little shake every 2-3 minutes to prevent scorching.
Remove from the oven and let the baking sheet and seeds cool to room temperature on a cooling rack.
Make the Bread
In a small saucepan, heat the milk and butter, just until the butter has melted. Let the mixture cool to 115 degrees Fahrenheit.
In a large mixing bowl, place the warm water, yeast, and brown sugar. Let sit until foamy, about 5 minutes.
Add the eggs, milk mixture, salt, sunflower seeds, pumpernickel flour, and 2 cups of bread flour. Stir together.
Add the remaining a little at a time and continue mixing until a dough begins to form.
Turn out to a floured surface and knead until the dough is soft and elastic.
Place dough into an oiled bowl and cover with a tea towel. Let rise in a warm place until doubled in bulk about 1 hour.
Punch down the dough ball and divide in half. Shape into loaves and place in greased loaf pans.
Cover with a towel and rise for 30 to 45 minutes or until doubled.
Meanwhile preheat the oven to 350 degrees Fahrenheit.
Bake loaves 45-50 minutes or until golden brown and sound hollow when tapped with a knuckle.
Remove from the loaf pan to cool on a wire rack immediately. Let bread cool completely before slicing.
Nutrition Information:
Yield:

32
Serving Size:

1 slice
Amount Per Serving:
Calories:

174
Total Fat:

6g
Saturated Fat:

2g
Trans Fat:

0g
Unsaturated Fat:

3g
Cholesterol:

20mg
Sodium:

518mg
Carbohydrates:

25g
Fiber:

2g
Sugar:

3g
Protein:

5g
I try but cannot guarantee this nutritional information is 100% accurate.