Give yourself a filling and delicious breakfast with these easy to make honey pear muffins. Full of oats, whole grain, and juicy pears these are a great way to kick off autumn mornings.
These easy pear muffins are sweet but not so sugary that you will feel like you just ate dessert for breakfast.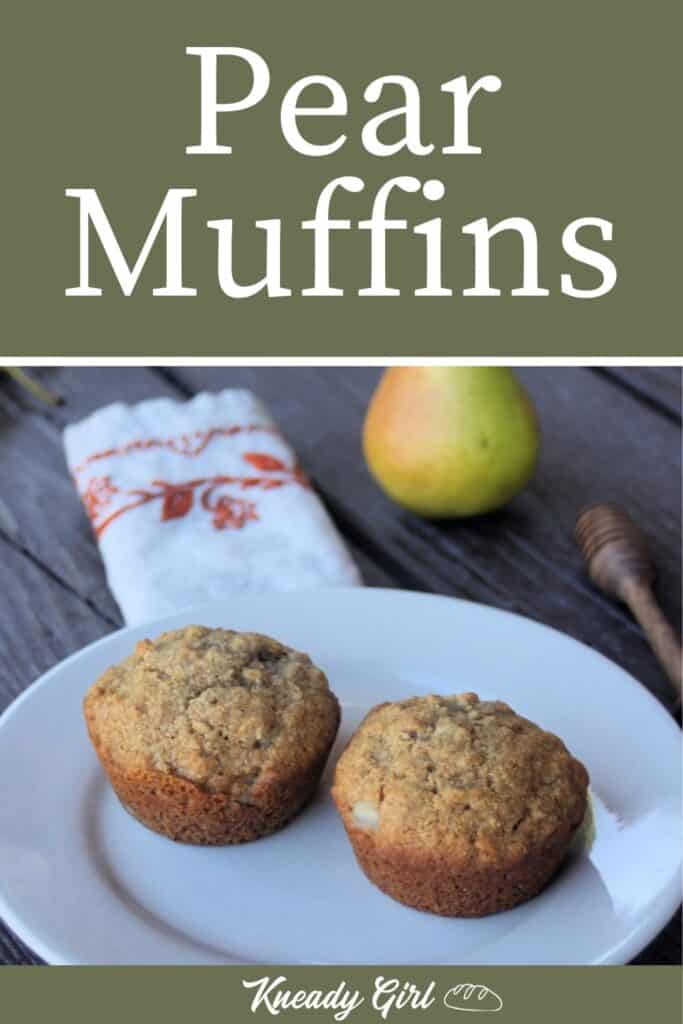 Any Pear Will Do
Don't stress too much about which kind of pears to use here. It's more important to use the best pears you can find than worrying about if bartlett pears bake up better than anjou pears. If at all possible, skip the grocery store and find something local for the freshest possible fruits.
The texture of the muffins will vary slightly based on the firmness of the pears. Firmer pears mean firmer muffins, overripe pears will result in slightly more moist muffins.
All of them will be delicious, use whatever you've got.
The recipe was tested with fresh fruit, but canned pears would likely work, just be sure to drain them well before proceeding with the recipe.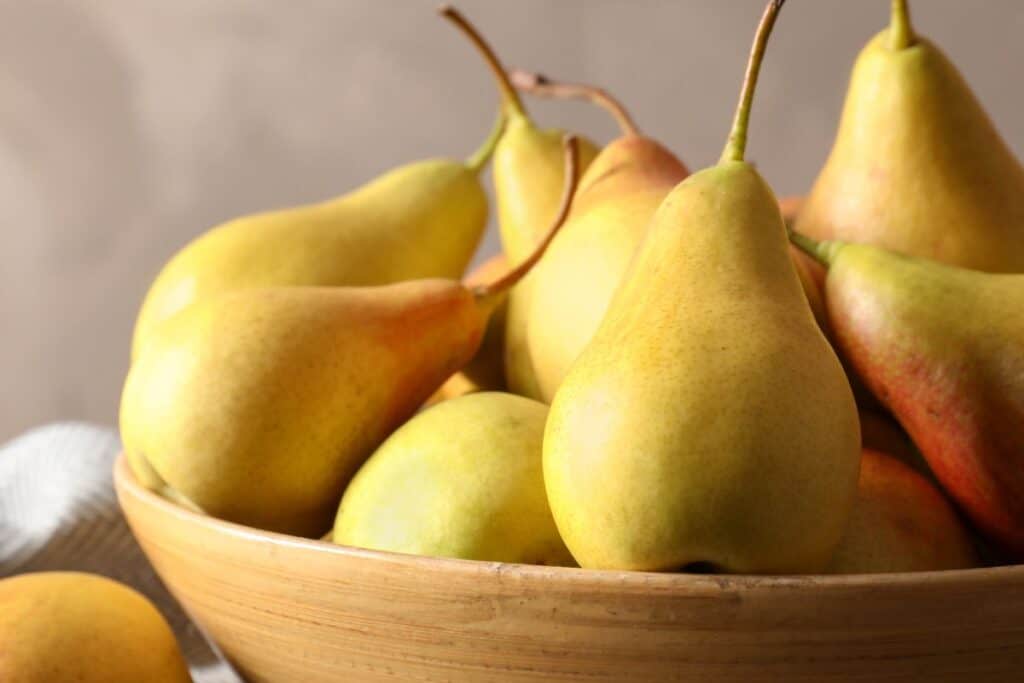 Flour Choices
The recipe as written uses whole wheat flour for a decidedly whole grain flavor and texture. If that level of whole wheat feels a bit too much for your family tastes, you could easily substitute some or all of it with unbleached, all-purpose flour for a lighter texture and flavor.
Spice Choices
Fresh pears and ginger are an amazing combination but there are plenty of other choices if you don't like ginger.
Any of the warm spices like cinnamon, cardamom, nutmeg, etc. will be delightful. Apple pie spice would work, too. Use your favorites or skip entirely, if desired.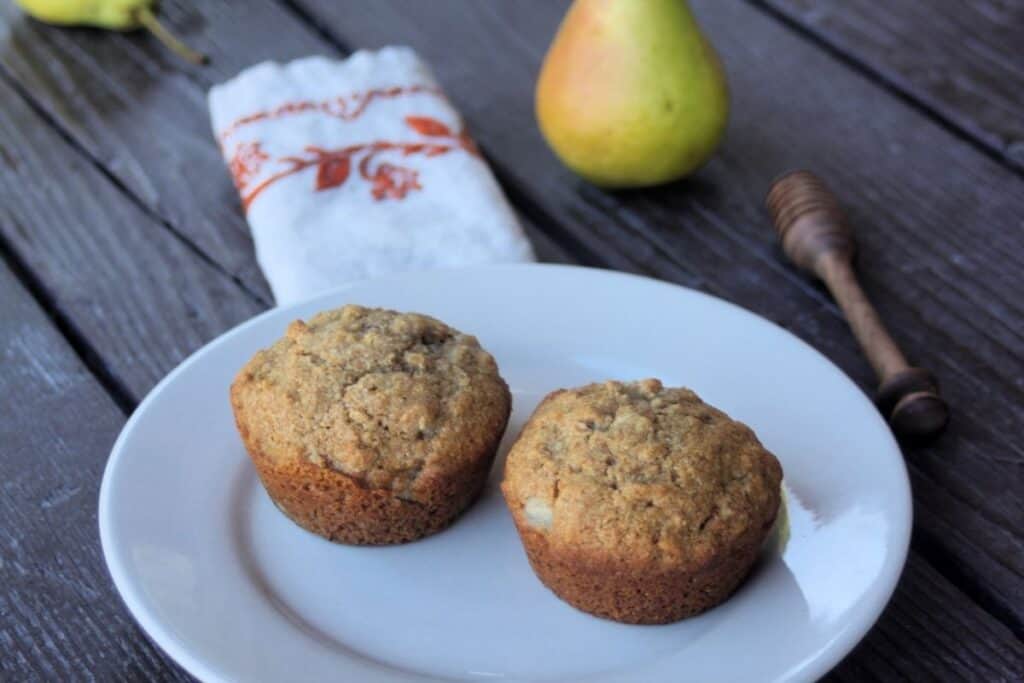 Optional Additions
The muffins are quite good just as the recipe is written but if you'd like to bulk the up or change the texture slightly, consider adding up to 1 cup of the following:
Chopped, toasted nuts – almonds would be particularly good
Chocolate chips
Pumpkin or sunflower seeds
You could add a streusel topping on top of the muffin batter before baking for some crunch and flavor.
Do Not Overbake
Watch the muffins closely towards the end of the baking time. These muffins will be incredibly dry if over-baked.
If you do overbake, simply slather in some butter or pear butter to moisten it all up.
How to Serve
Like all delicious muffins, there's no need to get too fancy here. Serve with a cup of tea or coffee for a super easy breakfast on a busy day. Eat them at breakfast alongside eggs or fresh fruit.
They make for a great afternoon snack with some cold milk.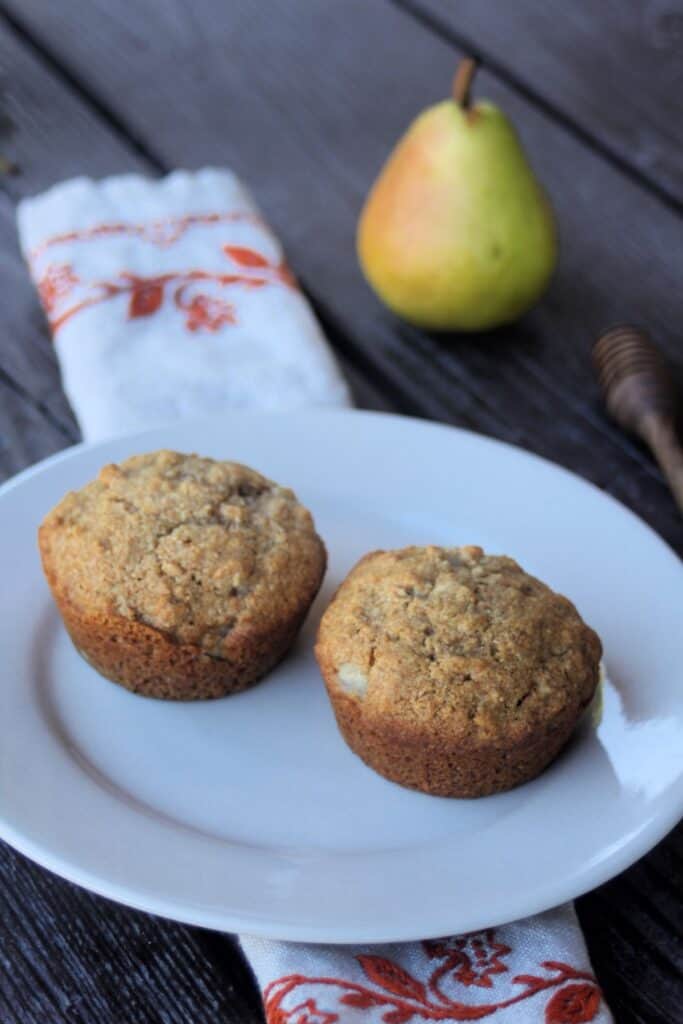 How to Store
Keep any leftover muffins in an airtight container where they should stay fresh for up to 4 days at room temperature.
For longer term storage, place baked and cooled muffins into freezer bags and freeze. Alternatively, wrap individual muffins in plastic wrap and freeze. Then simply grab one and tuck into lunch boxes for a snack on busy days.
They do freeze well so feel free to bake up a double batch of this wonderful recipe for easy grab-and-go snacking.
Use up frozen muffins within 6 months for best flavor.
Looking for more muffin recipes with fall spices?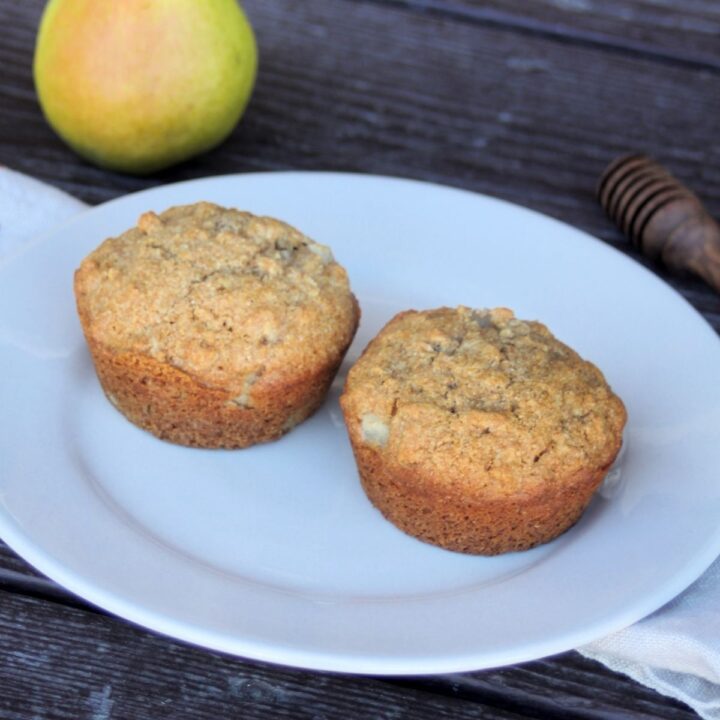 Pear Muffins
Whole grain and naturally sweetened these juicy pear muffins are an ideal way to start the day.
Ingredients
1/2 Cup Salted Butter, softened
1/2 Cup Honey
2 Eggs
1/2 Cup Milk
1 Tablespoon Vanilla Extract
2 Cups Whole Wheat Flour
1 Cup Oats
1 teaspoon Baking Powder
1 teaspoon Baking Soda
1 teaspoon Dried Ground Ginger
1 Cup Chopped, Peeled, & Cored Pear
Instructions
Preheat the oven to 375 degrees Fahrenheit.
Grease a muffin tin.
In a medium bowl, whisk together the flour, baking powder, baking soda, and ground ginger. Set aside.
In a large mixing bowl (or a bowl of a stand mixer), cream together the butter and honey until light and fluffy.
Add the eggs and vanilla extract, beating well.
Alternate adding the milk and mixed dry ingredients to the wet ingredients until everything is thoroughly combined.
Fold in the fresh pear chunks, mixing well.
Divide batter among 18 muffin cups, filling each about 2/3 full.
Bake in preheated oven for 15 minutes or until an inserted tester comes out clean.
Cool in pan for 5 minutes before removing to cool completely on a wire rack.
Nutrition Information:
Yield:

18
Serving Size:

1
Amount Per Serving:
Calories:

155
Total Fat:

6g
Saturated Fat:

4g
Trans Fat:

0g
Unsaturated Fat:

2g
Cholesterol:

35mg
Sodium:

150mg
Carbohydrates:

22g
Fiber:

2g
Sugar:

9g
Protein:

3g
I try but cannot guarantee this nutritional information is 100% accurate.