Combine seasonal pears with ginger and honey for a delicious pear butter recipe perfect for slathering on homemade toast and giving for gifts.
Canning pear butter is easy and means that you can have some tasty fruit spread in the pantry ready at a moment's notice.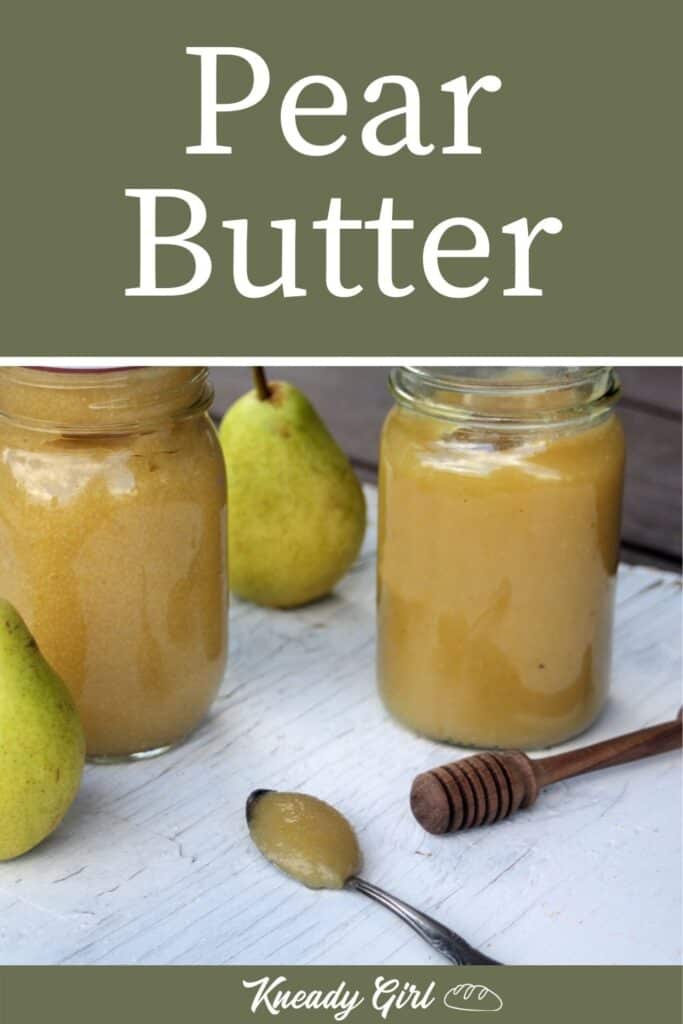 Time but Hands Off
There are multiple steps and cooking processes to make this pear butter. It isn't quick but it is fairly hands off.
The cooking processes require that you are nearby but the don't require constant attention making it a great project for a day when you're doing other things around home anyway.
Use the Slow Cooker
Fruit butters need to be cooked until they are thick. Ideally, the pear butter should mound up on a spoon when it's done.
Depending on the fruit's water content this cooking down process can take a while. If it's done on the stovetop attention needs to be paid and it will need to be stirred almost constantly.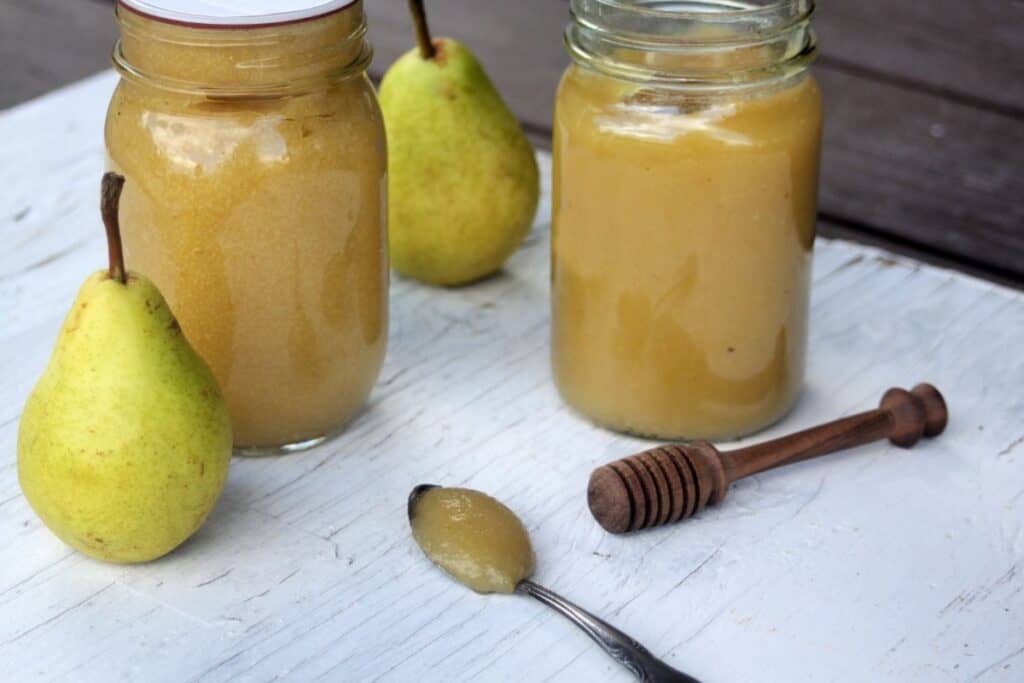 Rather than do that, puree the pears and then put it in the slow cooker to get thick. Cook on high but leave the lid off so all the steam can escape. Give it a couple of hours and begin testing for thickness.
Once the desired thickness is reached, proceed with canning.
Canning Time
Often fruit butters are canned for short amounts of time. For this recipe, we are canning for the time one would use for pears because of the low sugar content.
Smaller Batch
Don't want to make a big batch or bother with canning? Make a smaller batch and keep the jar in the refrigerator.
Pint jars should last about a month maybe longer opened in the fridge.
Freezing would likely work but I have not tested it.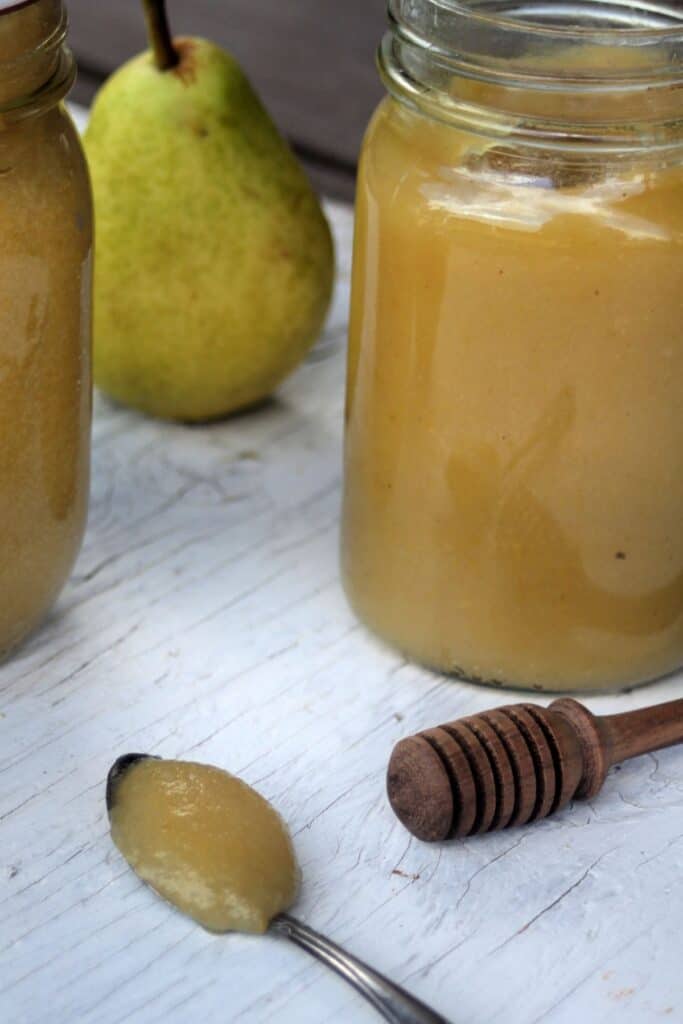 Serving Ideas
Ginger pear butter is an ideal spread on those peanut butter and jelly sandwiches. It's quite tasty spread on french toast, too.
Use it on top of pound cake and even ice cream for a sweet extra touch.
And do save a jar or two to tuck into a gift basket or care package.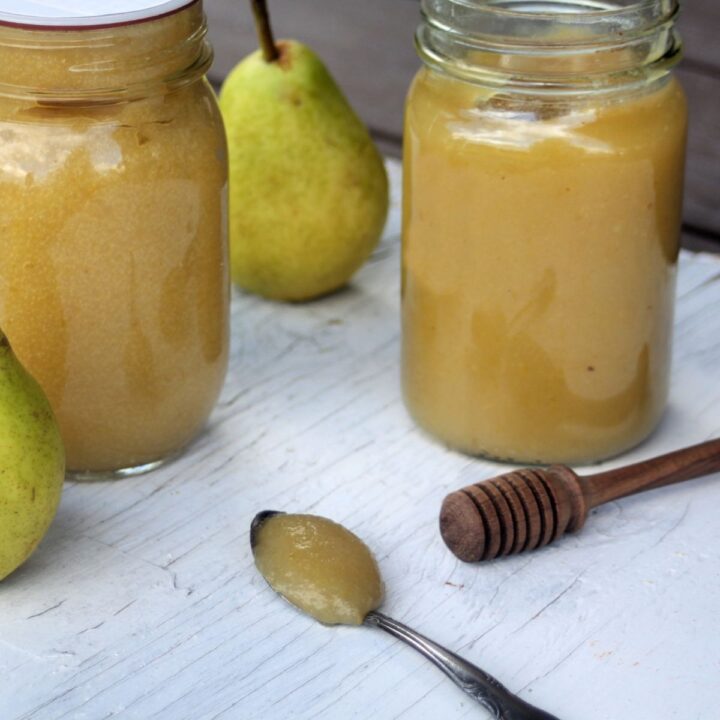 Pear Butter
Total Time:
1 hour
35 minutes
Sweet and with a hint of spice, ginger honey pear butter is an ideal spread for homemade toast.
Ingredients
5 Pounds Pears, Cored & Quartered
1 Cup Water
2 Tablespoons Lemon Juice
3/4 Cup Honey
1 Tablespoon Ground Ginger
Instructions
In a large pot combine the pears, water, and lemon juice. Place a lid on the pot and cook over medium heat until the pears are soft.
Puree the mixture until smooth.
Pour the pureed pears into a slow cooker. Stir in the honey and ground ginger until thoroughly combined.
Cook in the slow cooker on high heat with the lid off until the mixture is thick and mounds up on a spoon. Stir occasionally.
Prepare jars, lids, rings and water bath banner.
Fill the jars, leaving 1/2 inch head space. Remove air bubbles, wipe rims, and place lids and rings.
Process in a boiling water bath for 20 minutes, adjusting for elevation.
Remove from canner and let cool. Check seals, remove rings, and store in pantry.
Recommended Products
As an Amazon Associate and member of other affiliate programs, I earn from qualifying purchases.
Nutrition Information:
Yield:

160
Serving Size:

1 Tablespoon
Amount Per Serving:
Calories:

13
Total Fat:

0g
Saturated Fat:

0g
Trans Fat:

0g
Unsaturated Fat:

0g
Cholesterol:

0mg
Sodium:

0mg
Carbohydrates:

4g
Fiber:

0g
Sugar:

3g
Protein:

0g
I try but cannot guarantee this nutritional information is 100% accurate.