This multigrain bread recipe is perfect for those times when you want whole grain flavor and crunch in a light and soft package.
Dense and dark whole grain breads are wonderful but there are times when something else is needed especially if the bread is going to be used for softer sandwich fillings.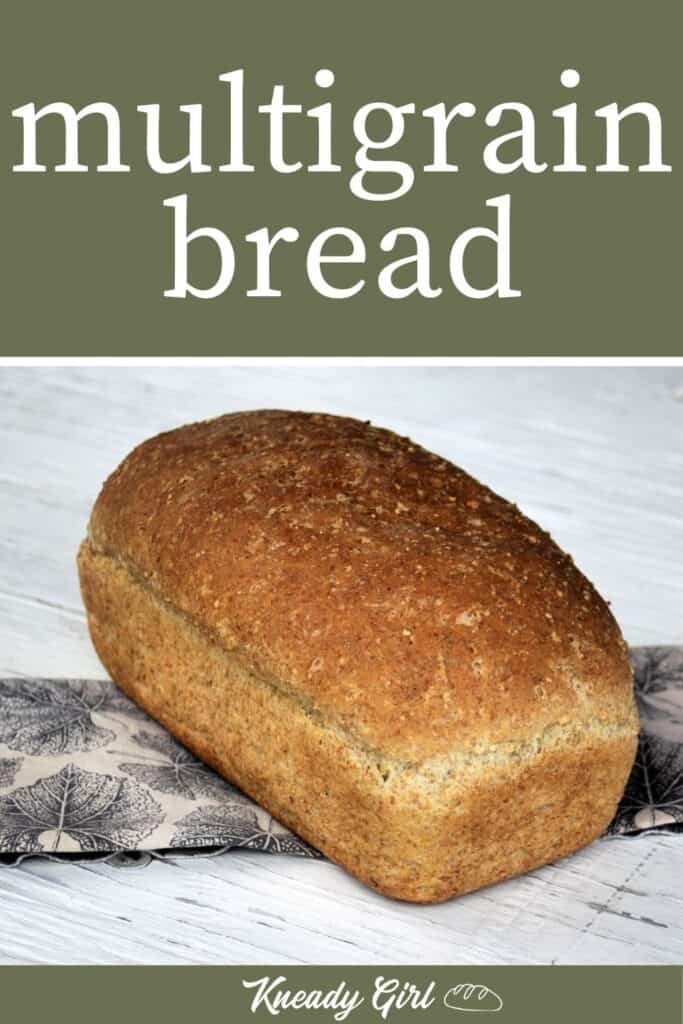 Also, let's be honest not everyone enjoys those heavier multigrain breads and this could be a way to slowly introduce those people to newer, whole grain options.
The Grains
The recipe calls for a number of commonly found grains. These were chosen particularly because they will likely already be in the pantry or easy to find in most grocery stores.
You will need a small bit of each and if your grocery store or health food store has a good bulk section, you can likely just pick up the small bit that is needed for anything you might not use normally.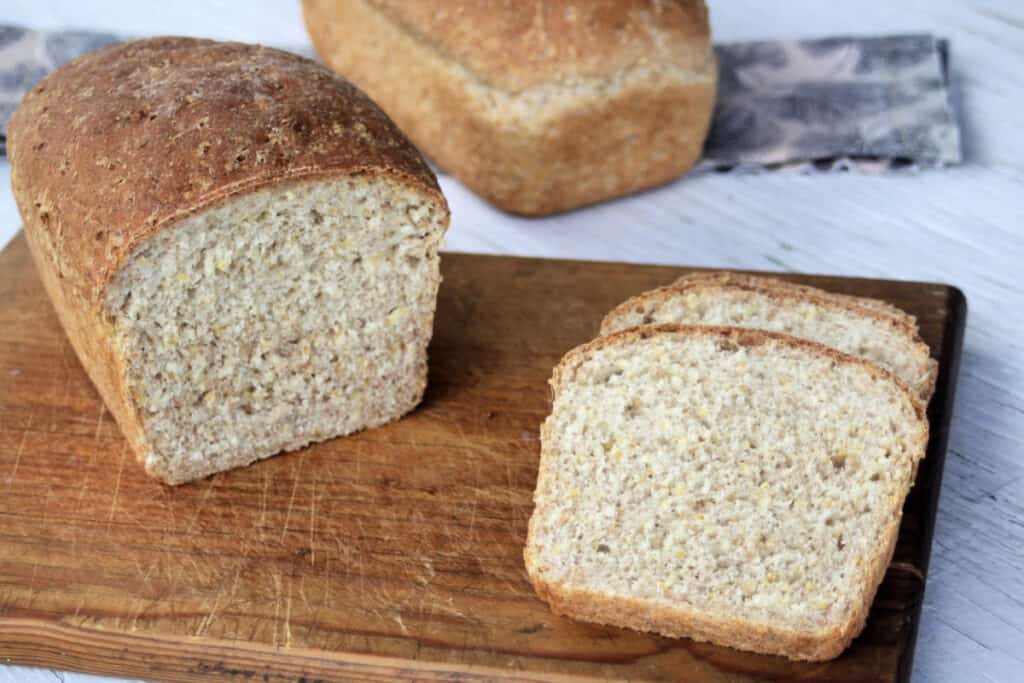 Do use bread flour here. I tested the recipe with both bread flour and all purpose flour. The bread flour provides a much better structure to the loaves.
Sponge Method
This recipe makes use of a sponge method for making bread. Simply, it's a wetter dough left to rise for a bit before proceeding with the rest of the recipe.
The sponge method helps create a lighter texture and more flavor that works especially well with multigrain breads. This is the reason that these loaves are fluffier instead of dense.
Difficulty Level: Advanced
The sponge method and general use of so many whole grains, makes this bread a bit fussier than most recipes. While it isn't extremely difficult, folks should have some experience with kneading bread and working with whole grains before diving into this recipe.
Hands Off Time
This recipe includes a number of steps and each takes a bit of time. There's the cooking and cooling of the millet. The sponge needs to rise, then there are the first and second rises before the final baking.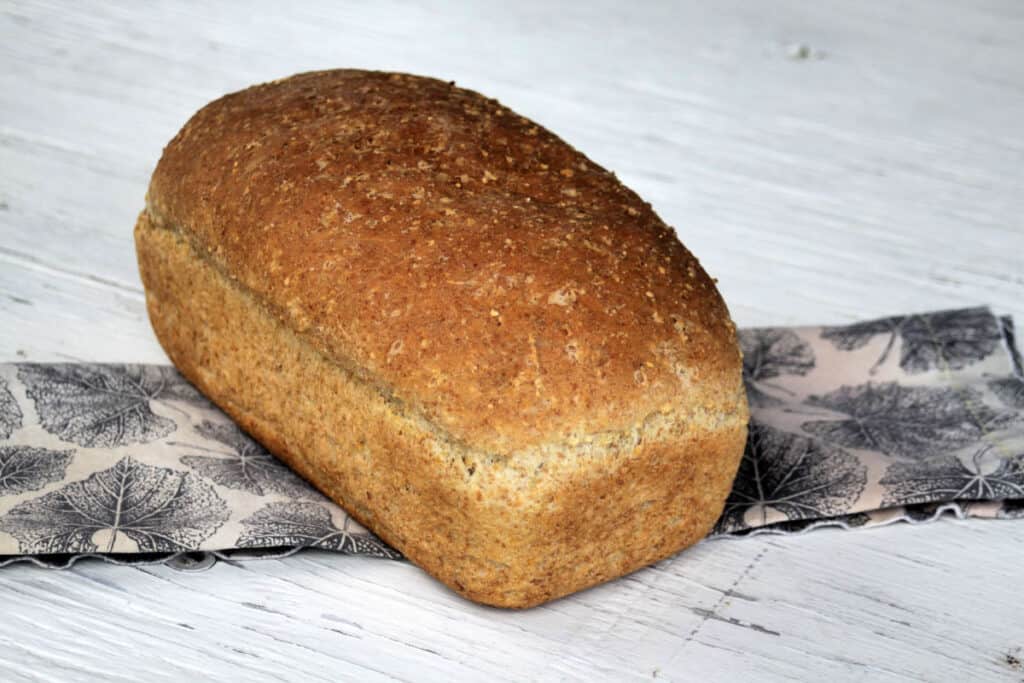 All of those things take time. However, a great majority of that time is hands-off. It's perfect for multi-tasking because you can do other things while the bread is doing its thing without your attention.
Substitutions
You can switch up the grains slightly and still have good results. For example, use more whole wheat flour and skip the rye. Or use more bread flour and less whole wheat flour. Simply do what works best for what you have on hand.
Use honey instead of maple syrup if that's easier.
Substitute any liquid vegetable oil for the olive oil as desired.
Freeze Extras
This bread will freeze delightfully well. Freeze whole loaves in an airtight bag or container and allow to thaw before slicing and enjoying.
Alternatively, slice the bread and place the slices into airtight containers to freeze. Then simply thaw slices as needed.
Eat frozen bread within 6 months for best flavor and to prevent freezer burn.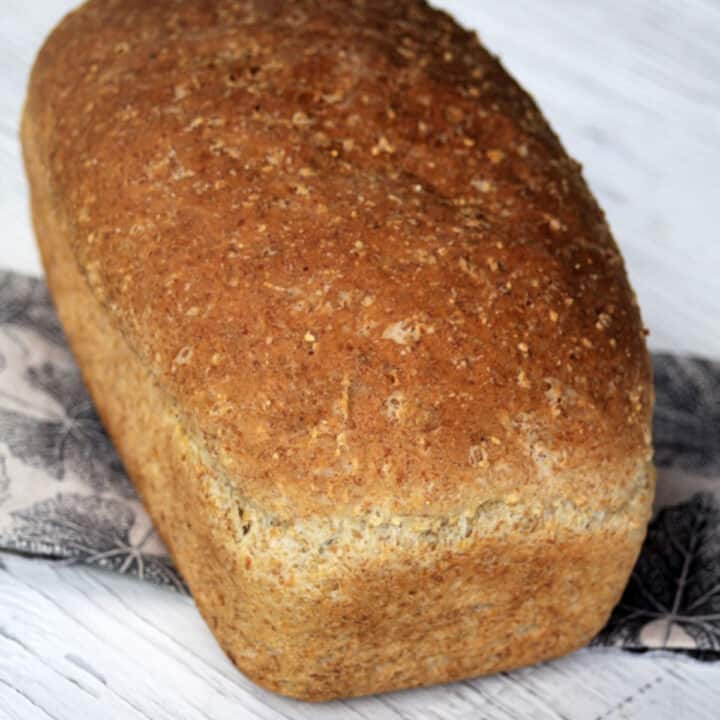 Multigrain Bread
Rising Time:
2 hours
15 minutes
Total Time:
3 hours
30 minutes
This multigrain bread is hearty with a bit of crunch and still soft enough for easy sandwiches.
Ingredients
1 Cup Cold Water
1/2 Cup Millet
2 Cups Warm Water
2 Tablespoons Maple Syrup
1 Tablespoon Yeast
1/2 Cup Cornmeal
1/2 Cup Rolled Oats
1 Cup Whole Wheat Flour
1/2 Cup Rye Flour
3 1/2 Cups Bread Flour, divided
1/3 Cup Olive Oil
1 Tablespoon Salt
Instructions
Cook the Millet
In a small saucepan, combine the millet and 1 cup of cold water. Bring to a boil and cover. Cook until almost all the water is absorbed. About 15 minutes.
Remove from heat and stir. Put the cover back on and allow the millet to cool to room temperature.
Make the Sponge
In a bowl combine the maple syrup, yeast, and 2 cups of warm water. Allow to sit until foamy, about 5 minutes.
Add the cooked millet, cornmeal, oats, whole wheat flour, rye flour, and 2 Cups of bread flour. Stir until everything is combined.
Cover the bowl with a towel and allow to rest and rise for 30 minutes.
Finish the Dough
Add the olive oil and salt to the sponge. Mix well.
Begin mixing in 1 cup of the bread flour. Add more bread flour as necessary to form a dough.
Turn out onto a floured board and knead until the dough is soft and elastic.
Put the dough into an oiled bowl and turn to coat. Cover with a towel.
Allow to rise for 45 minutes to an hour or until doubled.
Punch down the down and divide in half.
Knead the dough and form loaves.
Place the loaves into greased bread pans and cover with a towel.
Let rise until doubled 30 to 45 minutes.
Preheat the oven to 375 degrees Fahrenheit.
Bake the loaves in the preheated oven for 45 to 50 minutes. The loaves will be golden brown and sound hollow when tapped with a knuckle when done.
Remove from pans immediately to cool on wire racks.

Recommended Products
As an Amazon Associate and member of other affiliate programs, I earn from qualifying purchases.
Nutrition Information:
Yield:

28 slices
Serving Size:

1 slice
Amount Per Serving:
Calories:

127
Total Fat:

3g
Saturated Fat:

0g
Trans Fat:

0g
Unsaturated Fat:

3g
Cholesterol:

0mg
Sodium:

229mg
Carbohydrates:

21g
Fiber:

2g
Sugar:

1g
Protein:

3g
I try but cannot guarantee this nutritional information is 100% accurate.