Get the morning breakfast cereal in a handheld package with easy to bake up maple scones loaded with your favorite muesli.
Hearty and loaded with flavor muesli scones are sweetened with just a bit of maple syrup that will fuel busy mornings.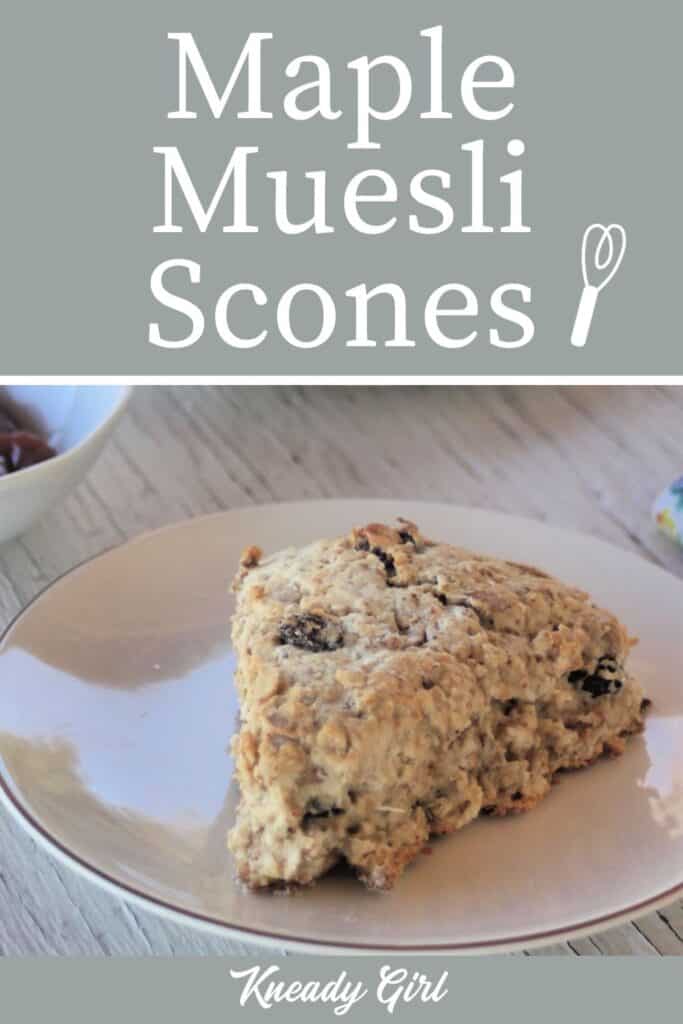 Simple Ingredients, Lots of Flavor
The great thing about these scones is that they're full of simple ingredients that are likely in the pantry at any given time. Muesli, butter, flour, baking powder, milk, and maple syrup. Truly, 6 ingredients that's it.
Any favorite muesli can likely be used. My local grocery store sells several different types in the bulk food section.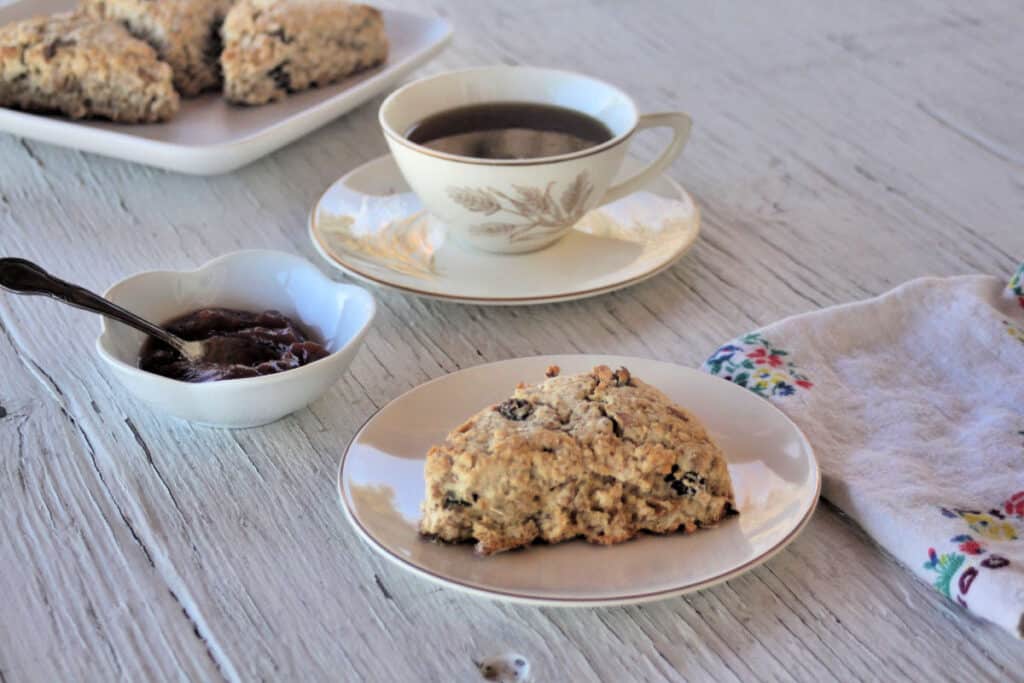 I've played with them all with stellar results. I like a nice blend of dried fruits, nuts, and grains for full flavor and texture. But again, use the kind you like best or have on hand.
A Quick Breakfast
Using cold butter means these can come together without worrying about softening. Use salted butter so that the extra flavor comes through the rest of the ingredients.
It takes less than 10 minutes to get the dough together. They bake up in less than 20 minutes. Meaning a 30 minute breakfast, brunch, or snack is easily within reach.
Lightly Sweet, Perfectly Dry
These maple muesli scones have just a hint of sweetness. Scones are always a little dry and these do not disappoint in their texture and crumb. This makes the perfect accompaniment to your favorite beverage – tea, coffee, milk, or even hot chocolate.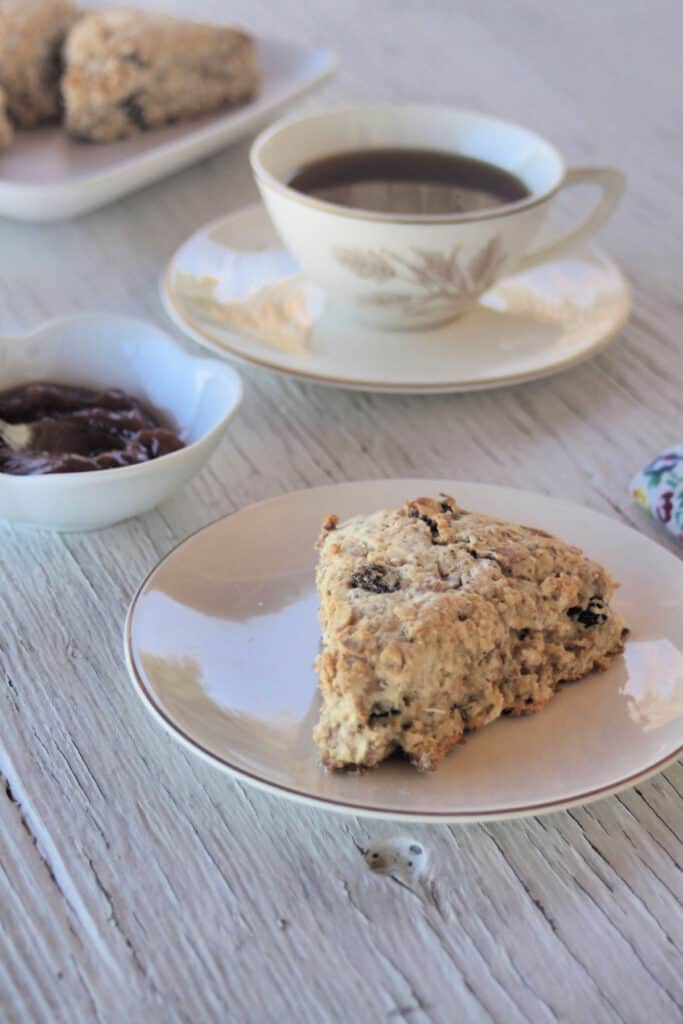 How to Serve Maple Muesli Scones
Let the scones cool just slightly from the oven and serve them warm. Room temperature is also more than delightful.
Serve them with clotted cream, jam, even a nut butter. I do quite like them slathered with some peanut butter and strawberry jam with a cup of coffee.
Freeze Extras
The scones will keep for a few days kept in an air-tight container at room temperature. For longer storage, freeze the maple muesli scones. They'll thaw quickly at room temperature making them ideal for a quick run and go breakfast later on.
Optional Additions & Toppings
Feel free to add an additional 1/2 cup of dried fruit or nuts, if the muesli mix is missing them. Chocolate chips could also be tossed into the dough for a sweet addition.
For a sweeter and slightly crunchier version of the scones, sprinkle the top of the dough with a coarse sugar before baking.
A simple powdered sugar glaze could be poured over the scones after they came out of the oven for a sweeter breakfast bread.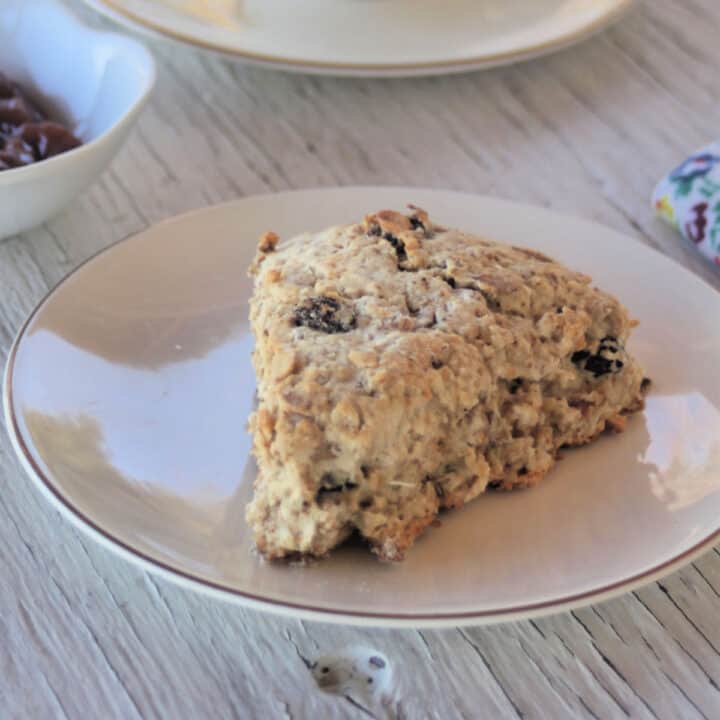 Muesli Maple Scones
Maple muesli scones whip up in hurry for a lightly sweetened and hearty breakfast full of whole grain nutrition to fuel a busy morning.
Ingredients
1 1/2 Cups Unbleached, All-Purpose Flour
2 Cups Muesli
2 teaspoons Baking Powder
1/2 Cup Salted Butter, cold
1/2 Cup Milk
1/4 Cup Maple Syrup
Instructions
Preheat oven to 425 degrees. Line a baking sheet with parchment paper or a silicone baking mat.
In a large bowl, whisk together the flour, muesli, and baking powder. Cut the butter into large chunks and add it to the dry ingredients. With a pastry blender, two knives, or your fingers, cut the butter into the dry ingredients until it resembles coarse wet sand.
Whisk together the maple syrup and milk until combined.
Pour the wet ingredients into the flour mixture. Stir until everything comes together into a sticky dough.
Turn the dough out onto a well-floured board. Knead just slightly. Pat the dough down into a large circle about 1" thick.
Transfer the round to the prepared baking sheet. Slice the dough into 8 triangles.
Separate the triangles just slightly on the baking sheet.
Bake in the preheated oven for 15-18 minutes, until the edges are golden brown.
Cool slightly and serve warm or at room temperature.
Recommended Products
As an Amazon Associate and member of other affiliate programs, I earn from qualifying purchases.
Nutrition Information:
Yield:

8
Serving Size:

1 scone
Amount Per Serving:
Calories:

340
Total Fat:

15g
Saturated Fat:

8g
Trans Fat:

0g
Unsaturated Fat:

5g
Cholesterol:

32mg
Sodium:

301mg
Carbohydrates:

47g
Fiber:

2g
Sugar:

10g
Protein:

6g
I try but cannot guarantee this nutritional information is 100% accurate.