Make this lightly sweet molasses bread for an amazing and versatile homemade loaf!
This homemade bread is full of rich flavor with notes of bitter and sweet that lends itself to an all around perfect bread.
Despite the mild sweetness, this recipe does indeed make a great sandwich bread.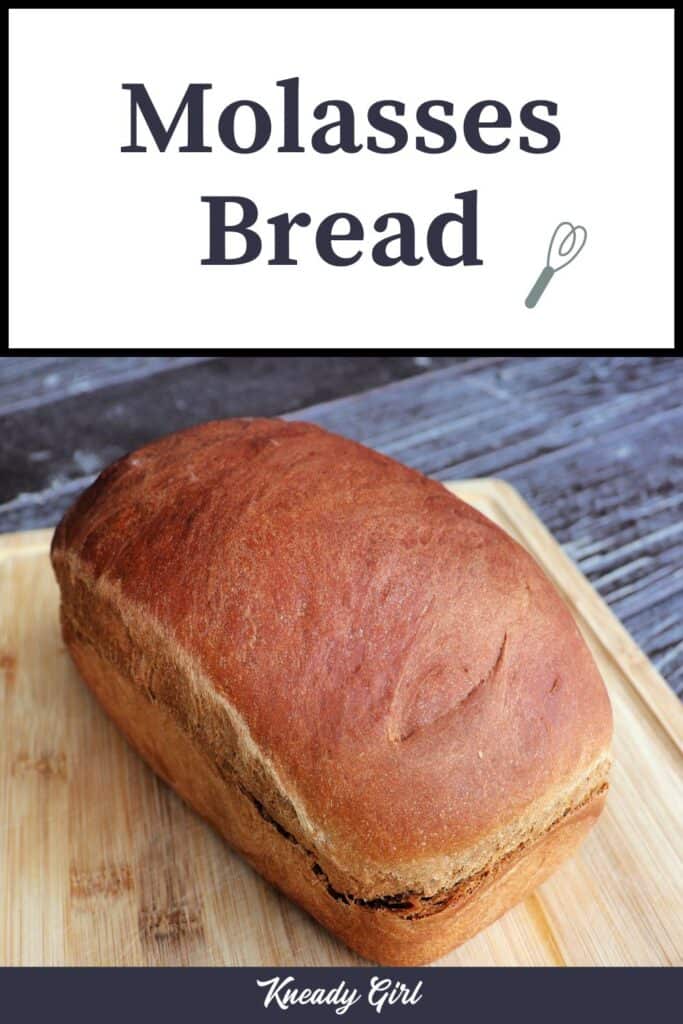 Simple Ingredients
Like all the best yeast breads, there isn't much fancy here. It's basic ingredients combined in a flavorful way. And like most homemade recipes, there are some choices to make it your own.
Molasses
Obviously, some molasses is called for – it is the molasses that gives this bread it's overall flavor.
A dark molasses is what will provide the color and honestly the most flavor but a lighter molasses could be used.
Blackstrap molasses or sorghum molasses can definitely be used and both would provide a darker, slightly more bitter flavor.
Flour
I stuck with basic bread flour for a recipe that most everyone would enjoy. However, feel free to switch it up based on your own favorites.
All purpose flour could definitely be used instead of bread flour.
Substitute some cups whole-wheat flour for a bit of the bread flour.
A mix of rye flour and whole wheat flour is also quite nice.
For best results, add flour substitutions slowly as different types of flour absorb water differently effecting how much flour is necessary.
Cocoa Powder
The cocoa serves two purposes in these loaves but it does not make for a chocolate flavor in any sense of the word. No one would actually think, there's chocolate in here.
Obviously, the cocoa helps give the bread a darker appearance which makes it lovely.
It also helps balance out the sweetness of the molasses with some extra dark bitterness that provides great flavor.
Use whatever cocoa you normally use or have in the pantry.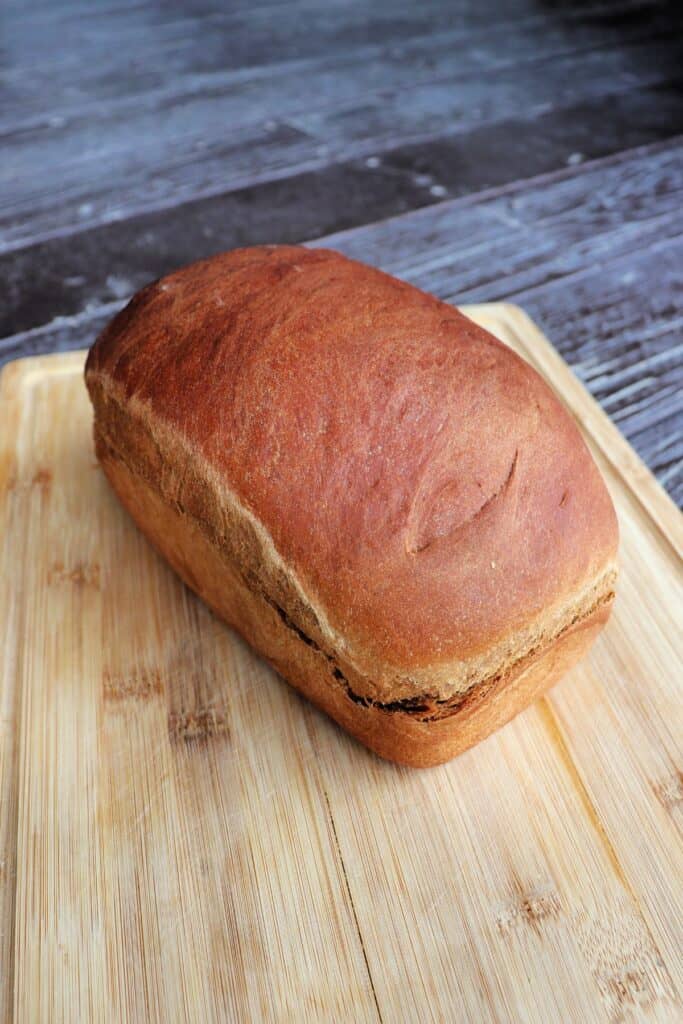 Dairy
The butter and milk give the final loaves some rich creaminess and a density that is amazing.
If you need or want to make it dairy free, feel free to use all water instead of milk. A nut milk of some kind would also work but provide a different texture.
Shortening or plant based margarine could be used instead of butter.
Shape
I most often make this bread in a standard 9 by 5 inch loaf pan, however; it's versatile enough to shape anyway the baker desires.
Large round loaves baked on a cookie sheet are gorgeous.
Divide dough into molasses dinner rolls for serving at large meals.
As always check for doneness earlier and more often when changing the shape from the recipe.
Experience Level : Intermediate
While this is a fairly basic bread recipe and not terribly complicated, it is the stickiness of the dough that brings it into intermediate territory.
If you have a good feel for kneading dough and understand how flour and water works in a moist dough, you can feel confident tackling this recipe.
I am a firm believer in that bread doesn't need fancy equipment but I will admit that the easiest way to make this particular dough is to use a stand mixer to mix dough in the beginning before kneading.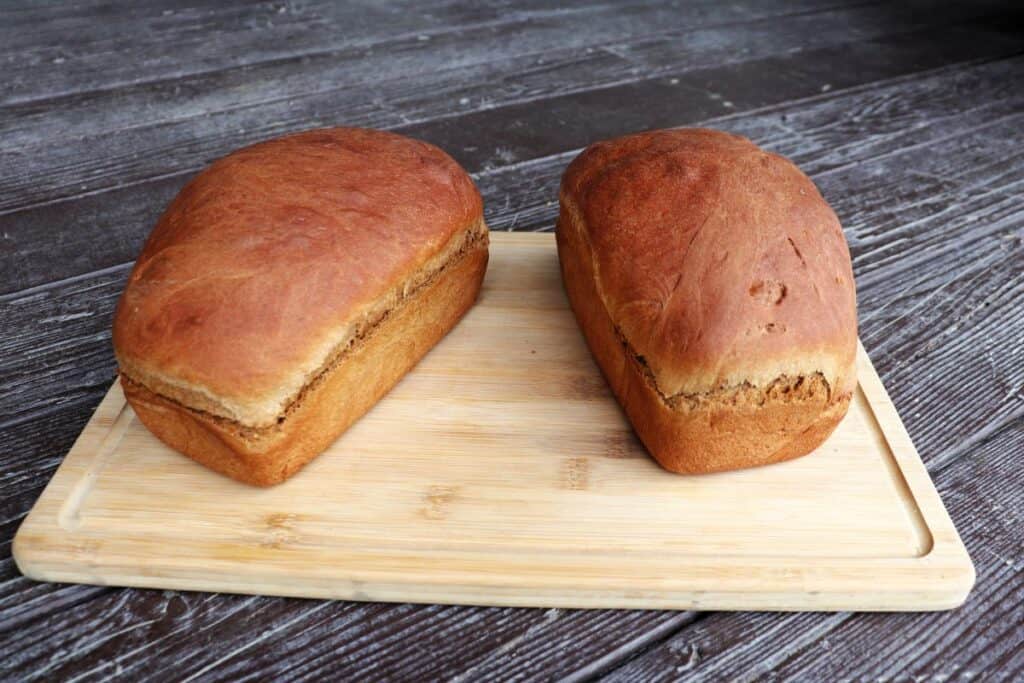 How to Serve
While this bread has its own distinct flavor, it can be used in anyway you would normally use homemade bread.
Because of the hearty, molasses flavor this is a great recipe for the winter months, most especially, but can be served any time of year.
Definitely try toasting it and spreading with cream cheese and a few slices of berries for an amazing breakfast.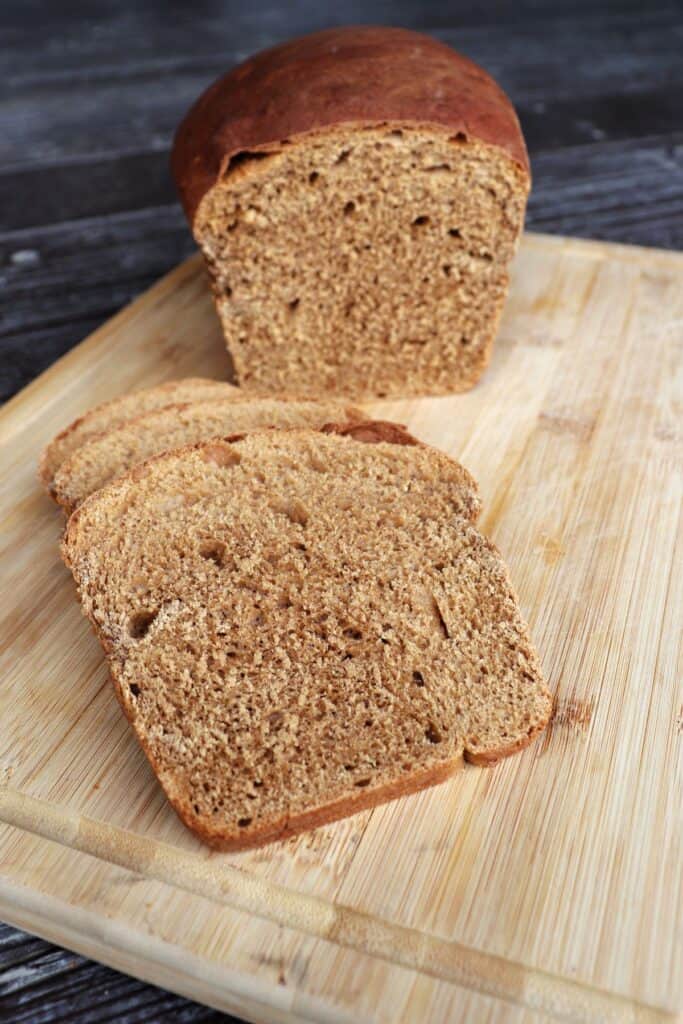 Use it for peanut butter and jelly sandwiches in a lunch box.
It makes a great grilled cheese with a strongly flavored cheese in the middle.
There is inherent sweetness in the bread but it can still work for savory, soft fillings like egg salad. And the strong flavor works with things like salami
It's a great dipper for soups and stews and goes great alongside most any main course so bring it to the dinner table.
How to Store
Because this is such a moist bread, it will keep well for 5 days or so at room temperature if kept in an airtight container.
It also freezes incredibly well. Simply let baked loaves cool completely and store them whole in a freezer bag.
Alternatively, slice the baked and cooled loaves and put the slices into a freezer bag.
The nice thing about freezing slices is that you can just pull a couple out as you need them for breakfast, etc. Depending on your toaster, you can often pull a slice out and pop right into the toaster to enjoy.
Thaw the bread at room temperature prior to using.
Use up frozen bread within 6 months for best flavor and to prevent freezer burn.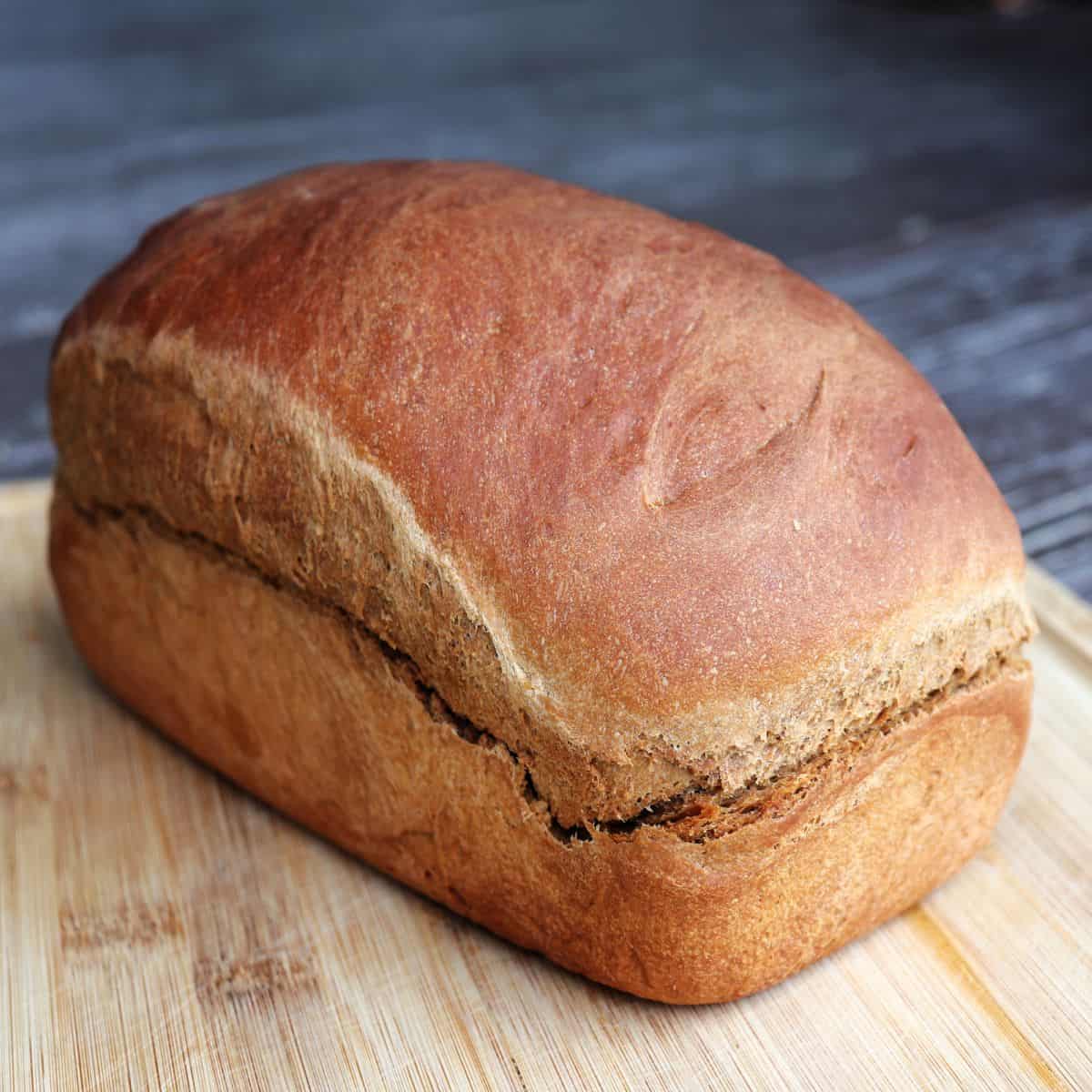 Molasses Bread Recipe
Rising Time:
1 hour
30 minutes
Total Time:
2 hours
25 minutes
Make this moist brown bread for delicious toast, sandwiches, and more.
Ingredients
1 Cup Warm Water
2 Tablespoons Dry Active Yeast
2 Tablespoons Sugar
1 Cup Milk, room temperature
1/2 Cup Salted Butter, softened, cut into small pieces
2/3 Cup Dark Molasses
1/4 Cup Cocoa Powder
1 1/2 teaspoons Salt
6 1/2 Cups Bread Flour
Instructions
In a large bowl, combine water, yeast, and sugar. Let sit until foamy, about 5-10 minutes.
To the yeast mixture, add the milk, butter, molasses, and cocoa powder. Mix this together well.
Using a dough hook or wooden spoon, add the salt and 4 cups of bread flour.
Make sure to mix so that there are no large bits of butter in the dough, it should be completely incorporated.
Continue adding more flour to the mixture until a soft dough begins to form. If using a stand mixer, the dough will begin to clean the sides of the bowl.
Once the sticky dough forms, turn it out to a floured surface and knead until smooth and elastic. It will remain slightly sticky.
Form dough into a tight ball.
Grease a large mixing and place dough ball inside, turning to coat. Cover the bowl with a clean towel and put in a warm place.
Let dough rise until doubled. This first rise should take about 45 minutes to an hour.
Grease two 9 by 5 inch loaf pans.
Punch down the dough and turn out to a floured board. Knead the dough and divide in half.
Form each half into a loaf and place into prepared bread pan.
Cover the bread with a towel and let rise until doubled. The second rise should take about 30 to 45 minutes
Meanwhile pre-heat oven to 350 degrees Fahrenheit.
Bake in preheated oven for 30 minutes or until tops are golden and sound hollow when tapped with a knuckle.
Remove from the pans immediately to cool on a wire rack.
Nutrition Information:
Yield:

32
Serving Size:

1
Amount Per Serving:
Calories:

158
Total Fat:

4g
Saturated Fat:

2g
Trans Fat:

0g
Unsaturated Fat:

1g
Cholesterol:

8mg
Sodium:

129mg
Carbohydrates:

27g
Fiber:

1g
Sugar:

7g
Protein:

4g
I try but cannot guarantee this nutritional information is 100% accurate.