Homemade cinnamon muffins are a spicy and sweet way to start the day.
These tender muffins have everything you want in a quick breakfast. They're easy to pull together for the baker and a tasty treat for those being served.
Moist muffins are topped with a buttery, crumbly streusel with layers of cinnamon throughout.
Endlessly customizable this cinnamon muffins recipe is one you will turn too repeatedly for its ease and flavor.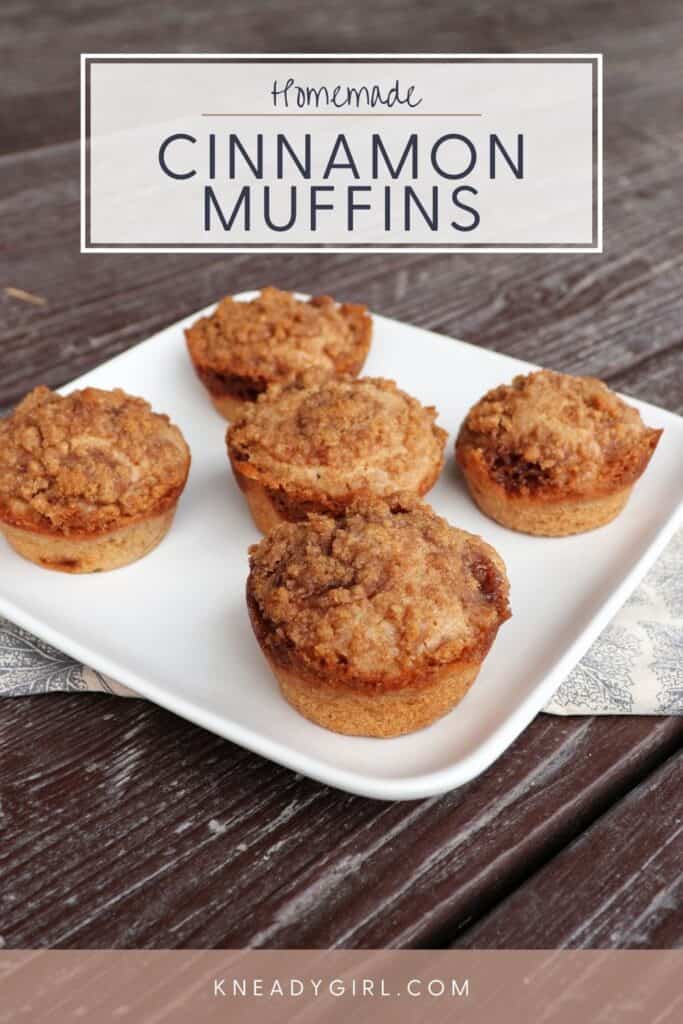 Basic Ingredients
There's nothing fancy here, allowing the cinnamon flavor to shine through in every bite. That was very much my intention as I wrote the recipe.
Do use the best ingredients you can afford and while I understand not everyone can or wants to eat dairy, I highly recommend going with real butter here in both the muffins and streusel.
The butter provides flavor and richness that oil or shortening will not. I understand looking for ways to be healthier but these easy cinnamon muffins should be viewed as an occasional treat instead of a regular, healthy part of our days and meals.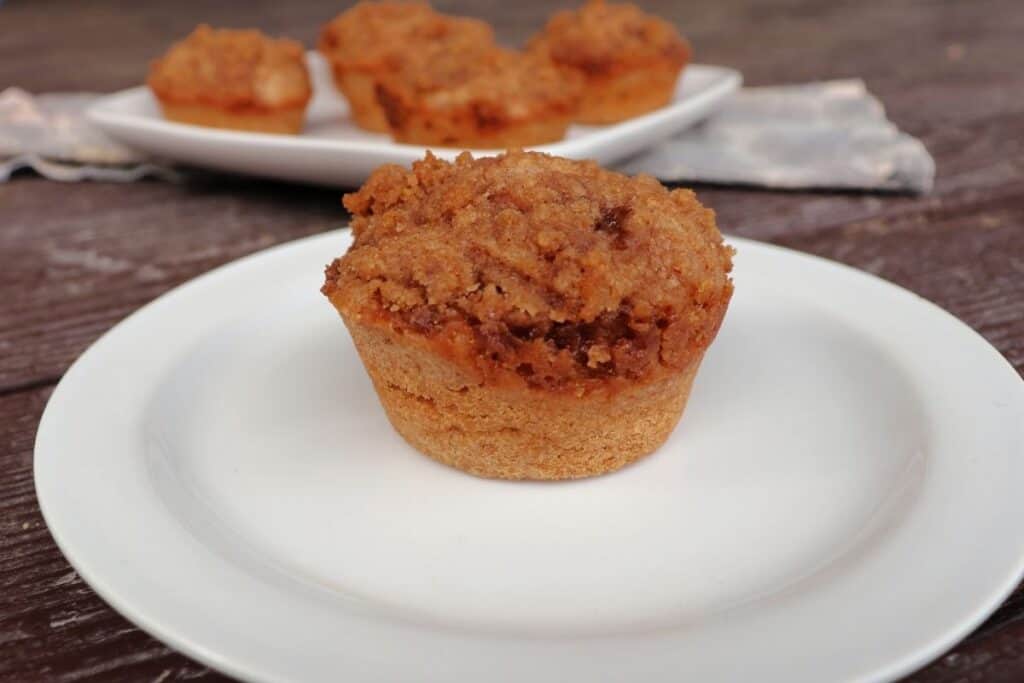 I used salted butter simply because it's what I generally keep on hand. If you use unsalted butter, add 1/2 teaspoon of salt to the dry ingredients.
Find a good quality cinnamon. The stuff sold in a jar in the grocery store baking aisle isn't likely the most flavorful or freshest, frankly. If you have a bulk food section or health food store with a variety, look there and just buy a bit at a time. The turn over is often higher in these sections meaning the cinnamon will be fresher and you'll likely have a variety of types of cinnamon from which to choose.
Buttermilk instead of milk will provide even more flavor but use whatever is handy. Almond milk or other alternative milks will work.
Dark brown sugar could be used – I went with light just because it's what I generally have on hand but the dark variety will give additional flavor. White granulated sugar could also work in the muffins but again provide a different flavor.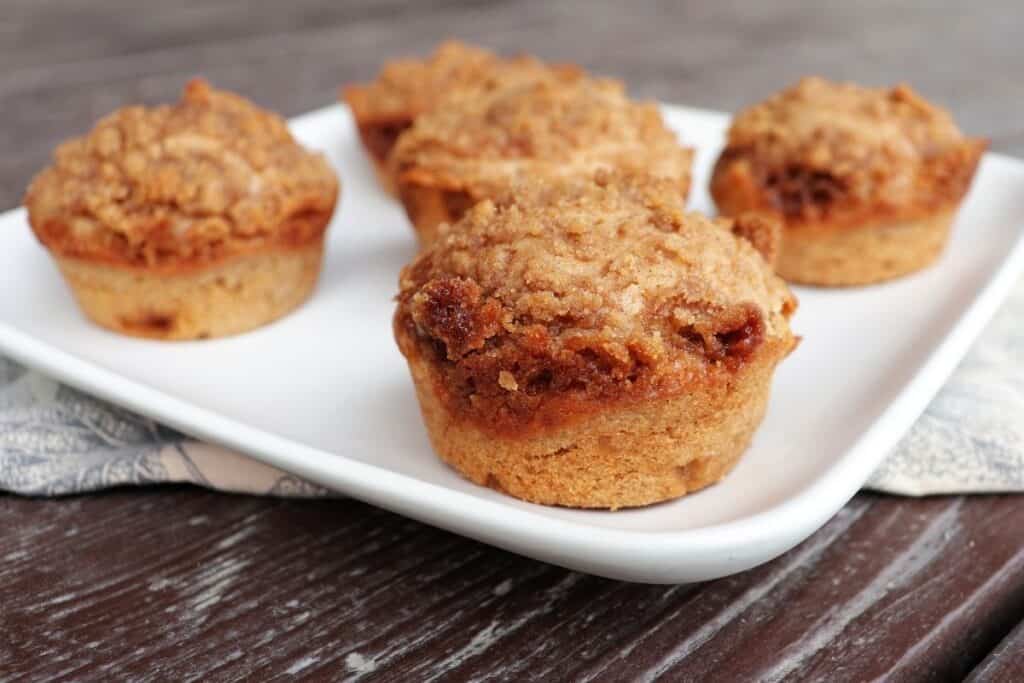 I went with basic all purpose flour in the original recipe, you could substitute some whole wheat flour for a wonderful whole grain crunch.
I skipped adding any vanilla extract in the muffins because I wanted the cinnamon to be the main and really only flavor to come through. You could add a teaspoon, however, for a vanilla cinnamon flavor.
Optional Additions
This is a great recipe to switch up based on what's available and the mood of the baker. The additions are truly limitless but here are some ideas to spur your imagination and make these homemade muffins uniquely yours.
Make apple cinnamon muffins by adding a cup of peeled and diced apple to the muffin batter. Tart apples would provide a wonderful balanced flavor. Use apple juice instead of milk but know that the muffins will be even sweeter because of the natural sweetness of the juice.
A cup of raisins would be a lovely addition and provide additional texture to this simple recipe. Any dried fruit would likely be tasty – craisins or dried apple bits, for example.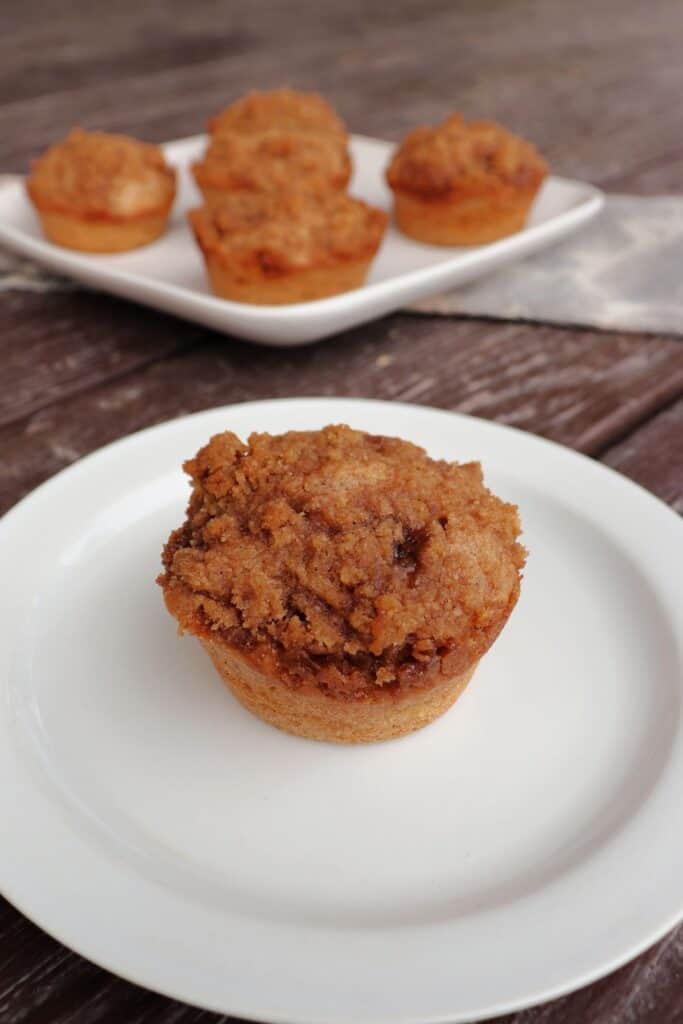 Add crunch with a cup of chopped nuts, like walnuts or pecans. A cup of seeds like sunflower or sesame would also provide crunch and added flavor.
Make the muffins sweeter by adding a cup of chocolate chips to the batter.
Take the cinnamon flavor even further by adding a cup of cinnamon chips to the batter.
Drizzle the baked and cooled muffins with a powdered sugar glaze for a beautiful presentation and additional sweetness.
A bit of melted white chocolate drizzled across the tops of the muffins would be beautiful and delicious.
How to Serve
The good thing about these muffins is that there isn't much need to fuss. Keep it simple:
Plain muffins with a morning cup of coffee is a wonderful start albeit not quite a balanced breakfast.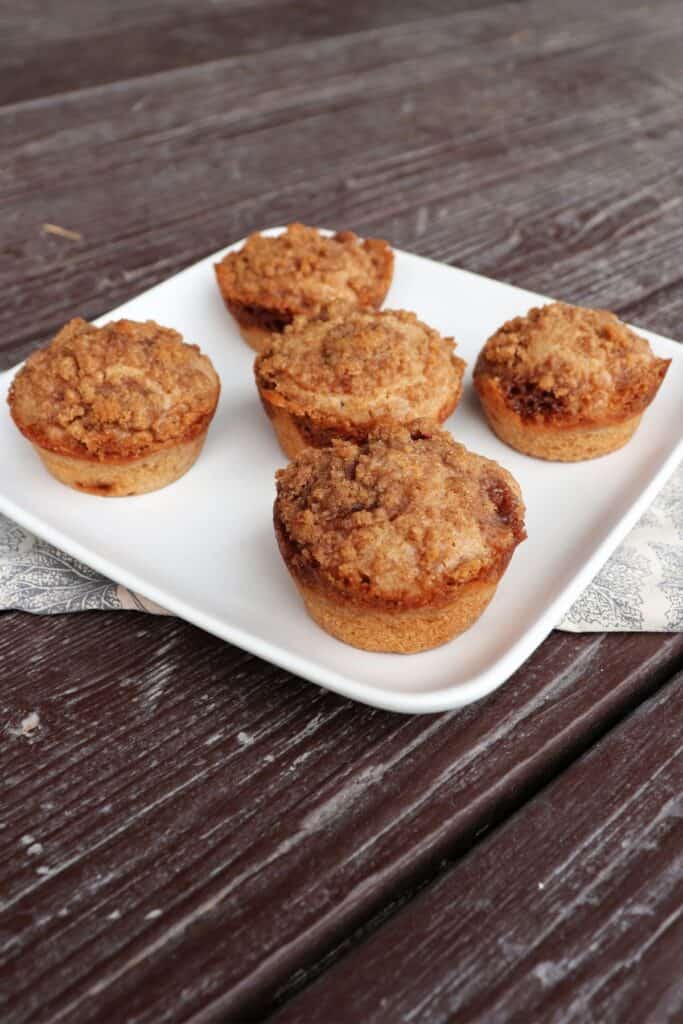 A smear of cream cheese or peanut butter is tasty, too.
Serve with some hard boiled eggs for a hit of protein with the sweet muffin.
Use cinnamon streusel muffins as part of an afternoon snack with tea and fresh fruit.
These are sweet enough that you could serve them with ice cream as a simple dessert.
How to Store
Store leftover muffins in an airtight container. They will keep at room temperature for about 4 days.
Make a double batch and freeze the fluffy muffins for eating later. Simply place the baked and cooled muffins into a container or freezer bag and freeze.
Thaw frozen muffins at room temperature. Tuck a frozen muffin into a lunch box in the morning and it will likely be ready to eat by lunch.
Eat frozen muffins up within 6 months for best flavor and to prevent freezer burn.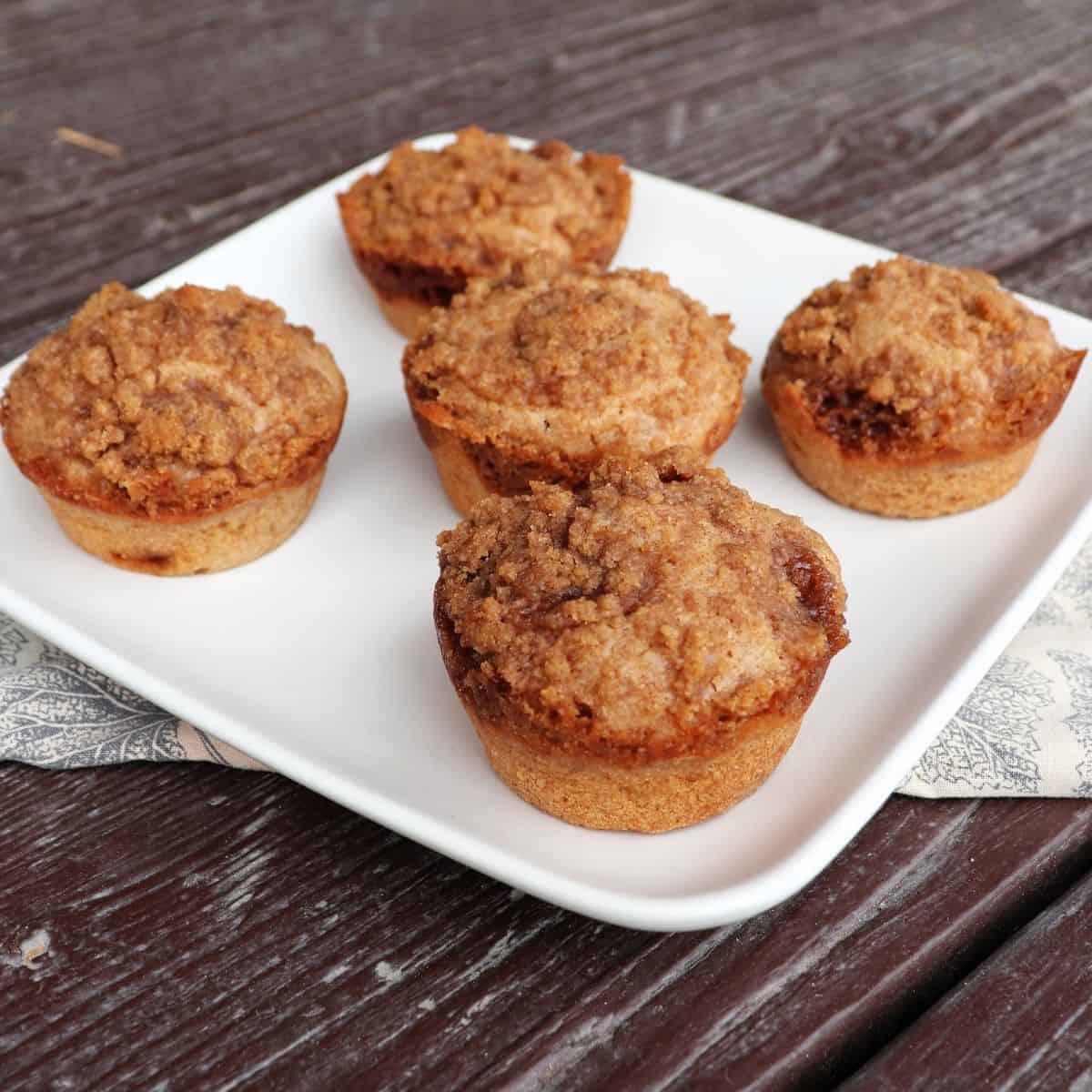 Cinnamon Muffin Recipe
Make these spicy and soft muffins with crunchy topping for a sweet and filling breakfast on the go.
Ingredients
Cinnamon Muffin Batter
2 Cups Unbleached, All-Purpose Flour
1/3 Cup Brown Sugar, lightly packed
2 teaspoons Baking Powder
2 teaspoons Ground Cinnamon
2 teaspoons Ground Cinnamon
1 Egg
1 Cup Milk
Cinnamon Streusel Topping:
6 Tablespoons Unbleached, All-Purpose Flour
1/4 Cup Brown Sugar, lightly packed
3/4 teaspoon Ground Cinnamon
1/4 Cup Salted Cold Butter
Instructions
Preheat oven to 375 degrees Fahrenheit.
Grease a muffin tin.
Make the topping:
In a medium bowl, combine flour, brown sugar, and cinnamon. Mix until completely combined.
Using a pastry blender or two forks mash the butter into the flour mixture until it resembles a wet sand.
Place the bowl in the fridge while you make the muffins.
Make the muffins:
In a large bowl, mix flour, brown sugar, baking powder, and cinnamon. Set aside.
In a small bowl, whisk together the melted butter, egg, and milk until completely incorporated.
Pour the wet ingredients into the dry ingredients and stir until combined.
Divide the batter among the 12 muffin cups, filling each about 2/3 full.
Top each muffin with some of the topping mixture, crumbling it over the top of the muffins.
Bake in the preheated oven for 15 to 18 minutes or until golden brown and an inserted cake tester comes out clean.
Let the muffin pan cool on wire rack for 5 minutes.
Remove muffins from the pan to cool completely on wire rack.
Nutrition Information:
Yield:

12
Serving Size:

1
Amount Per Serving:
Calories:

151
Total Fat:

2g
Saturated Fat:

1g
Trans Fat:

0g
Unsaturated Fat:

1g
Cholesterol:

20mg
Sodium:

107mg
Carbohydrates:

30g
Fiber:

1g
Sugar:

10g
Protein:

4g
I try but cannot guarantee this nutritional information is 100% accurate.