Use up your leftover mashed potatoes in this super easy potato bread recipe!
Like every homemade potato bread recipe, these loaves are rich and soft, the kind of comforting homemade bread everyone loves.
Savory but not overpowering this easy white bread recipe is a great base for sandwiches, toast, and more.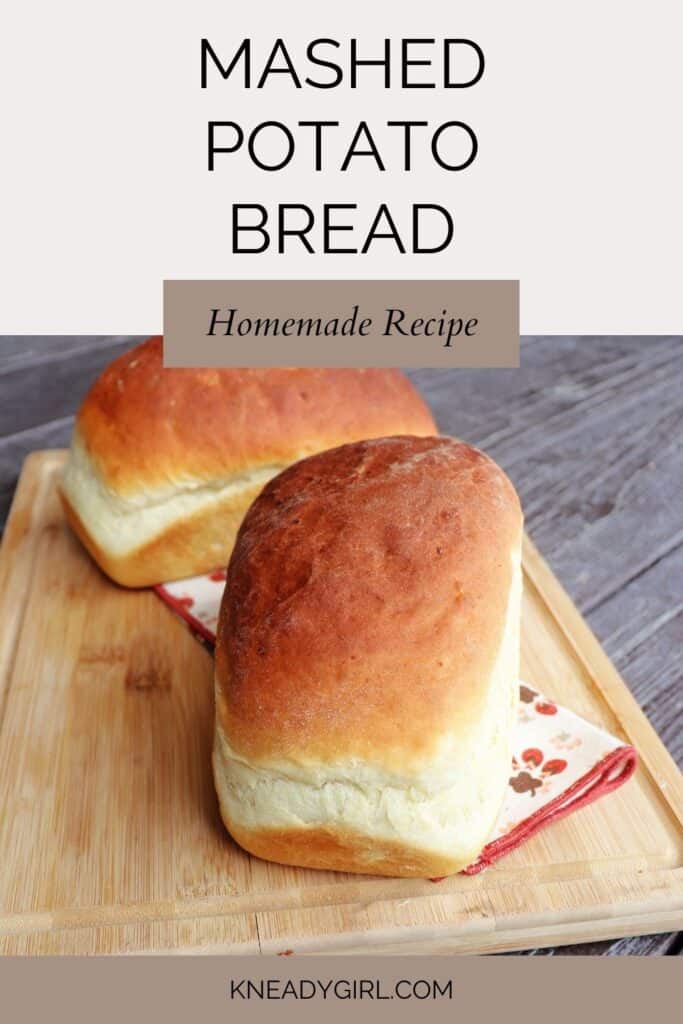 Use Leftovers
While one could make mashed potatoes specifically for this recipe, it is honestly an excellent way to use up leftovers hanging out in the refrigerator.
It doesn't honestly matter how you made your mashed potatoes. If you use milk or broth, add salt or black pepper or have some herbs in there. It's all going to add more flavor to this bread, so go with the leftovers.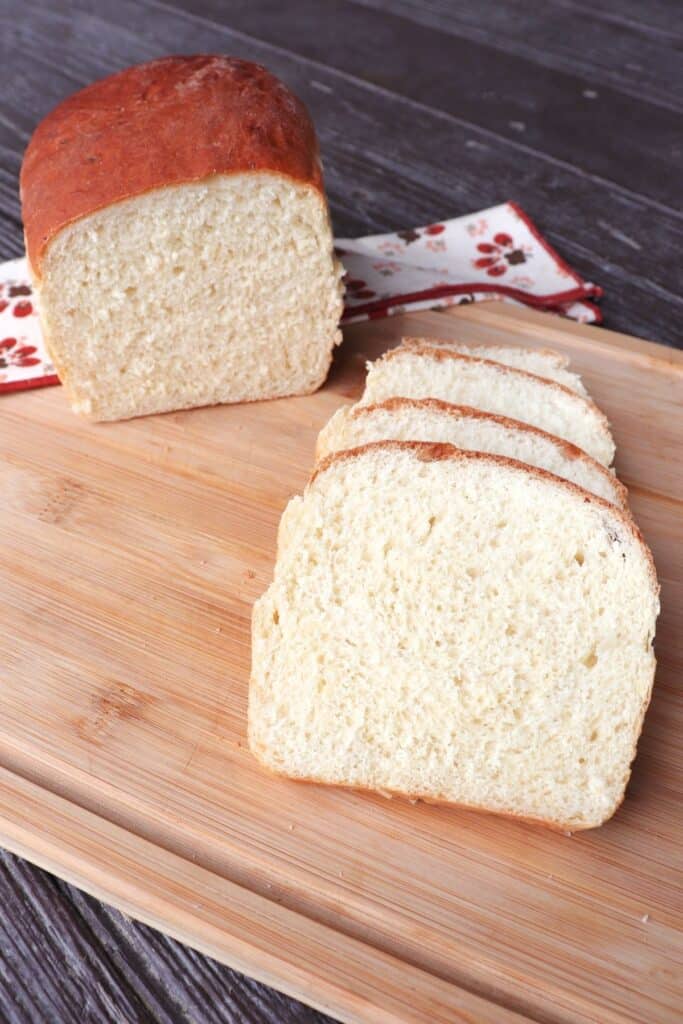 Flour & Liquid Notes
The original recipe is written with bread flour but unbleached all-purpose flour could also be used.
Substitute some of the bread flour with whole wheat flour if you'd like some whole grain.
Do know that changing flours may mean that you will need more or less flour based on how each absorbs water.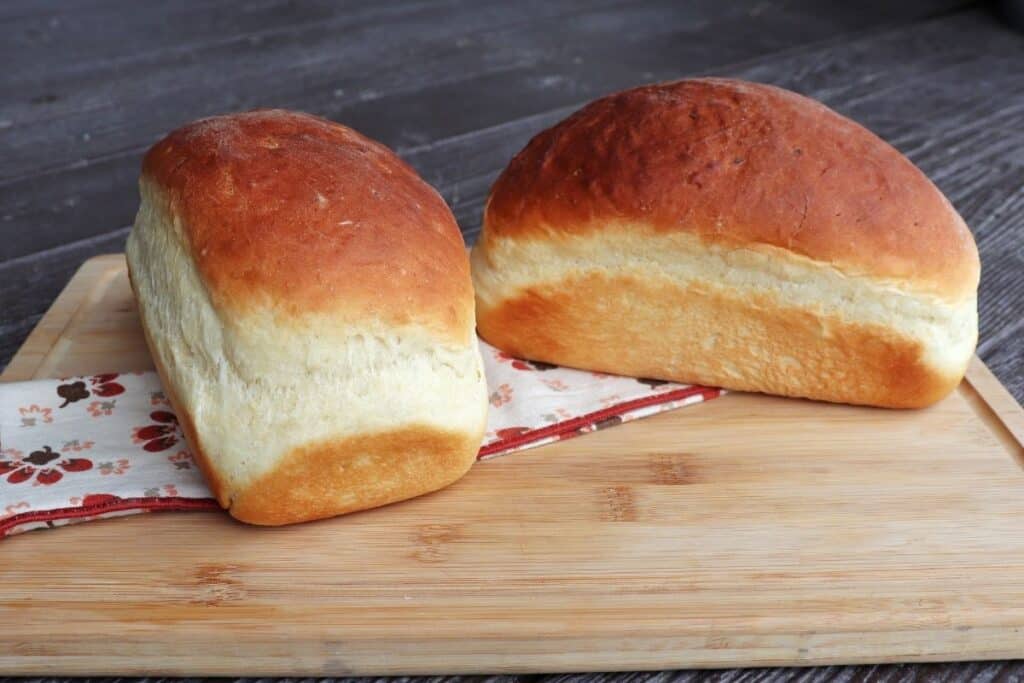 The amount of liquid in the mashed potatoes will also change how much flour is needed – looser, wetter mashed potatoes will need more flour, thicker, drier mashed potatoes may need less. This is an area will you will need to just experiment to see how the bread dough feels as you work with it and adjust as necessary. Always start slow and add more flour as necessary. Stop when you have enough flour to form a smooth, elastic ball of dough.
Optional Additions
This is a fairly basic yeast bread that allows for flavorful additions should you want to add some.
Keep it savory by adding some chopped fresh herbs like chives, rosemary, oregano, etc. Up to 1/2 cup of fresh herbs, 2-3 Tablespoons if using dried.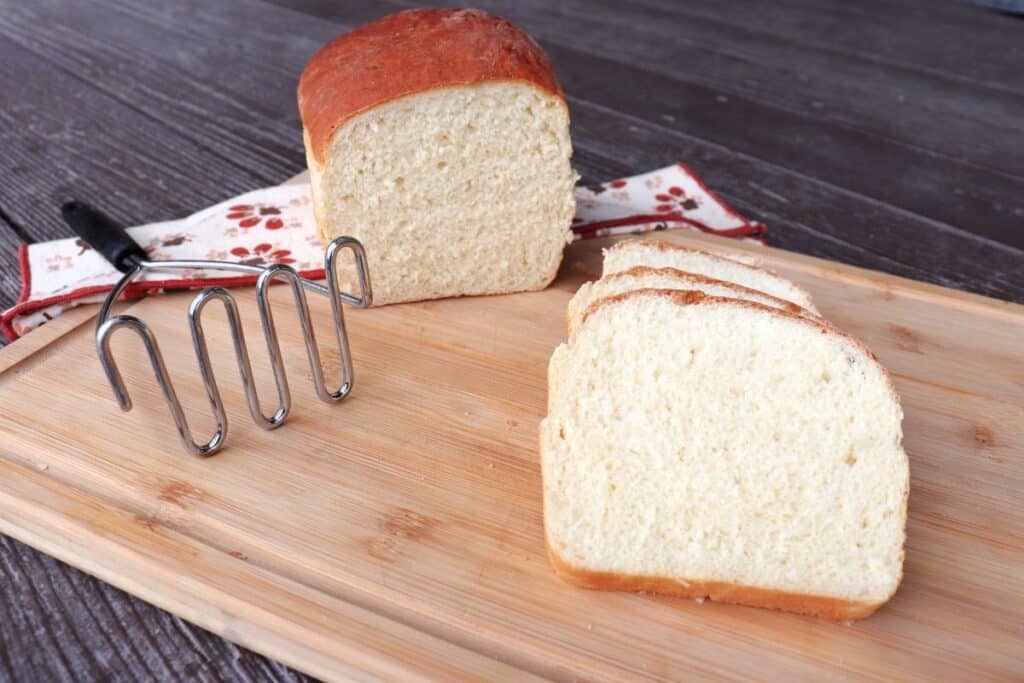 A couple tablespoons of chopped fresh garlic would also be nice. A teaspoon or two of dried onion or garlic powder could also be added.
Want a sweet bread? Add another half cup sugar to the bread dough.
Keep it sweet by adding some raisins or a teaspoon or two of dried spice like cinnamon or cardamom.
Bread Shape
A standard loaf pan is perfect for this recipe, however; like any bread you can make it any shape you like.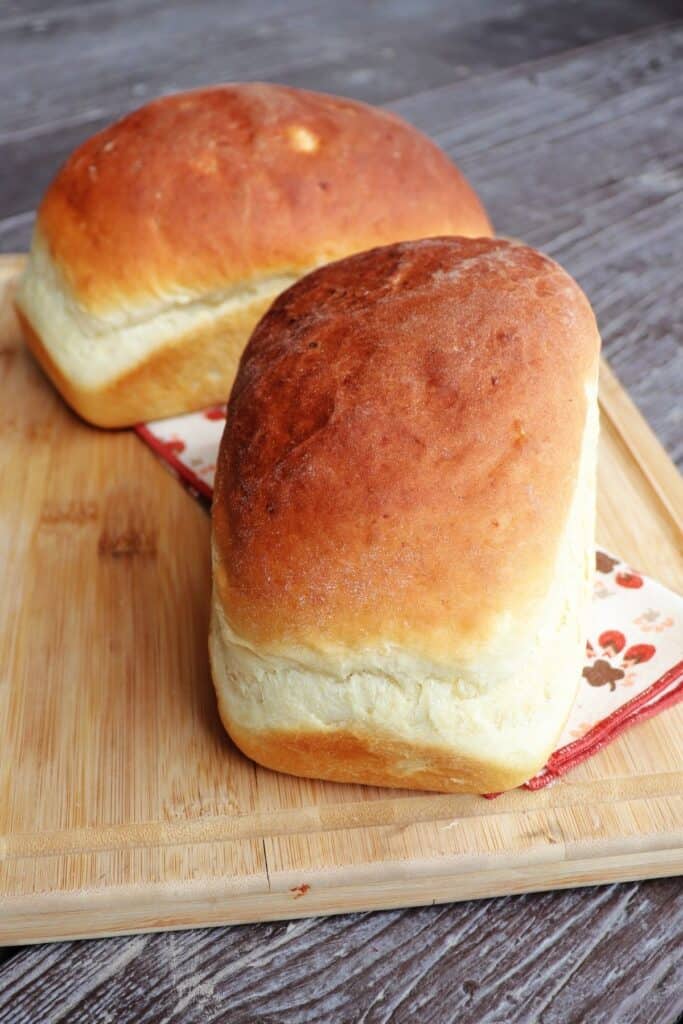 Shape into rolls to serve along side soup at the dinner table. Cook them in a cast iron pan, if desired, and bring them straight to the holiday meal table for rustic charm.
Do round or oblong loaves and bake on cookie sheets, if desired.
Adjust the baking time based on the shape, checking earlier for doneness than called for in the recipe below.
Difficulty Level : Intermediate
While this is a basic recipe, the stickiness of the dough might be a little confusing to the novice bread baker. That stickiness might mean adding extra flour while kneading the dough and ruining the overall texture of the bread.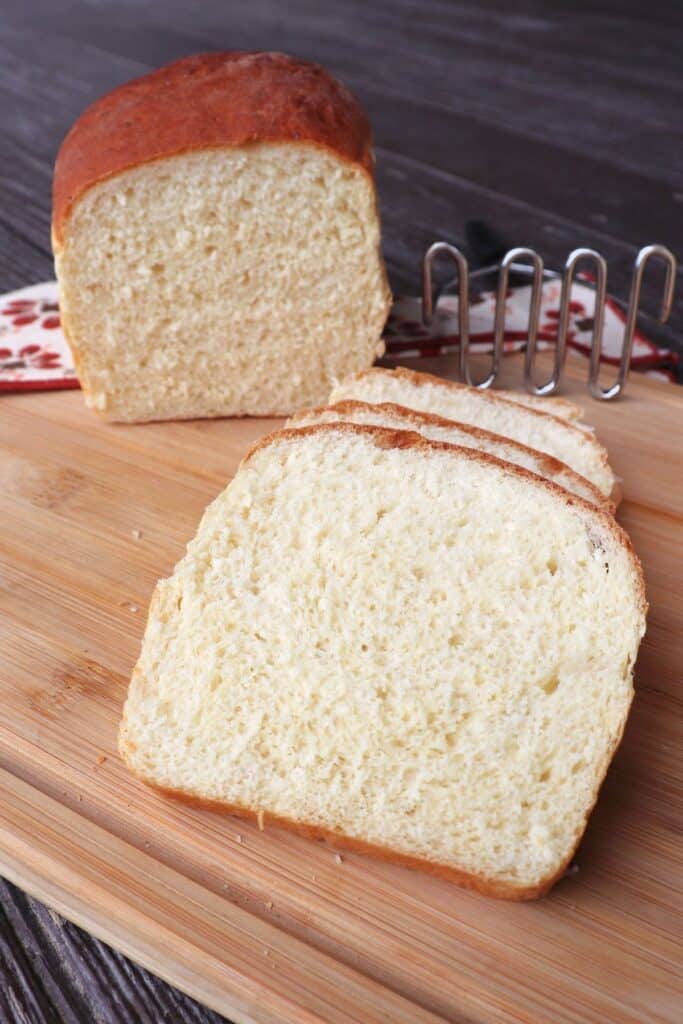 I suggest, practicing with a few other recipes first to get the feel for yeasted bread doughs and then come back to this recipe.
How to Serve
This great recipe is very adaptable to most anything.
It's great toasted and slathered in peanut butter.
The soft texture is perfect for soft fillings like egg salad or tuna.
Toasted it is great for BLT's and other firmer sandwich fillings.
It makes a great grilled cheese sandwich, too.
Definitely serve it with butter for soup or salad meals.
How to Store
Keep leftover bread in an airtight container. A fresh loaf kept well, will last up to 5 days at room temperature – assuming it lasts that long.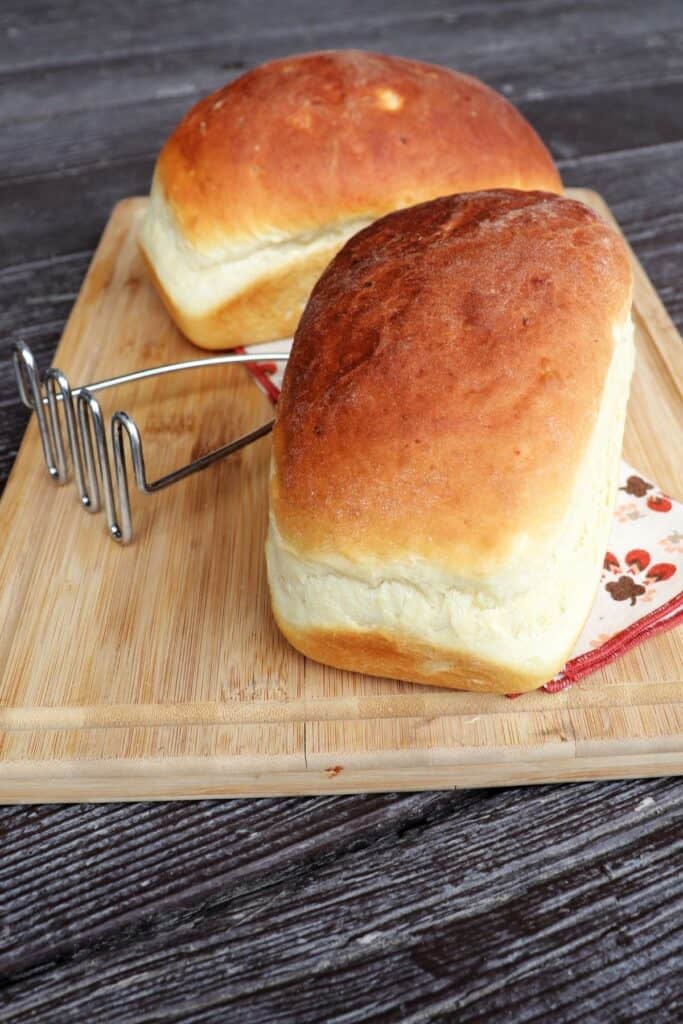 For longer term storage, freeze the bread. Simply place baked and cooled loaf of bread in a freezer bag and store in the freezer. Alternatively, slice the baked and cooled loaves and keep the slices in an airtight container. Thaw at room temperature.
Eat any frozen bread up within 6 months for best flavor and to prevent freezer burn.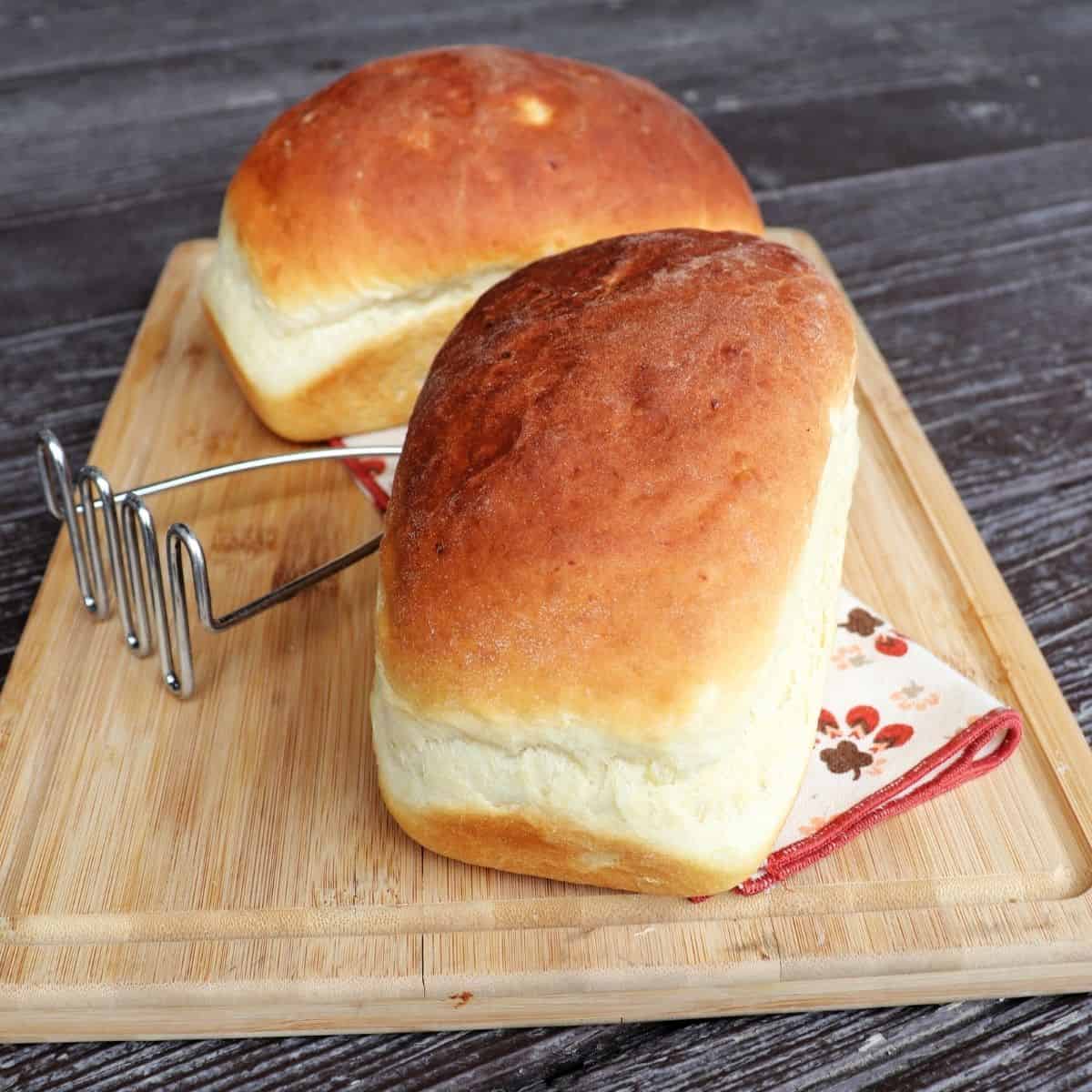 Mashed Potato Bread Recipe
Rising Time:
1 hour
30 minutes
Total Time:
2 hours
35 minutes
Make fluffy loaves of homemade bread from leftover potatoes.
Ingredients
1 Cup Mashed Potatoes, at room temperature
3/4 Cup Warm Milk
1 Tablespoon Active Dry Yeast
2 Tablespoons Sugar
2 Eggs
2 teaspoons Salt
3 1/2 Cups Bread Flour
Instructions
In a large mixing bowl, combine the mashed potatoes, milk, yeast, and sugar.
Let sit until foamy about 5 minutes.
To the potato mixture, add the eggs, salt, and 2 cups of bread flour. Mix well.
Add more bread flour as necessary to form a soft dough.
Turn out onto a floured board and need until the dough is soft and elastic. It will be a little bit sticky.
Grease a bowl. Place dough inside the bowl and turn to coat.
Cover the bowl with a tea towel and put in a warm place.
Let dough rise until doubled - 45 to 60 minutes.
Grease 2 loaf pans.
Punch down the dough and turn out to a floured surface. Knead the dough slightly and divide in half.
Form loaves and put into bread pans.
Cover the pans with a clean towel and let bread rise until doubled - 30 to 45 minutes.
Meanwhile preheat the oven to 375 degrees Fahrenheit.
When the bread has risen, bake in the preheated oven for 35 to 40 minutes. The tops will be golden brown and will sound hollow when tapped with a knuckle.
Remove from bread pans immediately to cool on wire rack.
Nutrition Information:
Yield:

32
Serving Size:

1 slice
Amount Per Serving:
Calories:

73
Total Fat:

1g
Saturated Fat:

0g
Trans Fat:

0g
Unsaturated Fat:

1g
Cholesterol:

12mg
Sodium:

162mg
Carbohydrates:

13g
Fiber:

1g
Sugar:

1g
Protein:

3g
I try but cannot guarantee this nutritional information is 100% accurate.