Spice up your homemade bread game by baking a loaf of jalapeño bread.
This savory bread is full of fresh jalapenos and plenty of sharp cheddar cheese to give your bread and your meals extra kick and flavor.
Make this jalapeño cheese bread to add a little heat to your meals without overpowering the main flavors.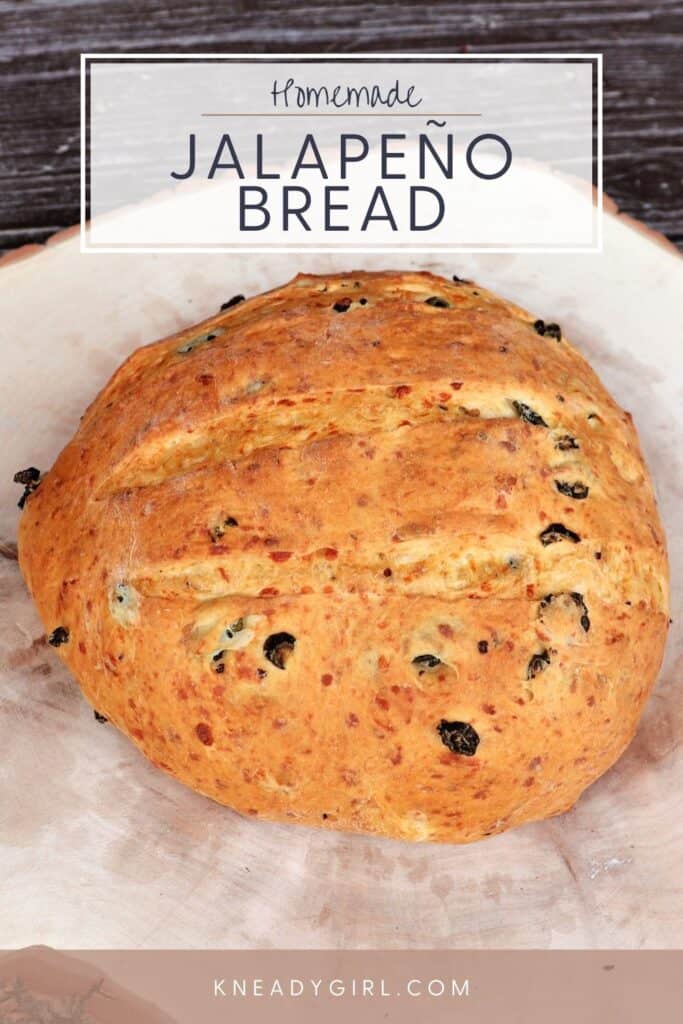 Simple Ingredients
Like they say, the best breads come from the simplest of ingredients and that is definitely true here.
This an extremely basic loaf of bread, it's the addition of the jalapenos and cheese that elevate it to something truly special.
Because the ingredients are simple, don't skimp, use the best you can afford.
Flour Choices
I went with regular bread flour here just to keep it easy and chewy. However, other choices could easily be substituted.
All purpose flour would work equally well.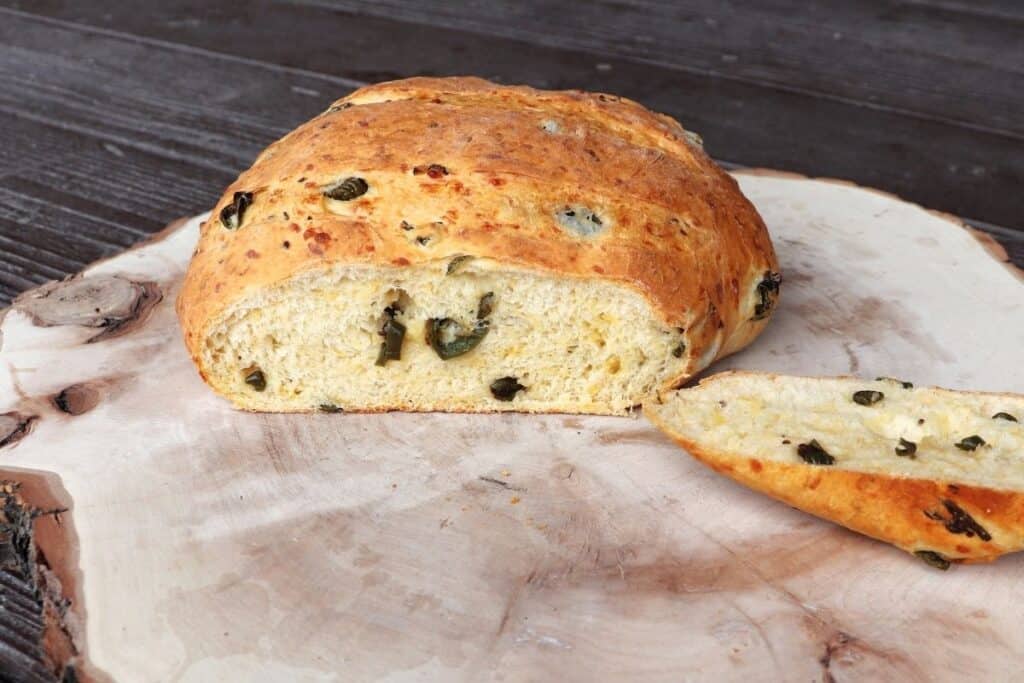 Some whole wheat flour could be used instead of 100% bread flour. A 50/50 mix is quite delicious while still being light.
Use whatever you like, do know that different flours absorb water differently so you may need more or less flour to get an elastic dough. Simply add cups of flour slowly and see how the dough comes together as you
Salt
The amount of added salt is low in this recipe, that's because cheese tends to be salty.
If you skip the cheese up the salt to at least 1 teaspoon, even 1 1/2 teaspoons to compensate.
Cheese
We're fans of cheddar in our house, so I generally use sharp cheddar. Mild cheddar will work but the flavor is lost some.
Other cheeses could also be substituted or even mixed. Pepper jack cheese could add even more heat the final loaf.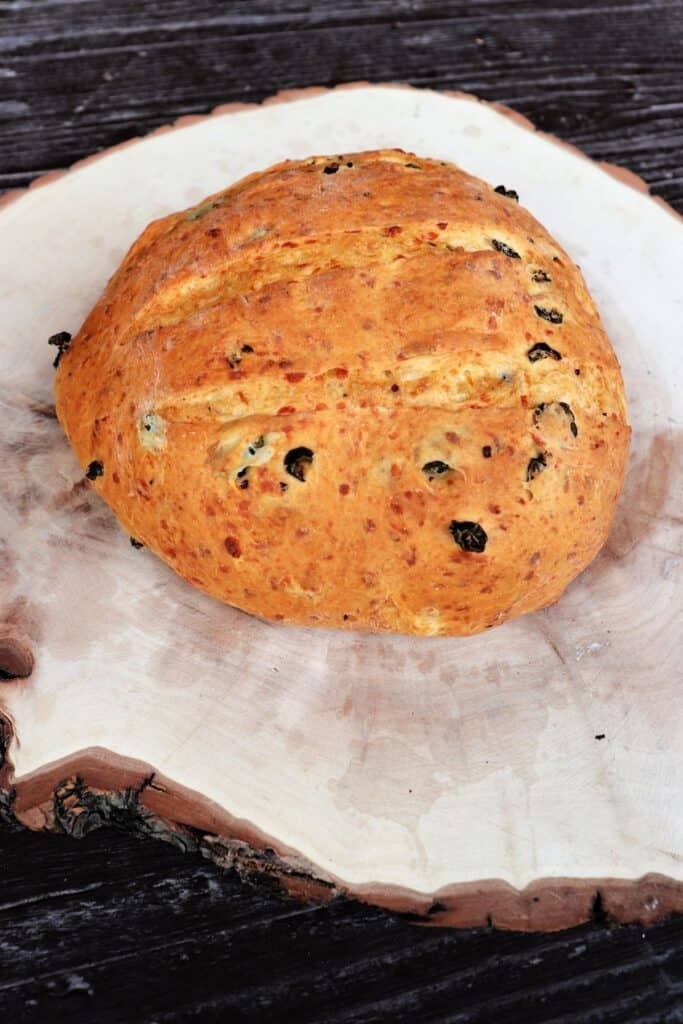 Mozzarella cheese can even out the heat and make the overall bread less spicy.
You can't go wrong, use your favorite.
Feel free to skip the cheese, if desired, and have plain jalapeno bread for a still lovely and flavorful loaf.
The Peppers
Make the bread hotter or milder by adjusting how you incorporate the fresh jalapeños.
For hotter bread, leave the seeds and veins in the peppers.
For milder bread, remove the seeds and veins before adding the peppers to the dough.
It's really up to you. There is no right or wrong.
I'm not a fan of super hot food, but I left the seeds and veins in the bread dough and found it to be the perfect level of heat.
For the super hot food fans, you could use a hotter pepper than a jalapeno, if desired.
Add some cayenne pepper to taste to the bread dough with the flour for additional heat and flavor.
Want to use frozen jalapeno peppers? Simply thaw and squeeze out any extra water before adding the to the bread dough. I did this with great results, using 1 full cup of frozen peppers, letting them thaw and then squeezing out the excess moisture.
Bread Shape
I tend to keep these a simple and less-than-perfect round loaves.
You could shape and cook in a traditional bread pan.
Shape it into dinner rolls and cook on a baking sheet.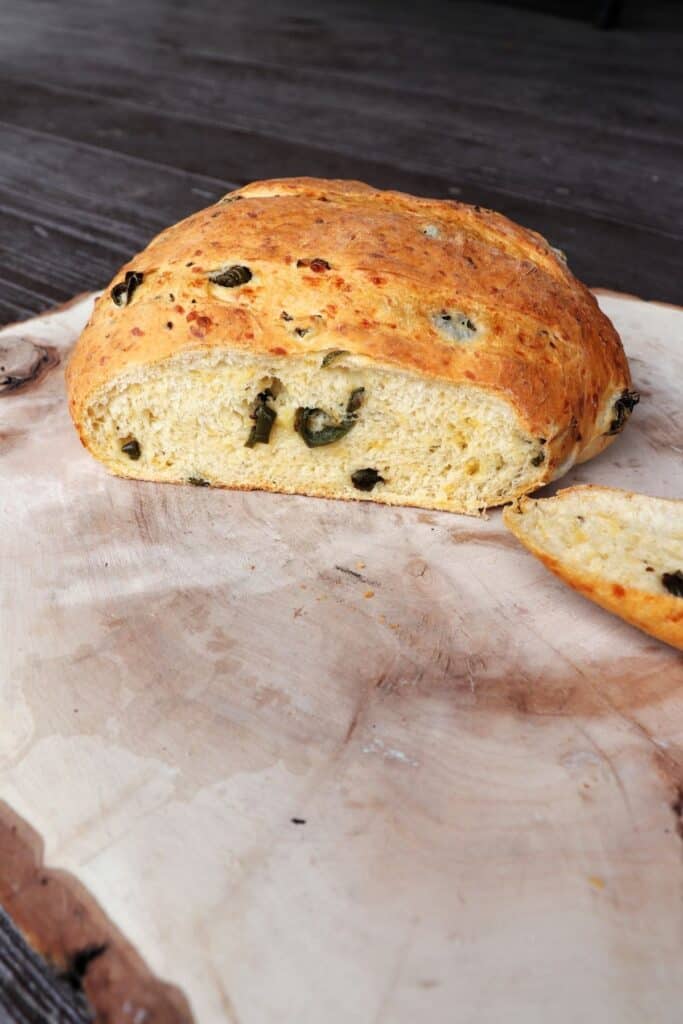 The possibilities are endless, go with what you like.
Do adjust cook times as necessary and watch for doneness when changing the shape.
Make it Crusty
To give yourself a crusty bread add some moisture to the oven.
Simply spray the walls of the oven down before baking or even place a small pan of water in the oven.
It's the moisture that will provide a crunch, crispy crust if that's the sort of bread you prefer.
Without the moisture, the crust is a crust but not especially hard or 'crusty.'
Difficulty Level: Beginner
This is a simple bread recipe, if you've made a basic bread in the past you'll be able to accomplish this with ease.
It is so simple, it would even be a good recipe for first time bread bakers to tackle. Do read my tips for baking a basic bread dough, however; to make the process easier.
This is a satisfying loaf for more advanced bread bakers simply because it is so very full of flavor.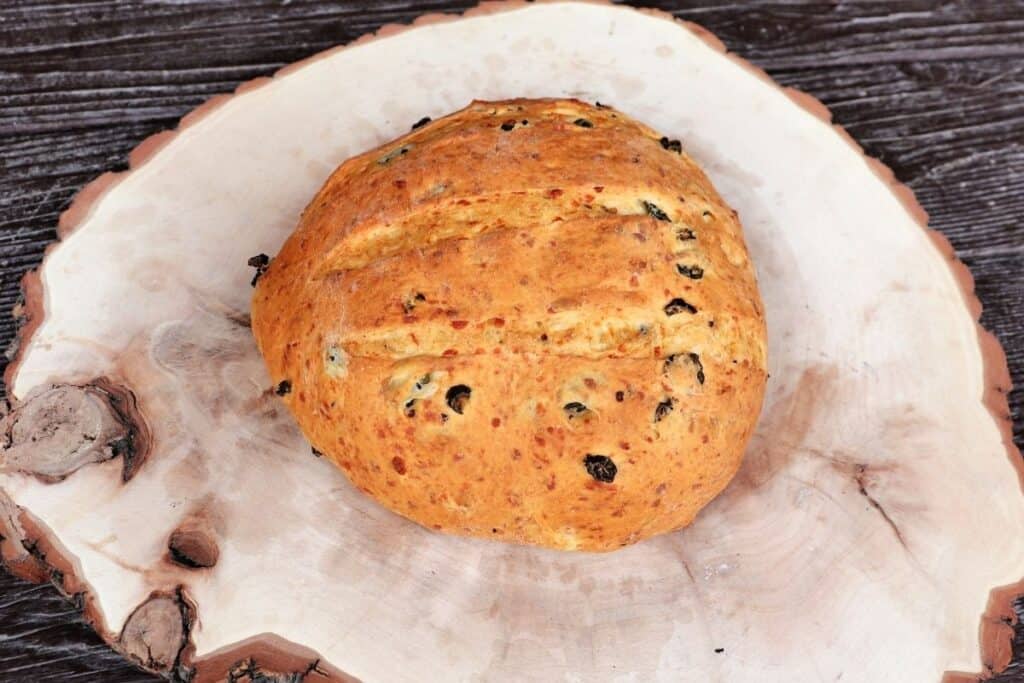 How to Serve
Definitely serve this alongside a bowl of soup or a big salad for a hearty meal.
Toast slices in the oven and spread them with cream cheese and pepper jelly for a fun appetizer.
The spice and cheese go great with eggs of all kinds – scrambled with breakfast or egg salad sandwiches.
If you like a little spice with your tuna sandwich, this bread is great choice. Truly any sandwich where a little extra spice is welcome would be great with this bread.
How to Store
The bread will keep well for about 3 days at room temperature. Just keep in an airtight container or plastic bag to preserve freshness.
Feel like making a double batch of this delicious bread? Go for it and freeze the extras.
Simply wrap cooked and cooled loaves in plastic wrap or place into airtight bags and freeze.
Alternatively, slice the bread and freeze slices in airtight bags. Freezing slices allows you to just grab what you need instead of an entire loaf at one time.
Use up within 6 months for best flavor and to prevent freezer burn.
Jalapeno Cheese Bread Recipe
Rise Time:
1 hour
30 minutes
Total Time:
2 hours
15 minutes
Homemade jalapeño cheddar bread is the recipe you want in your back pocket for Tex-Mex inspired meals and more. 
Ingredients
1 1/2 teaspoons Active Dry Yeast
1 Cup Warm Water
1 teaspoon Sugar
1/2 teaspoons Salt
3/4 Cup Jalapenos Sliced
2 Cups Shredded Cheese
3 Cups Bread Flour
Instructions
In a large mixing bowl, whisk together the water, yeast, and sugar. Let sit until foamy - about 10 minutes.
Add the salt, jalapenos, cheese and 1 cup of flour to the yeast mixture. Mix well.
Continue adding flour until a dough begins to form.
Turn out onto a floured board and knead until the dough is smooth, elastic, and slightly glossy.
Grease a large bowl. Turn the dough around inside the greased bowl to coat with the oil.
Cover the bowl with a towel and set in a warm place. Let dough rise sit until doubled. About an hour.
Punch down the dough and knead slightly.
Grease a large baking sheet, or line with piece of parchment paper.
Knead the dough and form into a large round.
Place the round in the center of the prepared baking sheet.
Cover the sheet with a clean kitchen towel.
Let bread rise until doubled about 30-45 minutes.
Meanwhile, preheat oven to 400 degrees Fahrenheit.
Just before putting the tray in the oven, slash the top of the dough with a sharp razor, if desired.
Bake the risen dough in the preheated oven for 20-25 minutes or until golden brown. The bread will sound hollow when tapped with a knuckle.
Remove from the pan immediately to cool on wire rack.
Nutrition Information:
Yield:

16
Serving Size:

1
Amount Per Serving:
Calories:

153
Total Fat:

5g
Saturated Fat:

3g
Trans Fat:

0g
Unsaturated Fat:

2g
Cholesterol:

14mg
Sodium:

160mg
Carbohydrates:

20g
Fiber:

1g
Sugar:

1g
Protein:

7g
I try but cannot guarantee this nutritional information is 100% accurate.