Gingerbread scones are a denser, more filling version of the molasses ginger cookies we all love around the holidays.
Because there is a nice touch of molasses in this scone recipe, they are not the traditional dry scone most of us are accustomed to eating.
These moist scones are full of gingerbread flavor to warm up the coldest of mornings.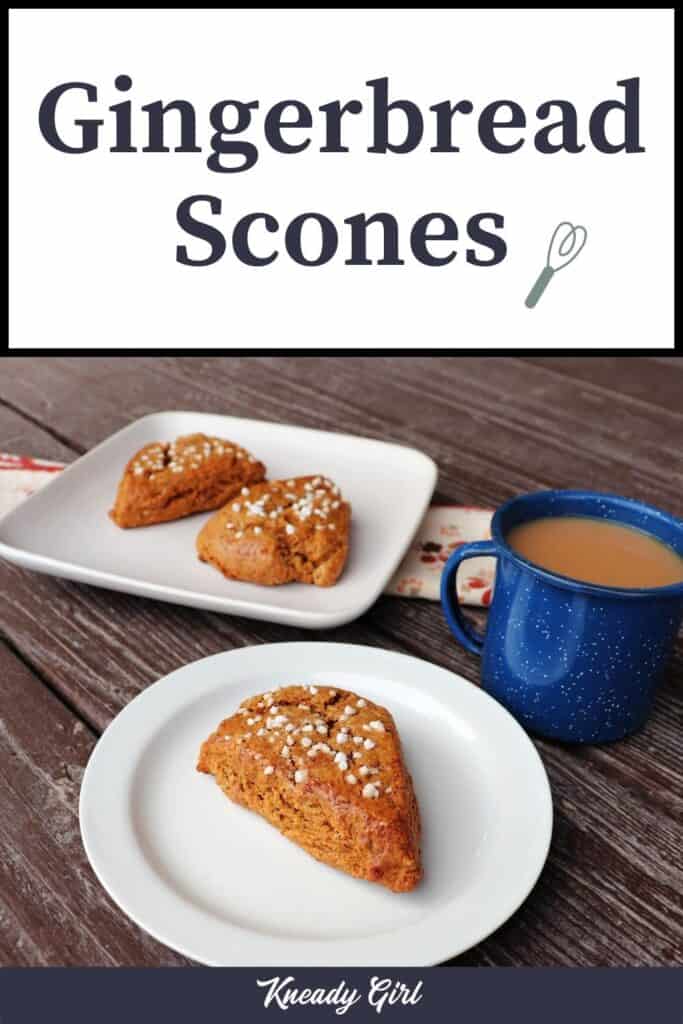 Chill for Puff
A good scone always starts with cold butter in my experience. Like pie crust, that cold butter in the hot oven results in puff and texture.
The extra bit of dense molasses in these scones means the puff is harder to come by. Combat that by chilling the scones in the freezer for just 30 minutes before baking.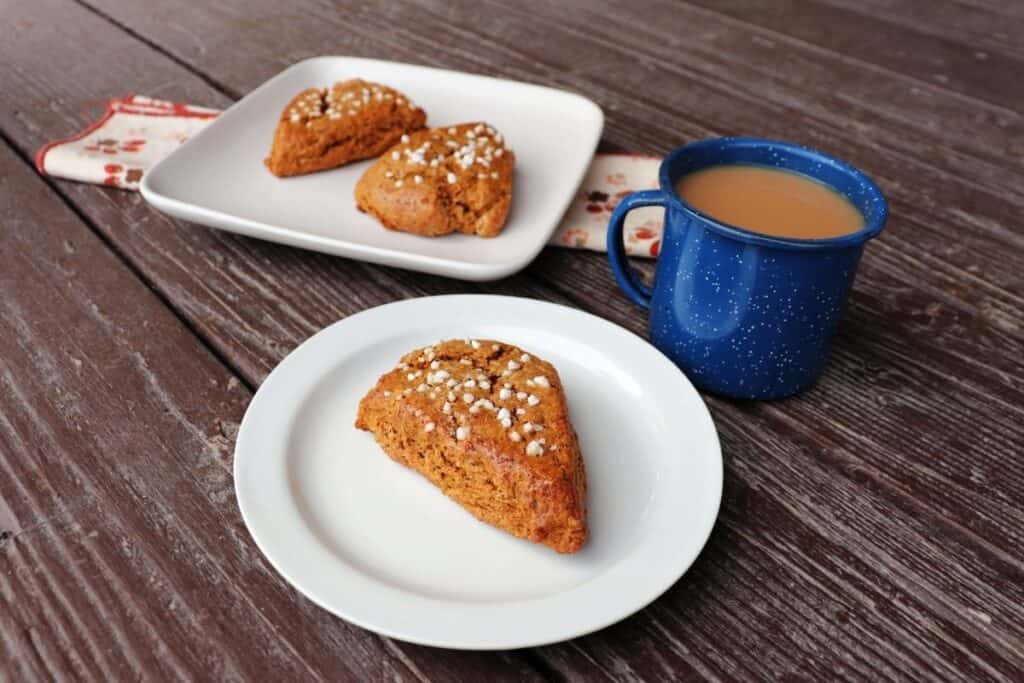 One could likely skip this and still have good results, but better results happen when the scones are chilled prior to baking.
Topping
I opted for a simple topping of egg wash and Swedish Pearl Sugar. I like the big bits of sugar on top and the extra bit of crunch it provides.
One could easily use a coarse or sparkling sugar instead. The demerara sugar would also work. A sprinkling of cinnamon sugar could replace the bigger coarse sugar crystals, too.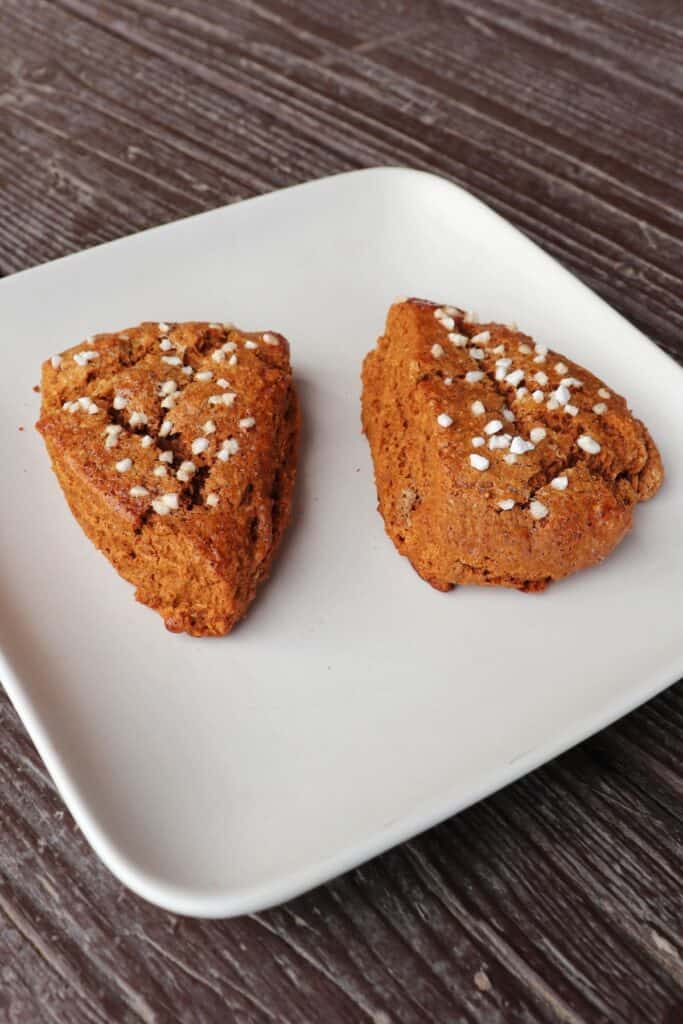 Skip the sugar and use a maple syrup or vanilla glaze instead on the cooled scones, if desired.
Alternatively, dust the scones with powdered sugar just before serving for a lovely and tasty presentation.
Optional Additions
Want to bulk up the scones a bit more? Consider adding 1/2 to 1 cup of the following to the dough:
white chocolate chips or any chocolate chunk you prefer
chopped crystallized ginger
raisins or other dried fruit
Serving Ideas
Serve a warm scone with some fresh fruit, tea, or coffee as simple breakfast or afternoon snack.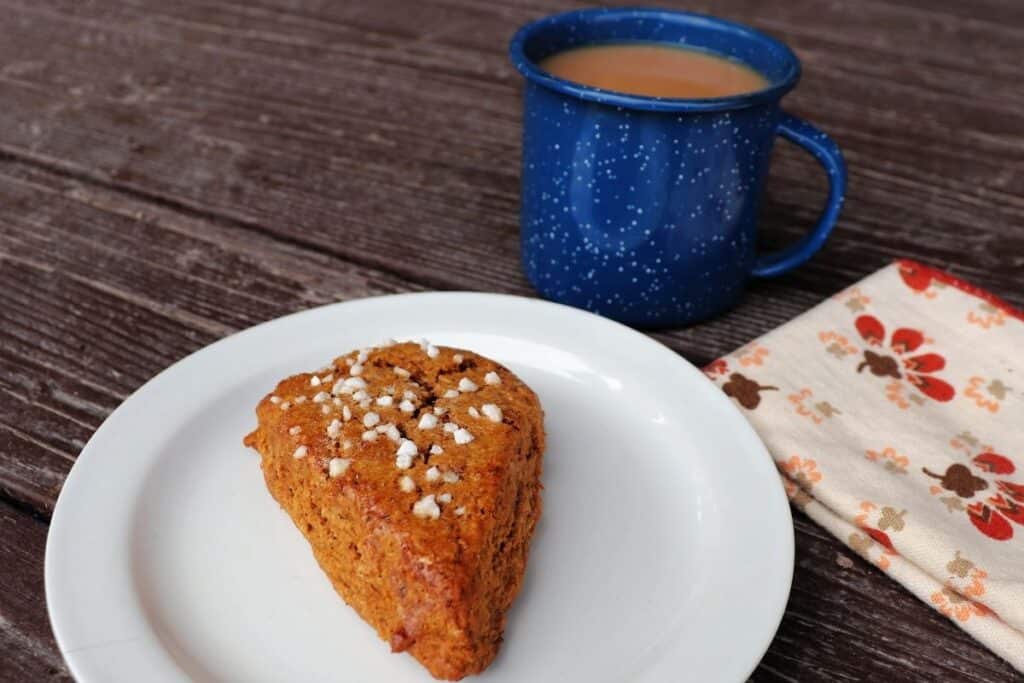 Because the flavor of these scones is warming and feels like Christmas morning to many of us, serve them during the holiday season as a part of a brunch buffet with eggs, fruit, bacon, etc.
Definitely tuck one into a lunch box for a special gingerbread cookie-like treat.
How to Store
The baked and cooled scones will keep for a couple of days at room temperature. Simply store them in an airtight container.
For longer storage, freeze the baked and cooled scones in a tightly sealed freezer bag. Thaw at room temperature to eat. Use up frozen scones within 6 months for best flavor.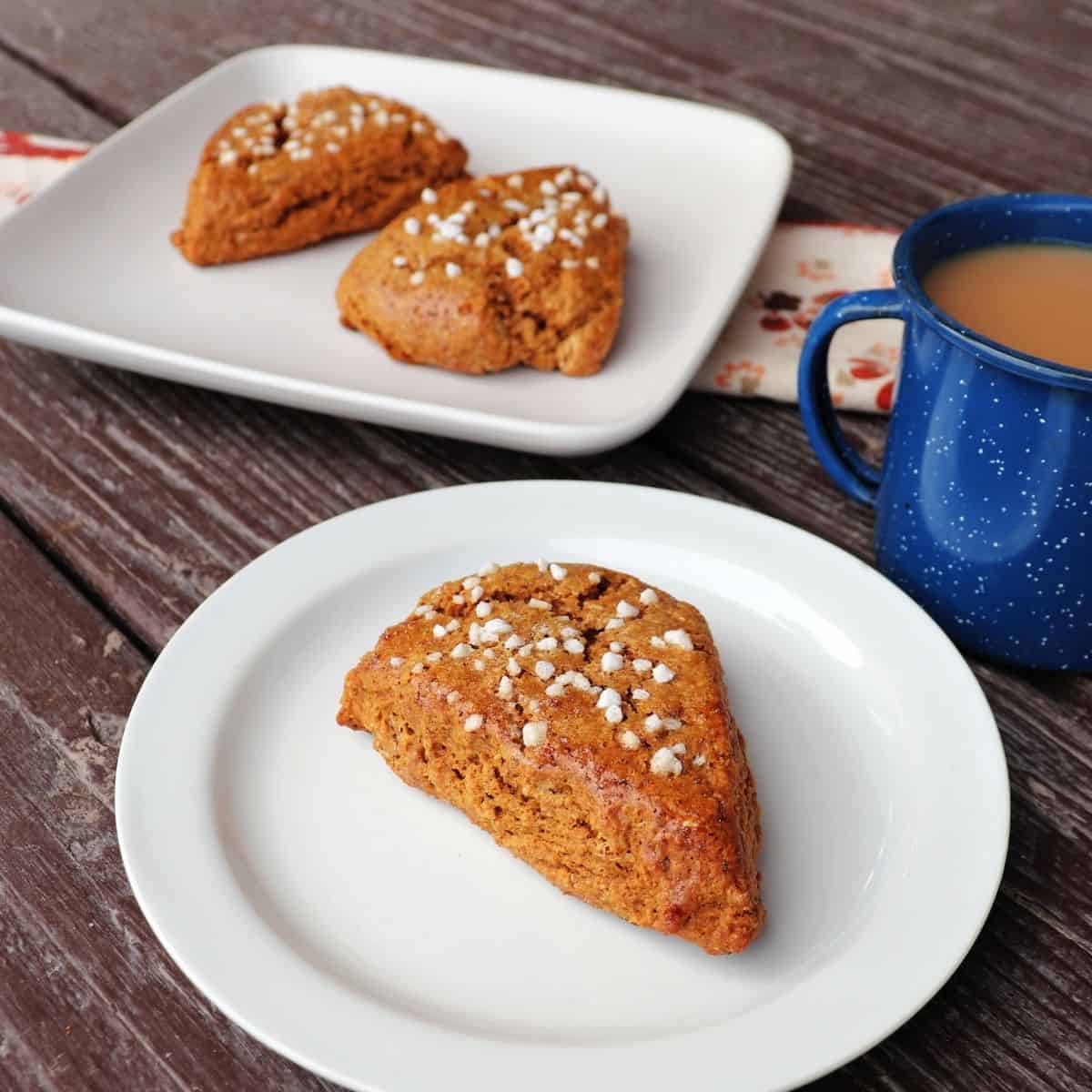 Gingerbread Scone Recipe
Serve these perfect scones on a holiday morning for an easy and delicious treat full of warming ginger flavor.
Ingredients
2 Cups Unbleached, All-Purpose Flour
3 Tablespoons Brown Sugar
2 teaspoons Baking Powder
1 teaspoon Ground Ginger
1/2 teaspoon Ground Cinnamon
1/2 teaspoon Baking Soda
1/4 Cup Salted Butter, cold
1/3 Cup Molasses
1/4 Cup Milk
1 Egg Yolk
Sugar Topping
1 Egg White
1/4 Cup Swedish Pearl Sugar
Instructions
Grease a baking sheet or line with parchment paper or silicone baking mat.
In a large mixing bowl, whisk together the flour, brown sugar, baking powder, spices, and baking soda. Set aside.
In a small bowl, whisk together the molasses, milk, and egg yolk until completely combined. Set aside.
Cut the butter into small pieces and add to the the flour mixture. Using a pastry blender or two knives work the butter into the dry ingredients until it resembles a coarse meal. One could also use a food processor to do this, if desired.
Pour the wet ingredients into the butter mixture and mix well.
Turn the dough out onto a floured board and knead slightly, until a tight ball of dough is formed. It will be a slightly sticky dough.
Pat the dough into a circle, approximately 7 inches in diameter, about 1/2 inch thick.
Cut the scone dough into 8 equal wedges with a sharp knife.
Place the wedges about 2 inches apart on the prepared baking sheet.
Place the sheet of scones in the freezer and let chill for 30 minutes.
Meanwhile preheat the oven to 400 degrees Fahrenheit.
For the topping, whisk the egg white until it's frothy.
Brush the tops of the scones with the egg white and sprinkle with the pearl sugar.
Place the scones in the preheated oven and bake for 12-15 minutes. The scones will have puffed and the edges will be a dark, golden brown.
Remove from the sheet pan to cool on a cooling rack.
Serve warm.
Nutrition Information:
Yield:

8
Serving Size:

1
Amount Per Serving:
Calories:

259
Total Fat:

7g
Saturated Fat:

4g
Trans Fat:

0g
Unsaturated Fat:

2g
Cholesterol:

39mg
Sodium:

265mg
Carbohydrates:

46g
Fiber:

1g
Sugar:

21g
Protein:

4g
I try but cannot guarantee this nutritional information is 100% accurate.