Bake this old-fashioned sheepherder's bread recipe for a rustic whole grain loaf to accompany any meal.
This wonderful bread cooks right inside a cast iron Dutch oven and rises to fill the entire thing for wide, hearty slices.
Like all my favorite breads, this is easy to bake and delicious to eat.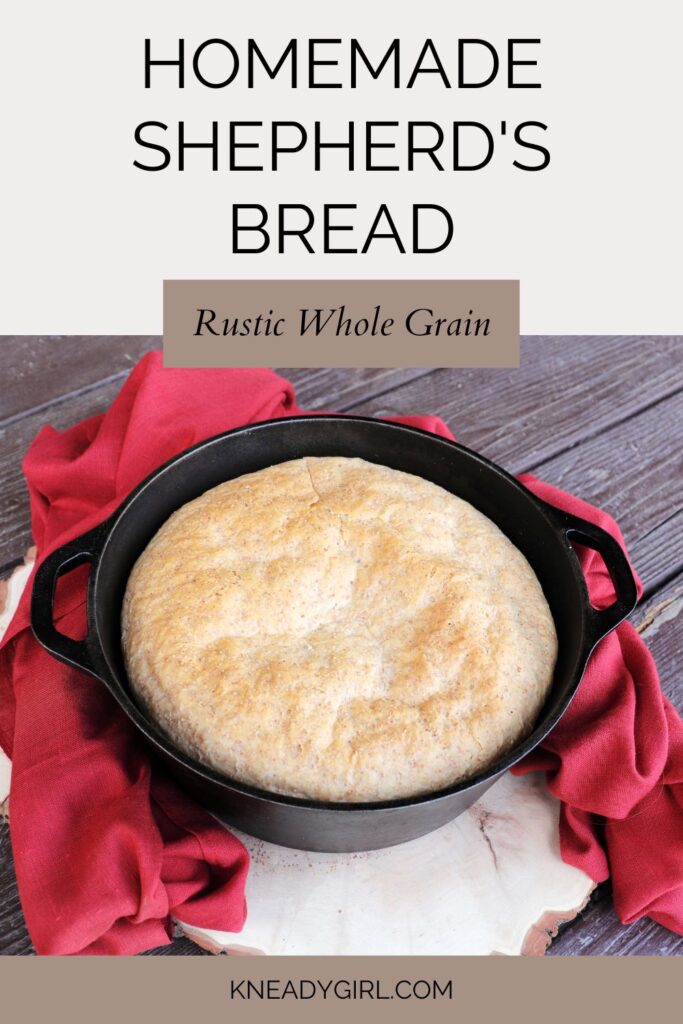 Flour Choices
The original recipe as written uses a mix of whole wheat and bread flours for a lightly whole grain loaf.
It is not a heavy or dense whole grain bread, it will remain light enough in texture that most anyone will enjoy.
All-purpose flour could be substituted for the bread flour.
Other whole grain flours could be substituted for the whole wheat, I've tried it with medium rye and pumpernickel flours myself. In the end, I've preferred whole wheat here.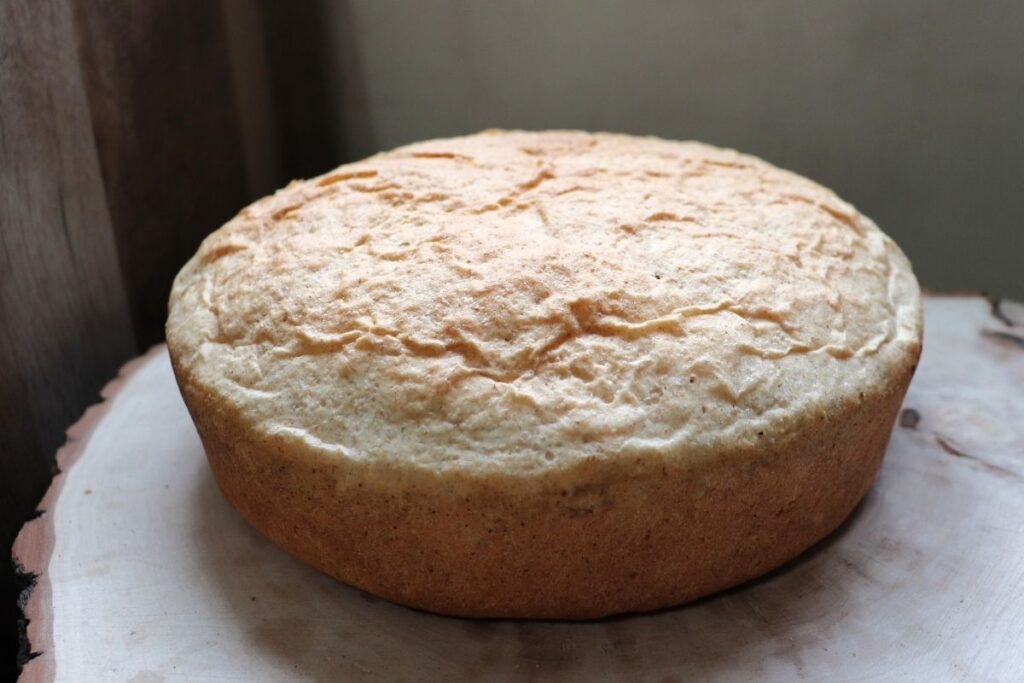 Skip the whole grain and use 100% bread or all-purpose flour if desired.
Do know that different flours absorb water differently so add flour slowly to see how the bread dough forms as you mix.
The Dutch Oven
Traditionally, these lovely Basque sheepherders bread loaves are baked in round cast iron Dutch ovens. The iron pots would stand up to cooking over a fire or being buried in hot coals.
We're going to skip the fire and do it in the oven here!
The baking in the Dutch Oven with the lid on, is what gives this bread such amazing texture. A crunchy crust with a soft interior is possible because it steams a bit while it bakes with the lid on for the first few minutes.
You'll need a minimum 5-quart cast-iron Dutch oven for this recipe. Larger will work, but smaller will likely cause the lid to be completely pushed off by the rising dough.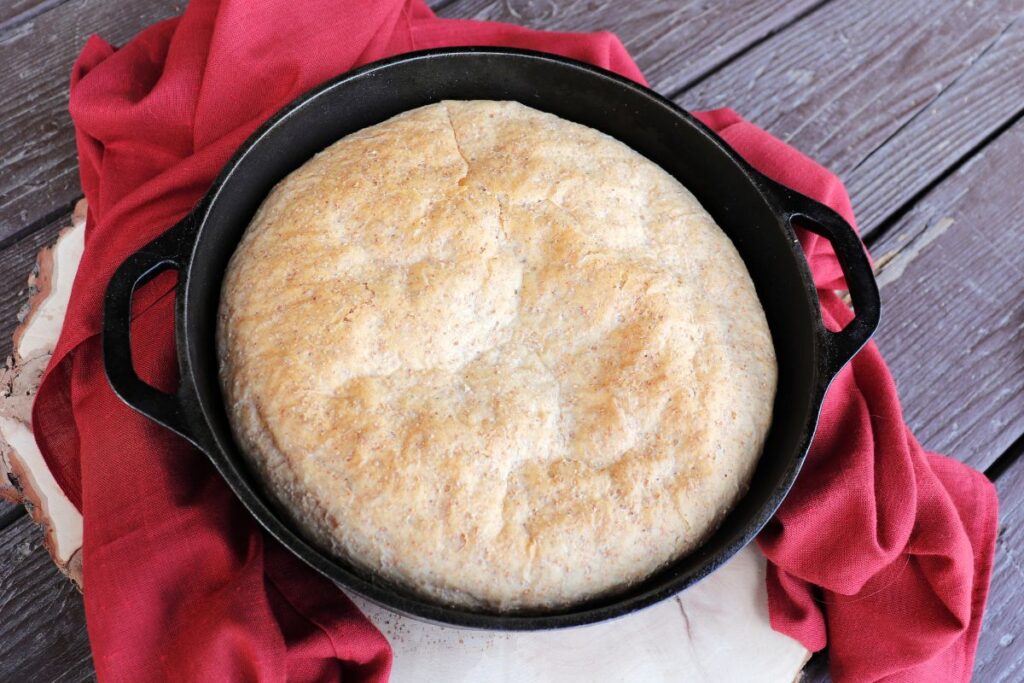 Do make sure to grease the lid before baking. The bread dough will rise to touch the lid while baking and if it sticks it's a mess.
It is when the dough pushes on the lid that gives the top a dimpled or wavy appearance. To me, that only enhances the appeal of the loaf.
Don't have a Dutch Oven? Any deep round pot with a lid would likely work. As stated, just be sure to grease the inside of the cover.
Change Shape
Want to buck tradition? Like most bread doughs, there's no reason why different shapes couldn't be made based on the mood of the baker.
I didn't test it but I don't see why it couldn't easily bake up as a round loaf on a baking sheet.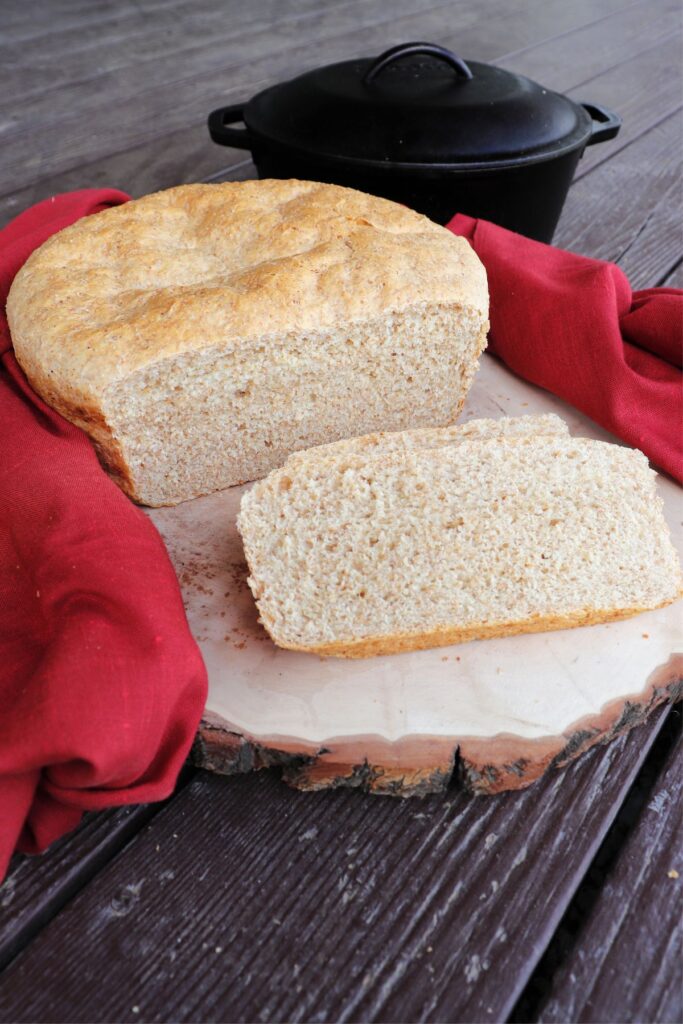 Divide in half and place each half in a loaf pan.
Baking time will vary for different shapes, so watch for doneness.
Experience Level: Beginner
This is a simple bread that most beginning bread bakers could tackle.
There's a just a touch of whole wheat flour making it a great recipe to get some experience with whole grain flours.
Beyond the whole grain the only difference in making this basic bread recipe is the pan, allowing for some creative exploration.
How to Serve
This recipe does result in a wide loaf. To slice it well, a long bread knife is needed. Other than that, use it like any of your favorite savory, simple breads.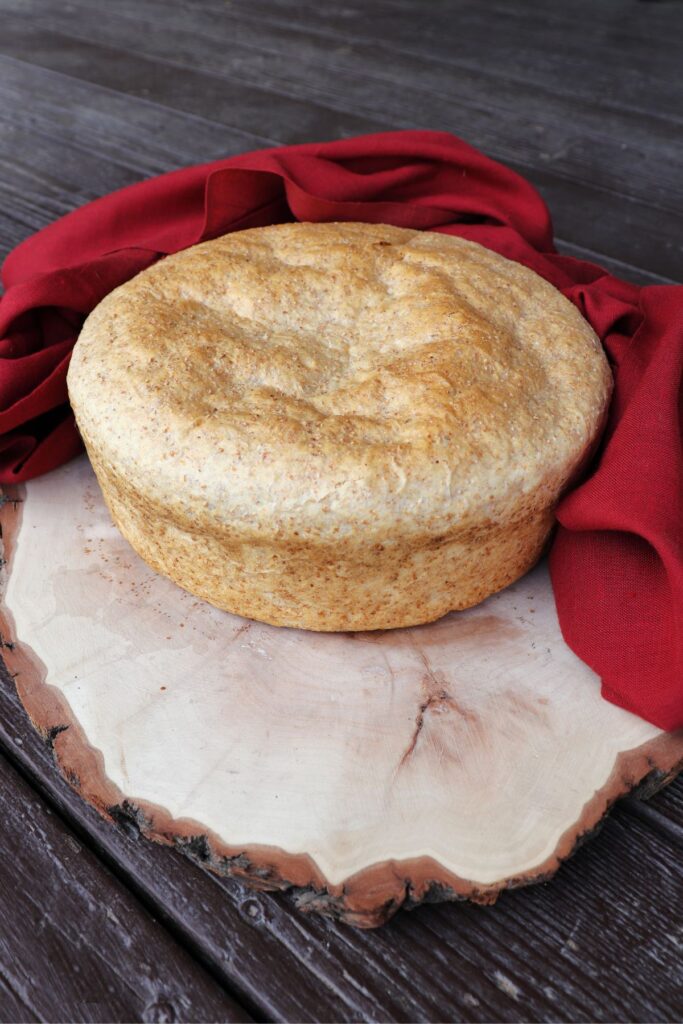 Serve slices along side soup and stew. Use it with any of your main dishes that have a sauce to be sopped up.
Cut the long slices in half and toast in a toaster to slather with peanut butter or jelly. Alternatively, toast the long slices in a toaster oven.
How to Store
If stored in an airtight container, this bread will stay fresh at room temperature for about 4 days.
For longer term storage, freeze baked and cooled loaves in freezer bags.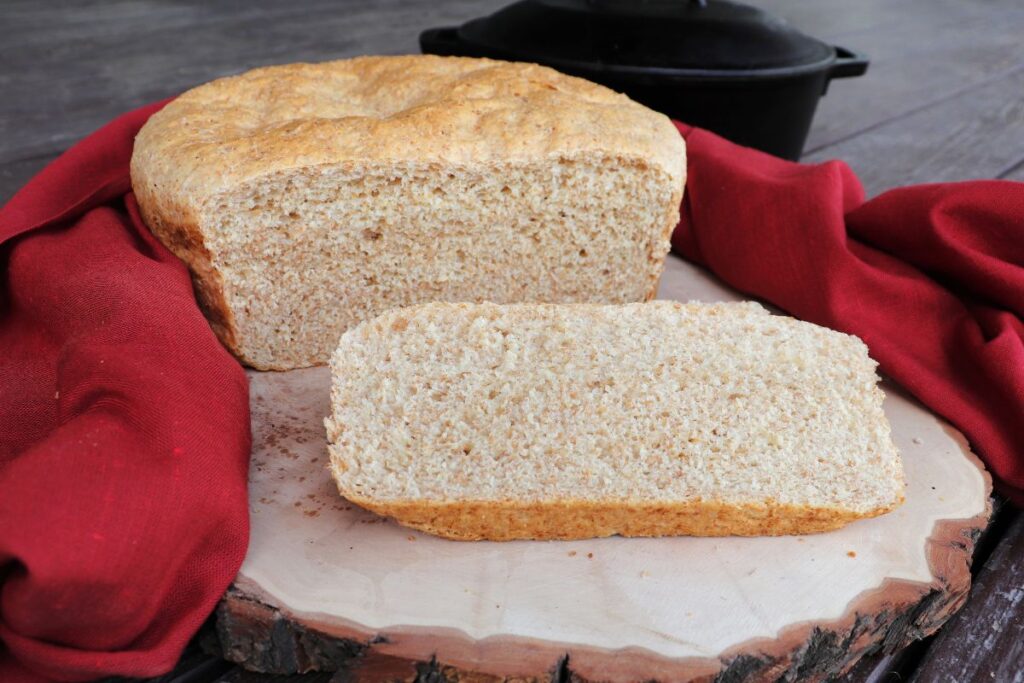 Alternatively, bake and cool the bread, then slice. Place slices in freezer bags and freeze.
I prefer the slice method for this bread, because it's easy to just pull out a few slices and toast quickly for breakfast.
Use up frozen bread within 6 months for best flavor and to prevent freezer burn.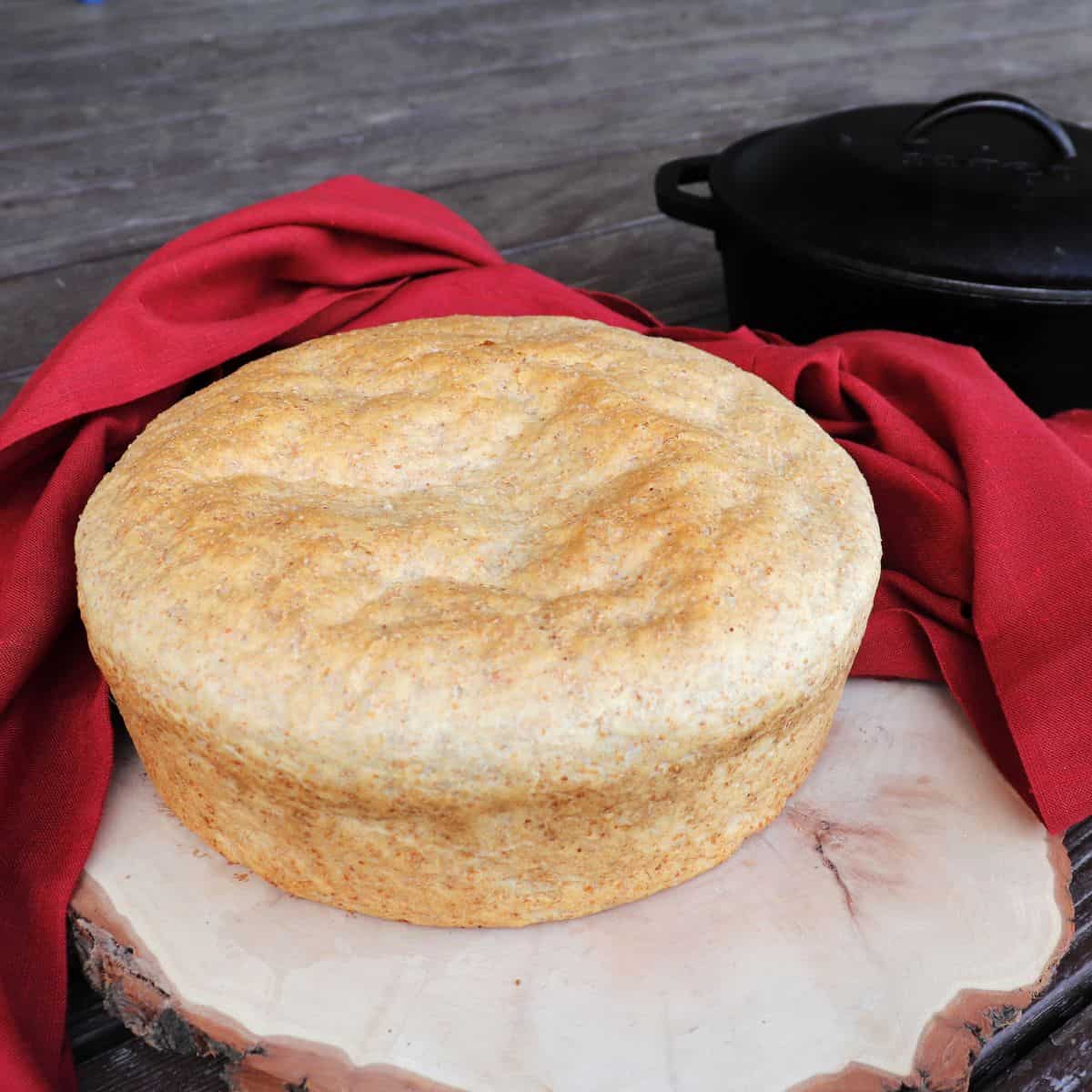 Shepherd's Bread Recipe
Yield:
1 Large Round Loaf
Rising Time:
1 hour
30 minutes
Total Time:
2 hours
35 minutes
Make this hearty, rustic loaf as an amazing way to complete most any meal where bread is welcome.
Ingredients
2 Cups Warm Water
1 Tablespoon Active Dry Yeast
1 Tablespoon Sugar
6 Tablespoons Salted Butter, Melted & cooled to room temperature
2 teaspoons Salt
2 Cups Whole Wheat Flour
3 1/2 Cups Bread Flour
Instructions
In a large bowl, combine water, yeast, and sugar. Let sit until foamy - about 5 to 10 minutes.
Add the whole wheat flour, melted butter, and salt. Stir well with a wooden spoon to form a thick batter.
Add 2 cups of the bread flour and mix. Continue to add the remaining cups of flour a bit at a time until a soft dough begins to form.
If using a stand mixer with a dough hook, mix on medium speed. The dough will begin to clean the sides of the bowl.
Turn the dough out onto a floured surface and knead until it an elastic and smooth ball.
Grease a large mixing bowl, place the dough inside turning to coat.
Cover bowl a clean towel. For the first rise, let sit in a warm place until doubled, 45 minutes to an hour.
Grease a dutch oven, including the lid.
Punch down the bread dough and turn out to a floured board.
Knead and shape the dough into a large disk.
Place dough inside the dutch oven. Cover the pot with the lid.
Let dough rise for a second time in a warm spot until doubled, about 30 minutes.
Meanwhile, preheat the oven to 375 degrees Fahrenheit.
Place the dutch oven in the preheated oven with the lid on.
Bake for 12 minutes.
Remove the lid and bake for another 25-30 minutes more.
The bread will have a golden brown crust when done. The center of the loaf will sound hollow when tapped with a knuckle.
Remove from the pan immediately to cool on wire rack.
Nutrition Information:
Yield:

26
Serving Size:

1
Amount Per Serving:
Calories:

125
Total Fat:

3g
Saturated Fat:

2g
Trans Fat:

0g
Unsaturated Fat:

1g
Cholesterol:

7mg
Sodium:

185mg
Carbohydrates:

21g
Fiber:

2g
Sugar:

1g
Protein:

4g
I try but cannot guarantee this nutritional information is 100% accurate.