Irish soda bread is super basic quick bread that makes for a delightful savory bread side dish that you can make in a hurry.
Unlike many quick breads, this is not a loaf style bread, but rather a round loaf that can easily take the place of many yeast breads on the dinner table.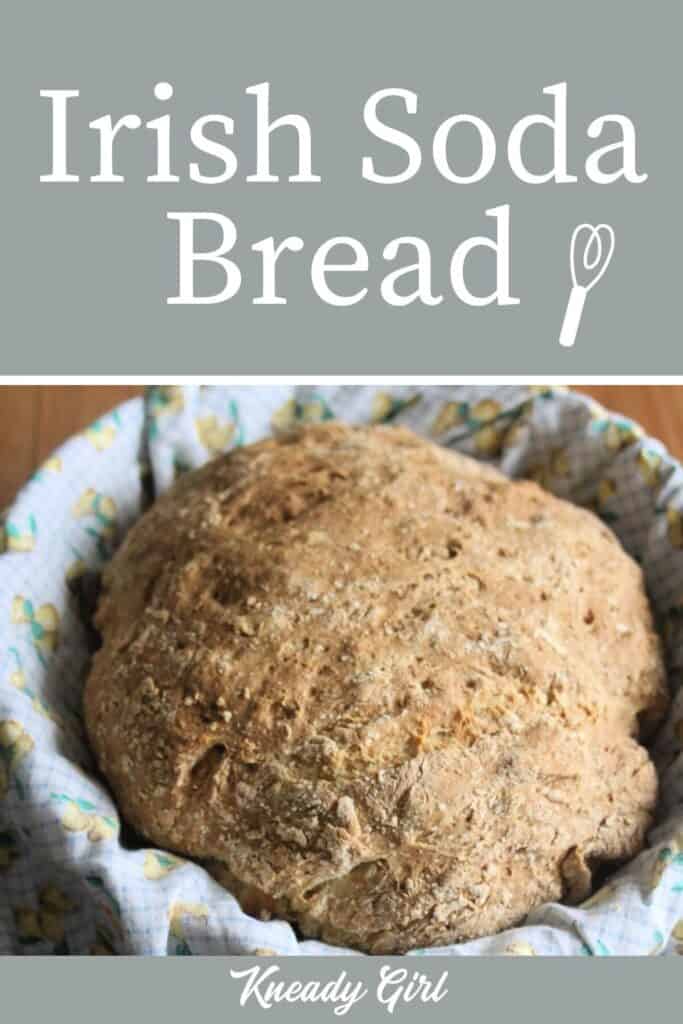 Versatile Quick Bread
This loaf skips all the rising and kneading of yeasted bread and yet can just as easily be used alongside soups and salads.
It can just as easily be used for sandwiches, unlike many quick batter-style breads.
The slices do toast up delightfully, as well, so feel free to toast for sandwiches or breakfast.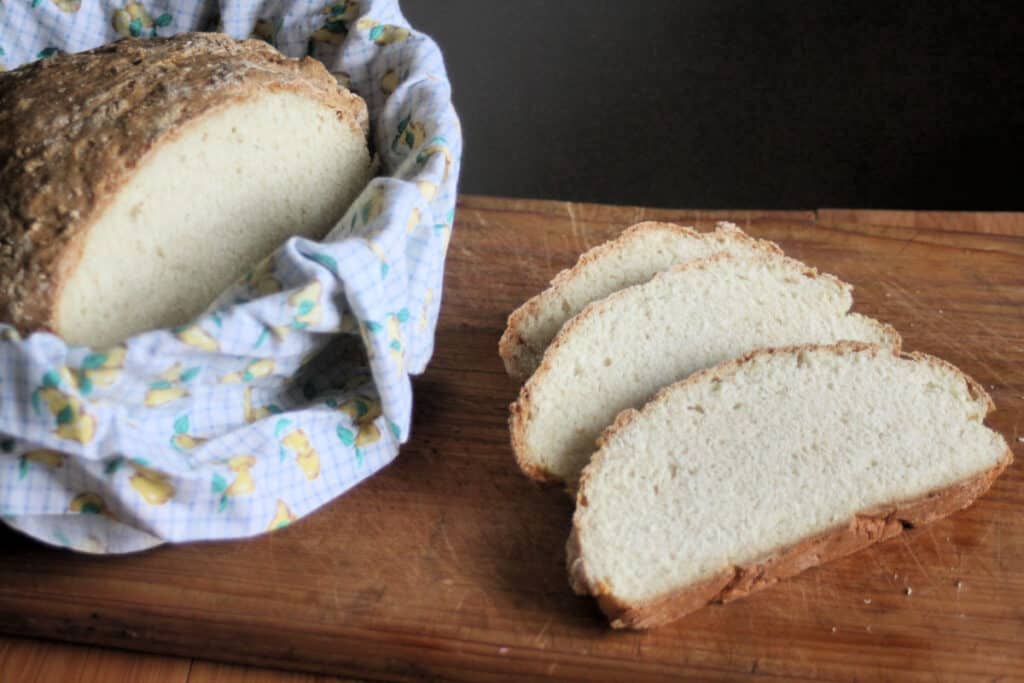 Milk Choices
Irish soda bread seems to be made with buttermilk most traditionally. Admittedly, it provides flavor and perhaps a bit of extra lift to the bread texture.
However, it is not the only choice.
The powdered buttermilk will work if that is in your pantry and the liquid buttermilk is not.
Soured milk will also work – simply use 1 1/2 cups of regular milk and add 1 1/2 Tablespoons vinegar. Let that sit on the counter for about 5 minutes, then proceed with the rest of the recipe.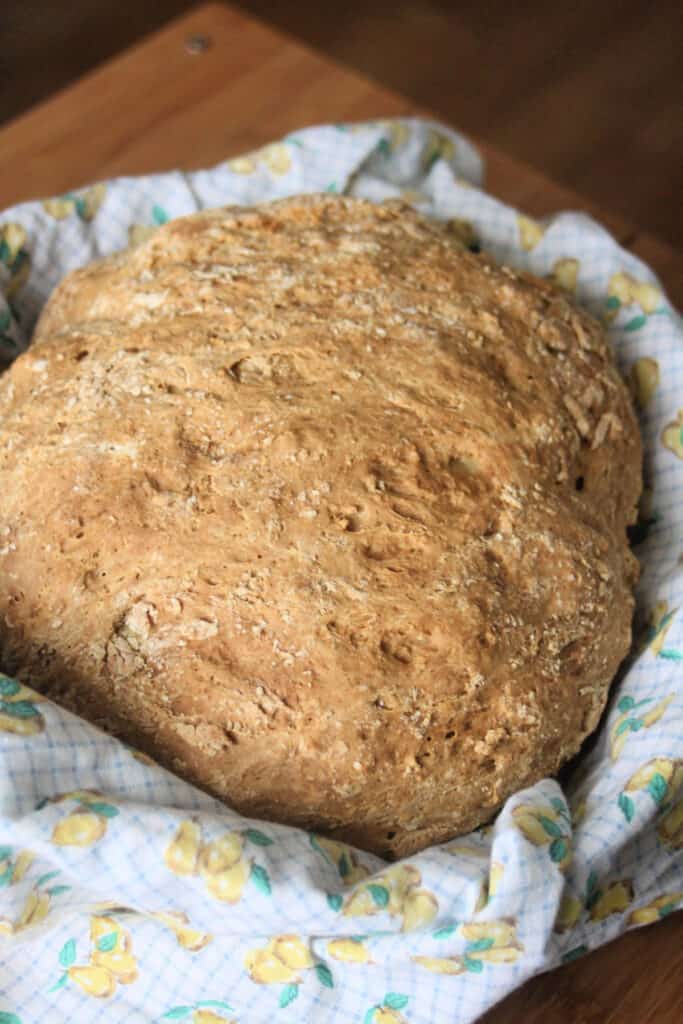 Freeze Extras
You could make the loaf ahead of time and freeze it in its entirety. Simply place the cooked and cooled loaf into a freezer bag and freeze until needed.
Thaw at room temperature before serving.
Alternatively, you can freeze extras in slice form. Slice the cooked and cooled loaf. Place the slices into an airtight container and freeze.
Pull out slices as needed and allow to thaw before eating.
Eat the frozen bread within 6 months fore best flavor and to avoid freezer burn.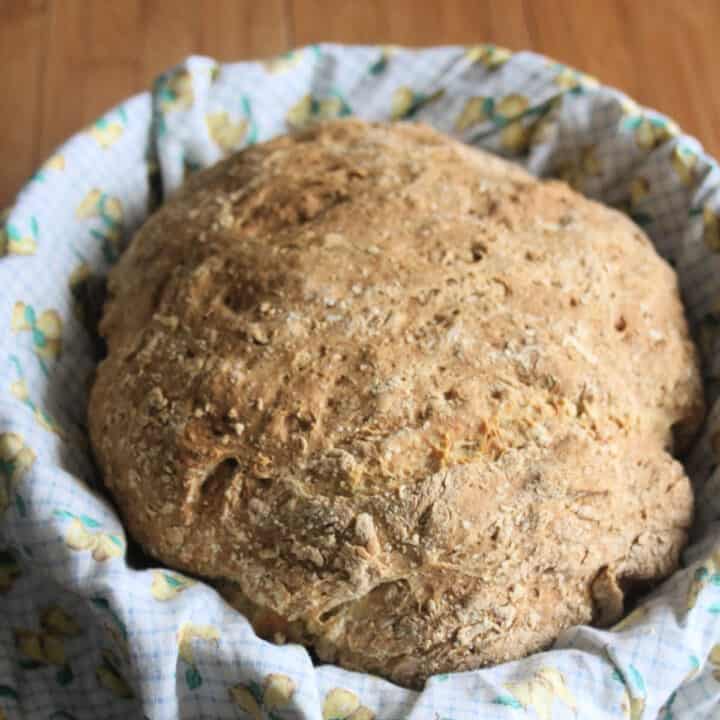 Irish Soda Bread
A basic and delicious quick bread perfect for eating alongside most any meal.
Ingredients
4 Cups Unbleached All-Purpose Flour
1 Tablespoon Baking Powder
1 Tablespoon Sugar
2 1/2 teaspoons Salt
1/4 teaspoon Cream of Tartar
1 1/2 Cups Buttermilk
Instructions
Preheat the oven 375 degrees Fahrenheit.
Line a baking sheet with parchment paper or a silicone baking sheet.
In a large bowl, whisk together the flour, baking powder, sugar, salt, and cream of tartar.
Pour in the buttermilk and mix well. Start with a wooden spoon, move to mixing with your hands to sort of knead it all together if necessary. You will be tempted to add more milk, don't.
When the dough comes together into a soft ball, place it onto the prepared baking sheet.
Pat and press the dough into a circle, about 7 1/2 inches in diameter (a little more or less isn't going to hurt anything).
Bake in the preheated oven for 30-40 minutes, the bread will turn a lovely golden brown color and sound hollow when tapped with a knuckle.
Remove from baking sheet to cool completely on a wire rack.
Recommended Products
As an Amazon Associate and member of other affiliate programs, I earn from qualifying purchases.
Nutrition Information:
Yield:

16 slices
Serving Size:

1 slice
Amount Per Serving:
Calories:

127
Total Fat:

1g
Saturated Fat:

0g
Trans Fat:

0g
Unsaturated Fat:

0g
Cholesterol:

1mg
Sodium:

466mg
Carbohydrates:

26g
Fiber:

1g
Sugar:

2g
Protein:

4g
I try but cannot guarantee this nutritional information is 100% accurate.