This easy fry bread recipe has exactly 2 ingredients plus the oil for frying, making it an incredibly simple and yet oh-so-impressive side dish.
The great thing about fried bread dough is that it can easily fit both sweet and savory applications. Truly how it is served is only limited by one's imagination.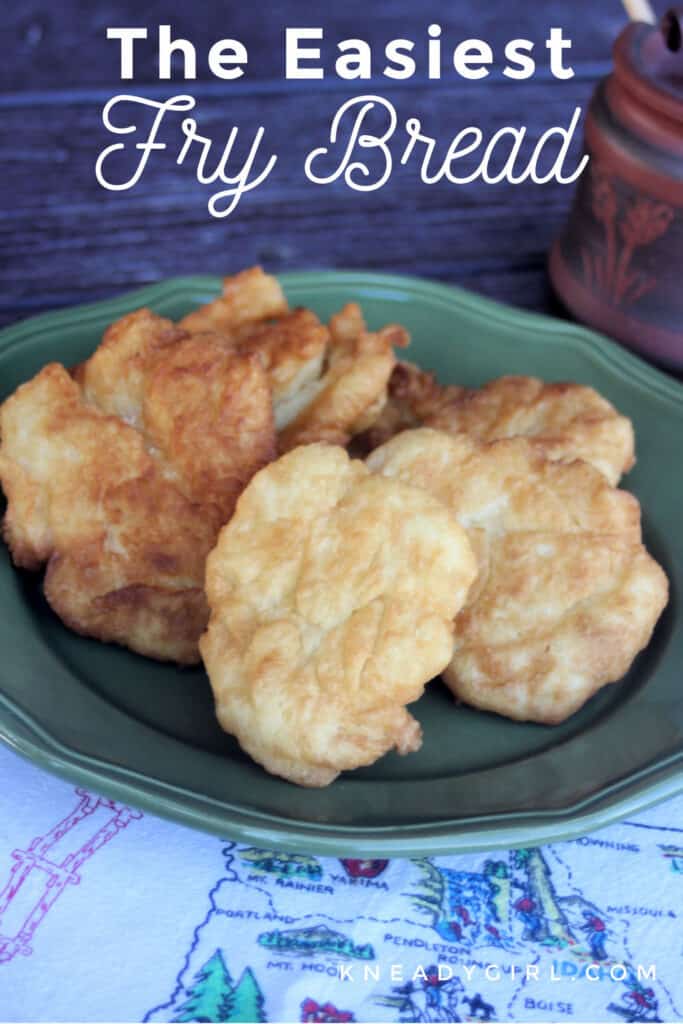 Self-Rising Flour
I've experimented with a number of fry bread recipes over the years. Some with yeast, some with all-purpose flour and baking powder, etc. etc.
Hands-down my favorite version uses simply self-rising flour. It's light and airy and gets perfectly crisp on the exterior.
Milk Choices
Buttermilk provides a superior fry bread in my opinion. If you don't have it on hand, soured milk (1 cup of regular milk mixed with 1 Tablespoon Vinegar) works well.
Plain old milk or even an alternative non-dairy milk will work but the results are slightly different. Not bad by means, just not the same.
Frying
Obviously, frying is integral here. Do use a thermometer to be sure of the oil temperature.
You want that oil at 375 degrees Fahrenheit, otherwise the dough is going to absorb a bunch of oil and be greasy and heavy versus light and crispy.
Use a good quality oil with a high smoke point. This is not the place for extra virgin olive oil. Peanut oil works great. Regular vegetable oil will too.
Lard produces a very amazing piece of fry bread but isn't always on hand for many folks and isn't likely to be used frequently. However, if you have it – use it here for frying.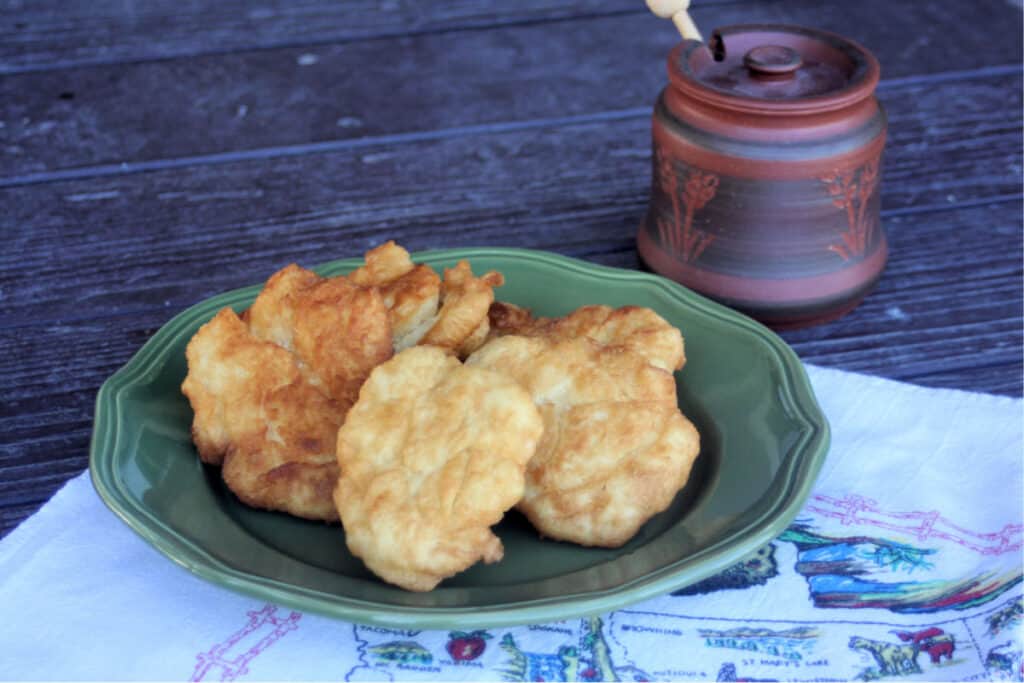 Keep Batches Small
Fry bread is best served quickly after making. It isn't the best leftover or the next day. Yes, it is edible but it isn't the same.
Keep batches small enough to be consumed in one sitting / meal. The recipe is easy to scale up for serving larger crowds.
Put the fry bread on a plate in a warm oven to keep hot until serving.
How to Serve
Make a sweet fry bread meal by rolling the still warm pieces in powdered sugar.
We quite like it simply slathered in butter with a drizzle of honey, alongside some bacon or sausage.
Use it as a base for savory meals. Indian tacos are simply pieces of fry bread topped with taco filling meats, beans, cheeses, etc.
A little homemade chili served on top is quite nice as well.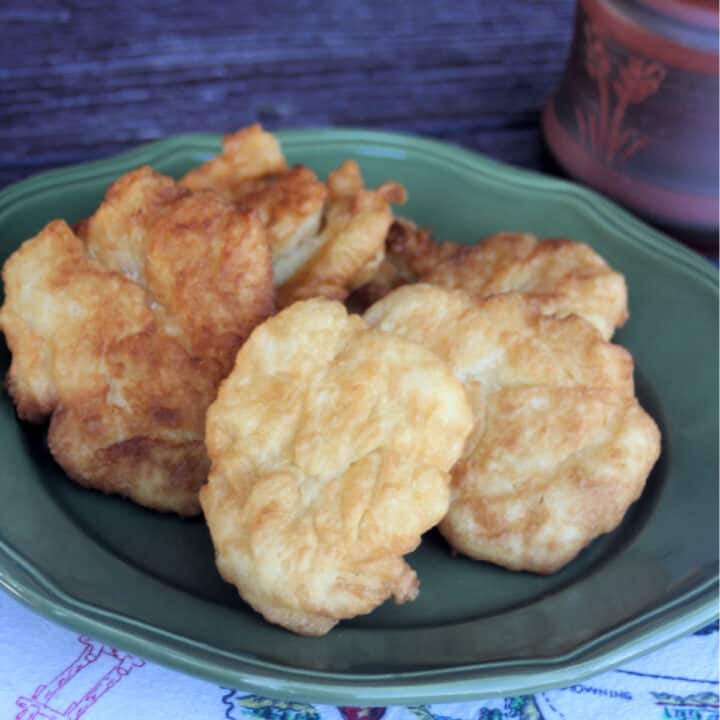 Fry Bread
Light and crispy, fry bread is perfect for both sweet and savory meals.
Ingredients
1/2 Cup Buttermilk
Oil, for frying
Instructions
In a heavy pot, heat at least 2 inches of oil to 375 degrees Fahrenheit.
While the oil heats, mix together the buttermilk and self-rising flour. The dough is very sticky.
Spread a good bit of flour out onto your counter.
Scoop about 1/4 of the dough and place onto the floured counter.
Pat the dough into about a 3" circle - don't stress too much about size or shape.
Using a slotted spoon, drop the dough into the oil. Cook for 3-4 minutes and flip the dough over. Cook that side another 3-4 minutes.
Put only about 2 pieces of dough into the oil at a time, otherwise it will cool the oil too quickly meaning greasy fry bread.
The bread should be a golden brown color when done.
Remove from oil and drain on paper towels.
Repeat until all the dough is used up.
Recommended Products
As an Amazon Associate and member of other affiliate programs, I earn from qualifying purchases.
Nutrition Information:
Yield:

5
Serving Size:

1
Amount Per Serving:
Calories:

123
Total Fat:

3g
Saturated Fat:

0g
Trans Fat:

0g
Unsaturated Fat:

3g
Cholesterol:

1mg
Sodium:

345mg
Carbohydrates:

20g
Fiber:

1g
Sugar:

1g
Protein:

3g
I try but cannot guarantee this nutritional information is 100% accurate.