Make cheddar bacon rolls for a hearty and filling side dish that will be perfect in any meal.
Like most of the best breads, these are full of simple ingredients that when combine turn into something quite magical.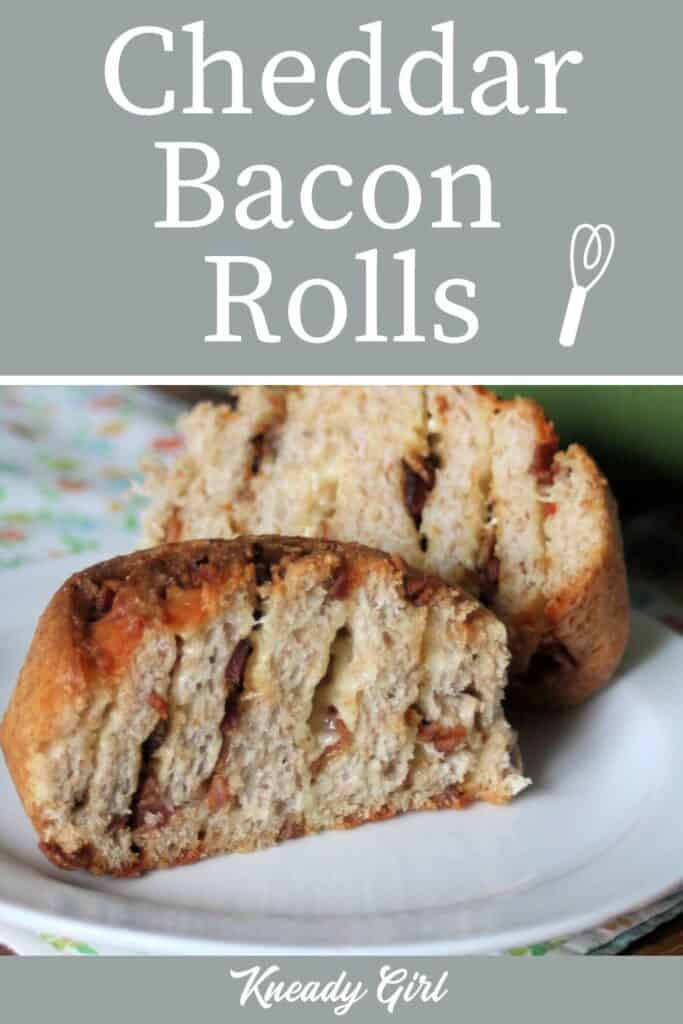 The Magic of Cheddar & Bacon
There is something magical about the combination of cheddar and bacon, isn't there? Unless I'm serving vegetarians, I can usually feel pretty good in knowing that anything bacon and cheddar will get devoured by. Cheddar, bacon, and a light but full of flavor homemade bread – well that's just heaven in a roll if you ask me.
Choose high quality cheddar and bacon here.
Go for the sharp, aged cheddar. I know it's more expensive but it's worth it for the overall flavor of the roll.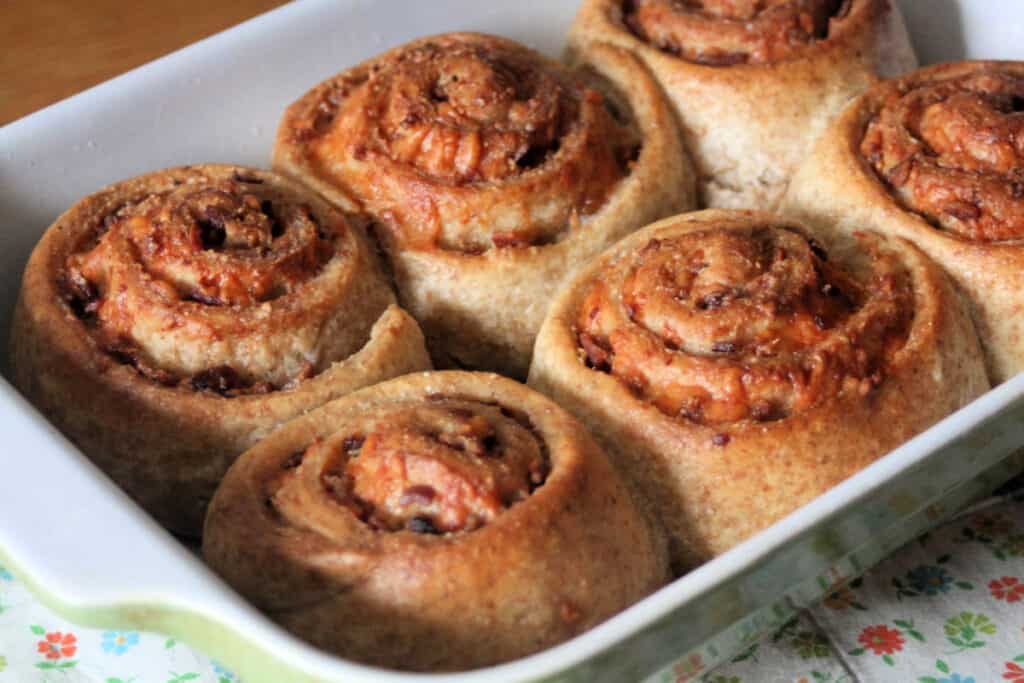 Use the best quality bacon available to you. Something meaty not just fat and something flavorful. It's okay to use duck or turkey bacon if pork isn't a dietary option – just use something good.
Also, cook the bacon until completely crisp to keep the bread dough from getting greasy.
The Bread Dough
The bread dough is a pretty basic yeasted dough. I chose to use a freshly ground whole wheat mixed with a general all-purpose flour. The ratio of white flour is higher than I normally go with but I wanted these to be a little lighter than a dense whole grain bread.
You could switch it up – use more wheat, less white – all wheat – all white, mix in some rye, whatever you like.
Difficulty Level: Intermediate
While the basic recipe is fairly simple and straight forward. These do need to be rolled tightly for best results. Having some experience with making bread and rolling cinnamon rolls will help.
Every Meal of the Day
Honestly, these rolls work as a part of every single meal of the day.
Have one at breakfast with an egg. Eat it on the run with just a piece of fruit.
Serve it as a side dish to a light salad or soup for lunch.
At dinner, serve them alongside steaks or open-faced hamburgers. While we haven't tried it (yet) in my house, we think that these could easily be sliced like a bun and used for a very different and decadent twist on a bacon cheeseburger.
Options for a Crowd
First, double the recipe. Second, make the rolls smaller by slicing the dough thinner. If making the rolls thinner, check about 10 minutes earlier than the full size rolls.
These would be great in a smaller size for game day or holiday brunches.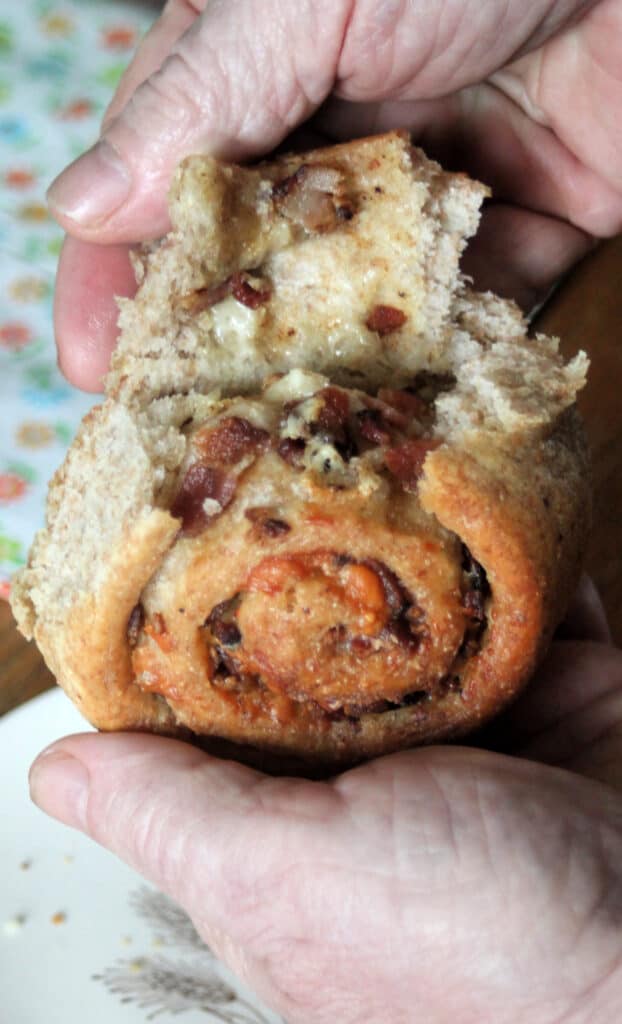 Peel Apart
Just like a cinnamon roll, the layers of these savory rolls pull apart getting more delicious closer to the center. Go ahead, play with your food, enjoy these tasty delights one tasty layer at a time.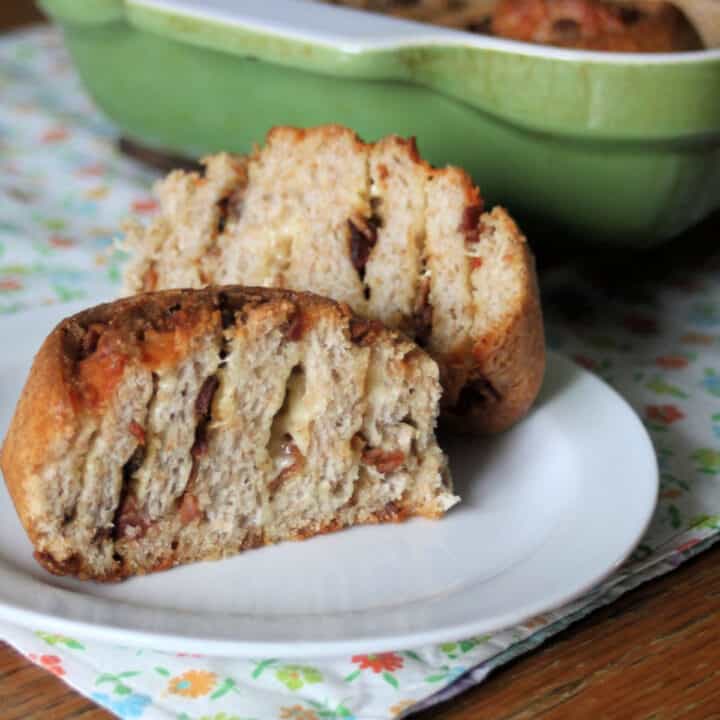 Cheddar Bacon Rolls
Rising Time:
1 hour
30 minutes
Total Time:
2 hours
30 minutes
Cheddar bacon rolls are a savory bread full of cheesy, smoky flavor that makes for a delightful and filling side dish for every meal of the day.
Ingredients
12 ounces Bacon, cooked & crumbled
1 Cup Shredded Cheddar cheese
1  1/2 teaspoons Dry, Active Yeast
1 1/4 Cups Warm Water, divided
1 1/2 teaspoons Salt
1 cup Whole Wheat Flour
2 Cups All-Purpose Flour
3 Tablespoons Melted Butter, divided
Instructions
In a large bowl, combine the yeast and 1/2 cup of the warm water. Let sit until foamy, about 5 minutes.
Whisk in the remaining water and salt. Mix in the whole wheat flour and about 1 1/2 cups of the all purpose flour. Mix until a dough forms, adding flour a little at a time as necessary.
Turn the dough out onto a floured board and knead until a soft and elastic dough forms.
Place the dough into an oiled bowl, turning to coat. Cover with a tea towel and let rise until doubled, about an hour.
After risen, punch down the dough and turn out onto a floured board. Knead slightly and then roll the dough out into a sheet about 13x17 inches.
Brush the dough with 2 Tablespoons of melted butter. Sprinkle the dough with bacon bits and cheese. Just like topping a pizza.
On the short end of the dough, roll it up like a cinnamon roll. Keep it tight.
Slice the loaf into 6 even pieces. Place these slices into an oiled casserole dish (approximately 11 by 9" - a little larger / smaller is fine), about 2" apart.
Let rise 30 minutes. Preheat oven to 425 degrees.
Bake the risen rolls for 30 minutes or until golden brown.
Remove from the oven and immediately brush with remaining butter.
Allow to cool slightly before pulling apart to serve.
Recommended Products
As an Amazon Associate and member of other affiliate programs, I earn from qualifying purchases.
Nutrition Information:
Yield:

6
Serving Size:

1
Amount Per Serving:
Calories:

638
Total Fat:

33g
Saturated Fat:

14g
Trans Fat:

0g
Unsaturated Fat:

17g
Cholesterol:

90mg
Sodium:

1659mg
Carbohydrates:

51g
Fiber:

5g
Sugar:

0g
Protein:

34g
I try but cannot guarantee this nutritional information is 100% accurate.