Slather your homemade breads, muffins, and rolls with sweet and fruity raspberry honey butter.
This raspberry butter is a quick and easy sweet spread perfect for adding a little flair to simple meals.
Incredibly Quick
The longest part of making this is letting the butter soften.
And it most definitely needs to be softened – don't cheat on this step. If the butter isn't soft, the rest isn't going to cream or whip together well at all.
Once the butter is softened, it takes less than five minutes to finish and serve.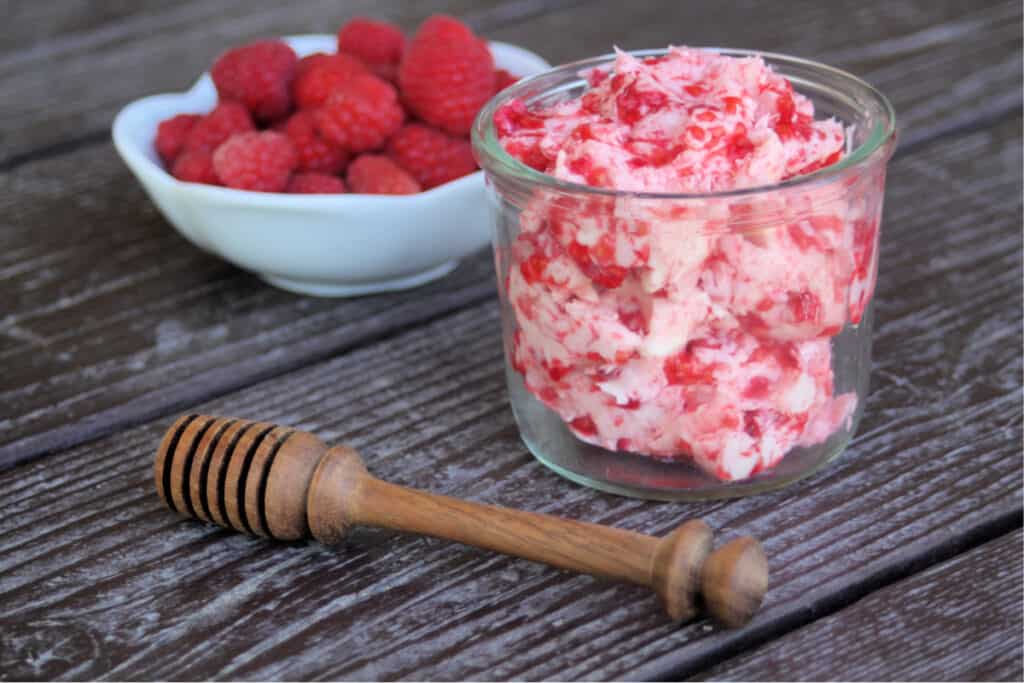 Whipped Butter
While creaming the ingredients together works wonderfully. Whipping it for an extra bit of airiness is even better.
Use a balloon whisk on your stand mixer for best results.
Take a couple of minutes to whisk together the honey and butter, scrape down the sides of the bowl and do it again for a much lighter texture.
Bigger Batch
If you're serving a crowd, the recipe can easily be doubled or tripled to have more.
Store any leftovers in the refrigerator and eat up within 2 weeks.
Freeze for Later
If you do make a bigger batch or simply want to have some around in the winter when fresh berries are available, freeze the leftovers.
To freeze, simply wrap the raspberry honey butter in wax paper and form into logs. Store the logs in an airtight freezer bag.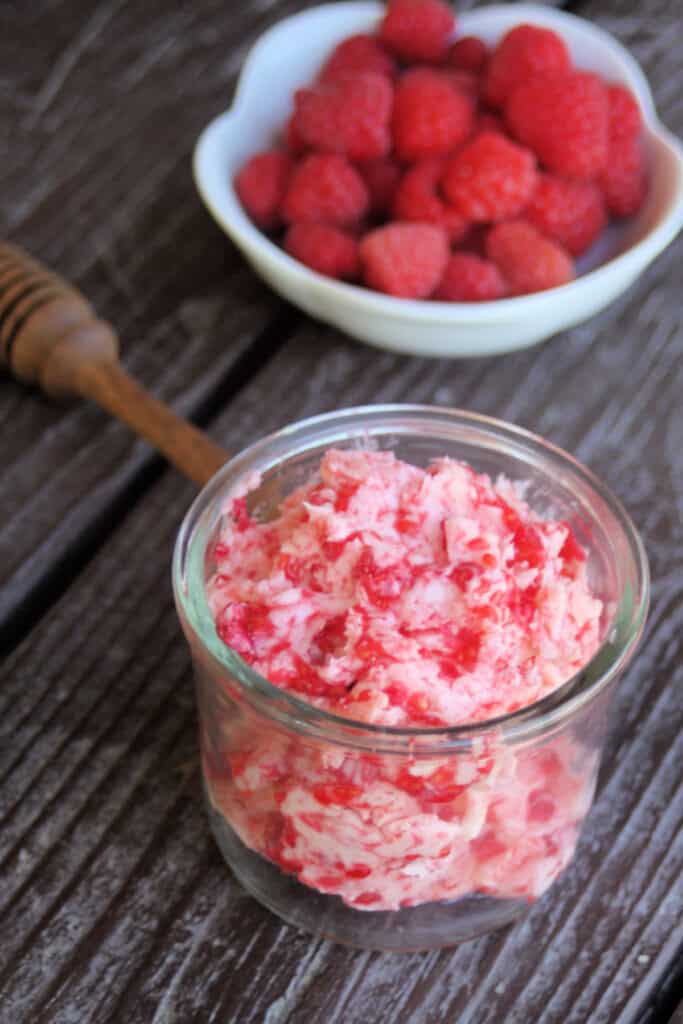 Alternatively, use a small cookie scoop and place rounded Tablespoons of the butter onto parchment paper lined cookie sheets. Freeze for several hours, until solid. Then place those into airtight bags. This will allow servings of small portions later.
Let the frozen butter soften at room temperature before serving
Use frozen raspberry butter up within 1 year for best flavor and to prevent freezer burn.
How to Use & Serve
Serve as a simple, sweet spread on breakfast and brunch tables, alongside your favorite breads.
It is quite nice on raspberry cream cheese muffins for extra raspberry flair but it also works wonderfully on plain biscuits and toast.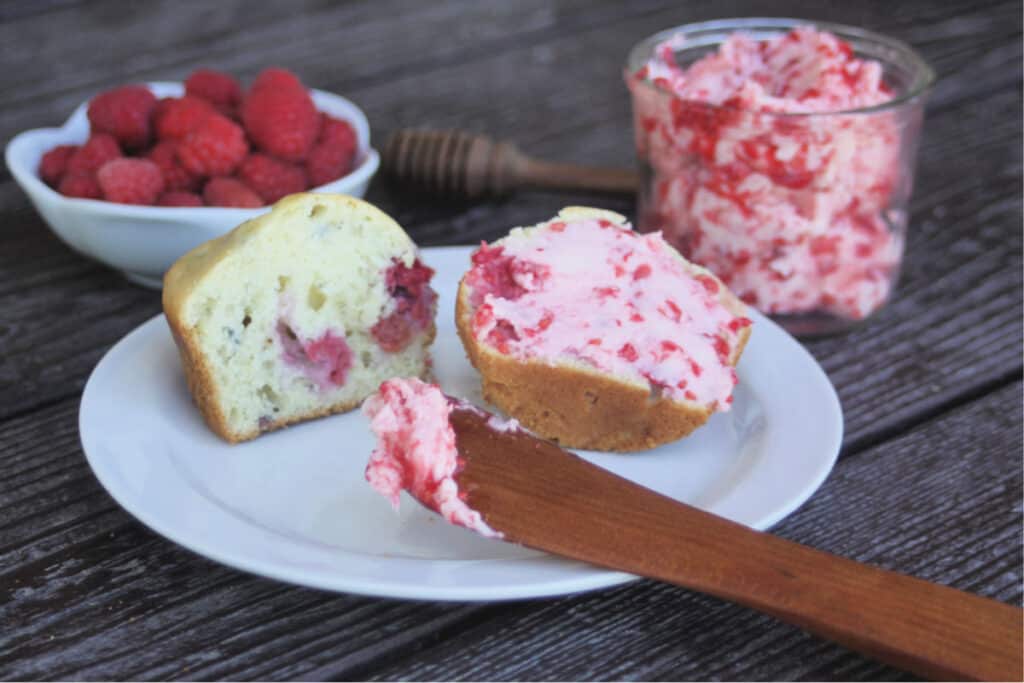 But the options for using it don't end there. Slather it on homemade pancakes or waffles and add more honey or maple syrup for a truly delicious breakfast.
Use it instead of plain butter in cookie or cake recipes for a raspberry infused flavor.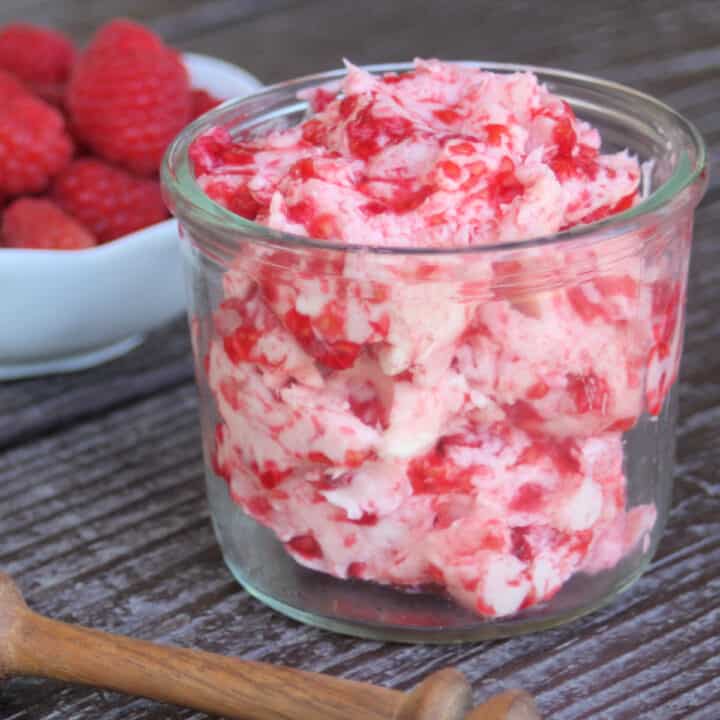 Raspberry Honey Butter
A sweet, creamy, and fruity spread perfect for muffins, toast, pancakes, and more.
Ingredients
1/2 Cup Salted Butter, softened
1/4 Cup Fresh Raspberries
1 Tablespoon Honey
Instructions
Cream together the butter and honey until light and fluffy. Use the balloon whisk attachment for a stand mixer if possible. Take time to whisk for a couple of minutes, scrape the bowl and whisk again.
Mix in the raspberries, mixing and breaking up the berries until completely incorporated.
Spoon into a serving dish.
Recommended Products
As an Amazon Associate and member of other affiliate programs, I earn from qualifying purchases.
Nutrition Information:
Yield:

12
Serving Size:

1 Tablespoon
Amount Per Serving:
Calories:

74
Total Fat:

8g
Saturated Fat:

5g
Trans Fat:

0g
Unsaturated Fat:

2g
Cholesterol:

20mg
Sodium:

61mg
Carbohydrates:

2g
Fiber:

0g
Sugar:

2g
Protein:

0g
I try but cannot guarantee this nutritional information is 100% accurate.