Honey oatmeal bread is a lightly sweet and oh-so-comforting loaf of bread perfect for toast and sandwiches.
This honey oat bread recipe has just a few very simple ingredients that combine delightfully for a creamy textured, rich homemade loaf.
Versatile and delicious, this recipe is sure to become a family favorite.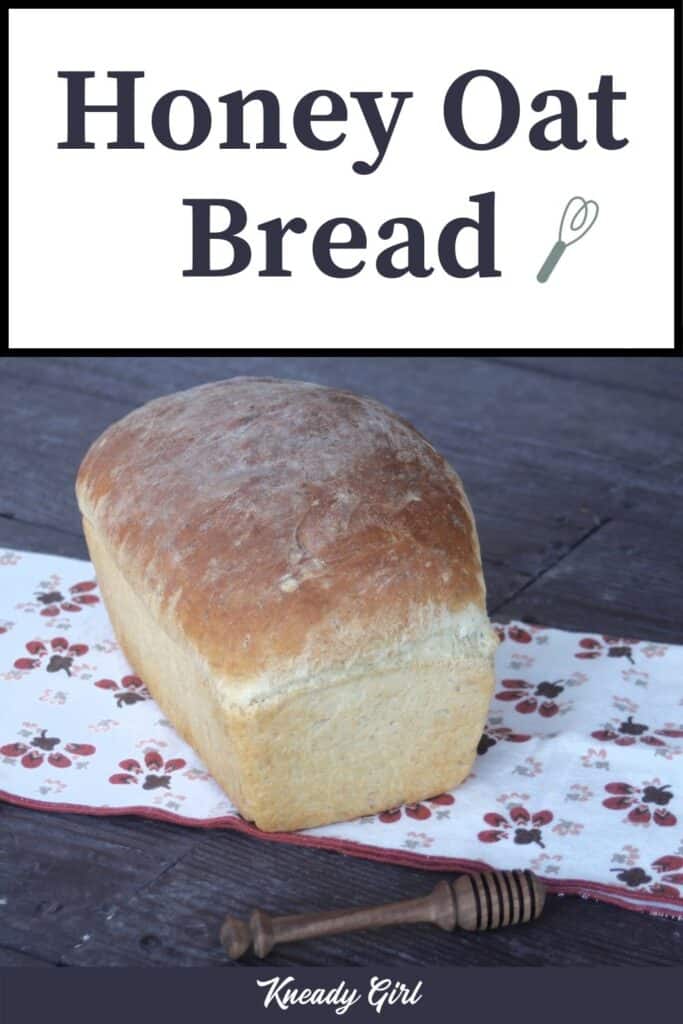 Simple Ingredients
The best breads are always the simplest ingredients. There's nothing fancy here and yet the way the combine results in a silky, creamy texture.
Difficulty Level: Beginner
The best breads are always the simplest ingredients. There's nothing fancy here and yet the way the combine results in a silky, creamy texture. It is a hearty bread but without the heaviness of many whole grain breads.
Type of Oats
The recipe calls for rolled oats. This results in a creamy texture but some whole oat shape will remain for extra texture and beauty.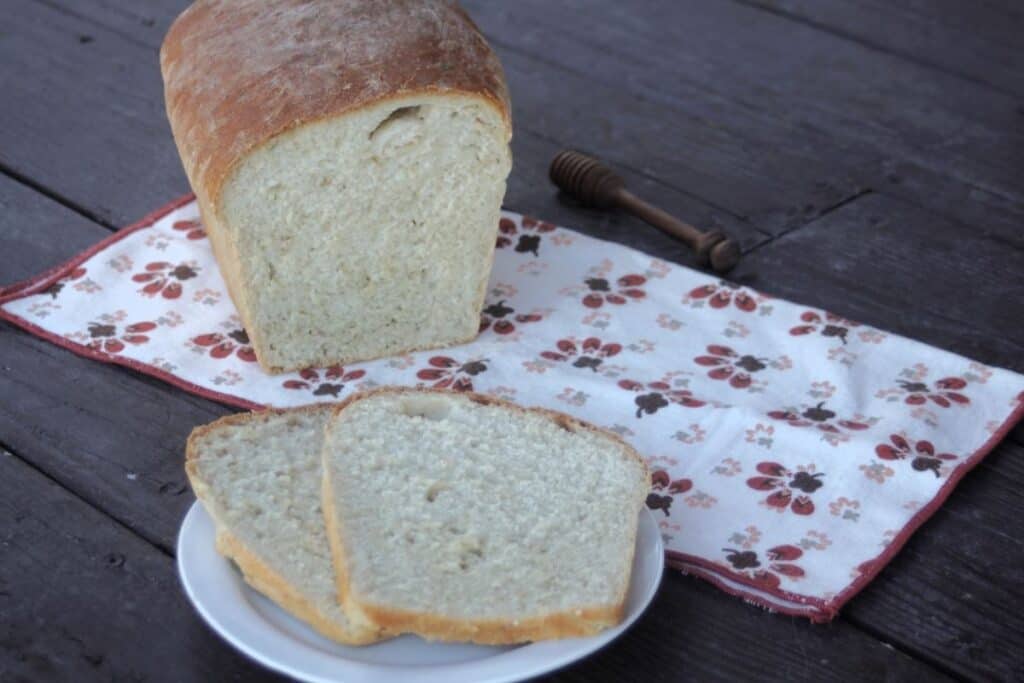 Instant or quick oats will not retain the texture but they could be substituted.
I did not test Irish oats in the recipe but I feel like they would be too thick and unable to give the creamy texture without cooking them some first.
Flour Options
I went with bread flour simply because I felt like it would give the best texture to the final loaves.
I believe all purpose flour would work just as well if slightly differently.
Feel free to substitute some whole wheat flour for the bread flour for a whole grain texture and flavor if desired.
Amount of Honey
There's only 1/4 cup of honey in the recipe as written. This results in a very light honey flavor and just a hint of sweetness.
One could add more honey for a sweeter bread. You may need to add more flour, however, as you knead to account for the additional moisture.
How To Serve
Like most favorite homemade bread recipes, this oatmeal bread can serve a multitude of purposes.
There is a hint of sweetness but it is not so sweet that is a kind of treat. It does indeed make a great sandwich bread for softer fillings. This is the kind of bread for egg or tuna salad not so much for salami.
It is a delicious bread for your morning peanut butter toast.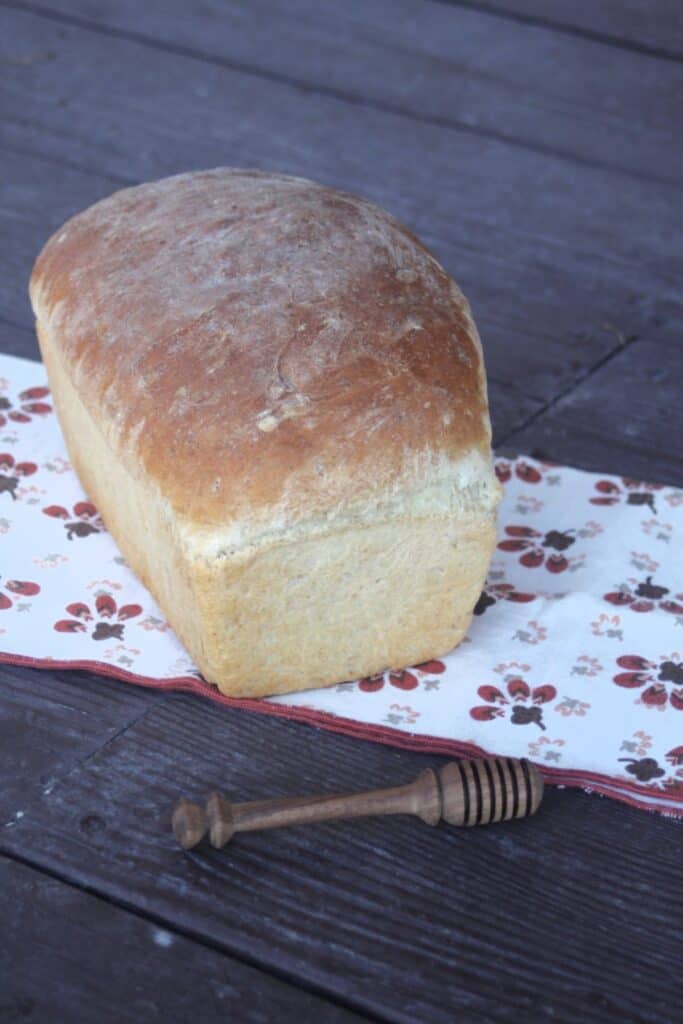 Freeze Extras
This recipe results in two approximately 1 pound loaves. Eat one and freeze the other.
Simply wrap cooked and cooled loaves in plastic wrap or place into airtight bags and freeze.
Alternatively, slice the bread and freeze slices in airtight bags. Freezing slices allows you to just grab what you need instead of an entire loaf at one time.
Use up within 6 months for best flavor and to prevent freezer burn.
Other Oat Recipes You Might Like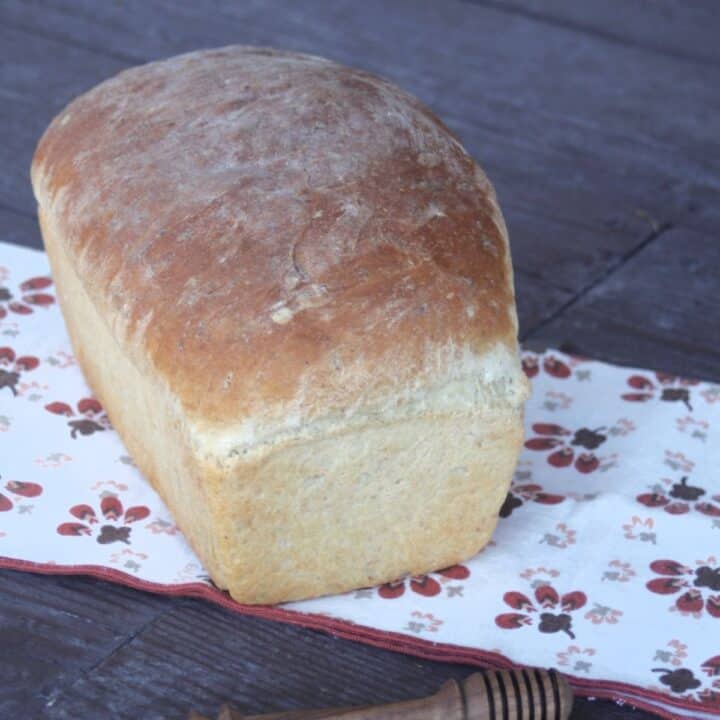 Honey Oat Bread
Rising Time:
1 hour
30 minutes
Total Time:
2 hours
35 minutes
Lightly sweet with a chewy texture honey oat bread is sure to become a family favorite.
Ingredients
1 Cup Rolled Oats
1 1/4 Cups Boiling Water
1/4 Cup Honey
2 Tablespoons Butter
1 1/2 teaspoons Salt
1/2 Cup Warm Water
2 teaspoons Dry, Active Yeast
3 Cups Bread Flour
Instructions
In a large mixing bowl, combine the oats, boiling water, honey, butter, and salt. Set aside to cool to 110 degrees Fahrenheit.
Once the oats have cooled, combine the yeast and water in a cup. Let sit until foamy about 10 minutes.
Add yeast mixture and 1 cup of flour to the oat mixture and stir well. Continue adding cups of flour until a soft dough begins to form.
Turn out to a floured board and knead until soft and elastic.
Place in a greased bowl and turn to coat. Cover with a tea towel and allow to rise in a draft-free place until doubled, about 1 hour.
Grease two 9X5 inch loaf pans.
Punch down the dough and divide in half. Knead bread dough slightly on a floured surface and form into loaves.
Place the each half of dough into a prepared loaf pan.
Allow to rise for about 30 minutes.
Meanwhile preheat the oven to 400 degrees Fahrenheit.
Bake the loaves in the preheated oven for 30 minutes or until golden brown and sound hollow when tapped with a knuckle.
Remove from pans immediately and cool completely on wire rack before slicing.
Nutrition Information:
Yield:

20
Serving Size:

1 slice
Amount Per Serving:
Calories:

114
Total Fat:

2g
Saturated Fat:

1g
Trans Fat:

0g
Unsaturated Fat:

1g
Cholesterol:

3mg
Sodium:

170mg
Carbohydrates:

21g
Fiber:

1g
Sugar:

4g
Protein:

3g
I try but cannot guarantee this nutritional information is 100% accurate.