Lightly sweet and full of bits of dried fruits, nuts, and seeds harvest bread is a flavorful breakfast bread sure to please.
Served either plain or toasted and spread with nut butter and jam, harvest bread is the perfect ways to start the day.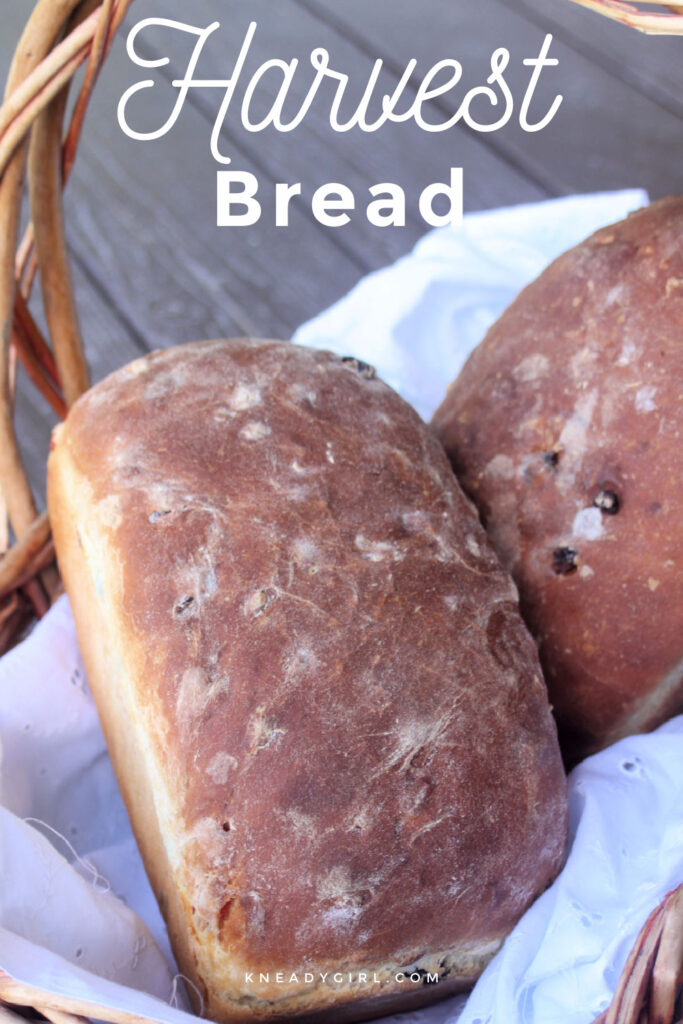 Any Mix of Fruit, Seeds, Nuts
The recipe needs about 2 cups or 10 ounces of dried fruits, nuts, and / or seeds for optimal flavor and texture.
Make a mix of your own based on what is in the pantry. Toss in some sesame seeds and sunflower seeds with bits of almonds, raisins, and dried currants for example. This can be a great way to use of odds and ends on your shelves.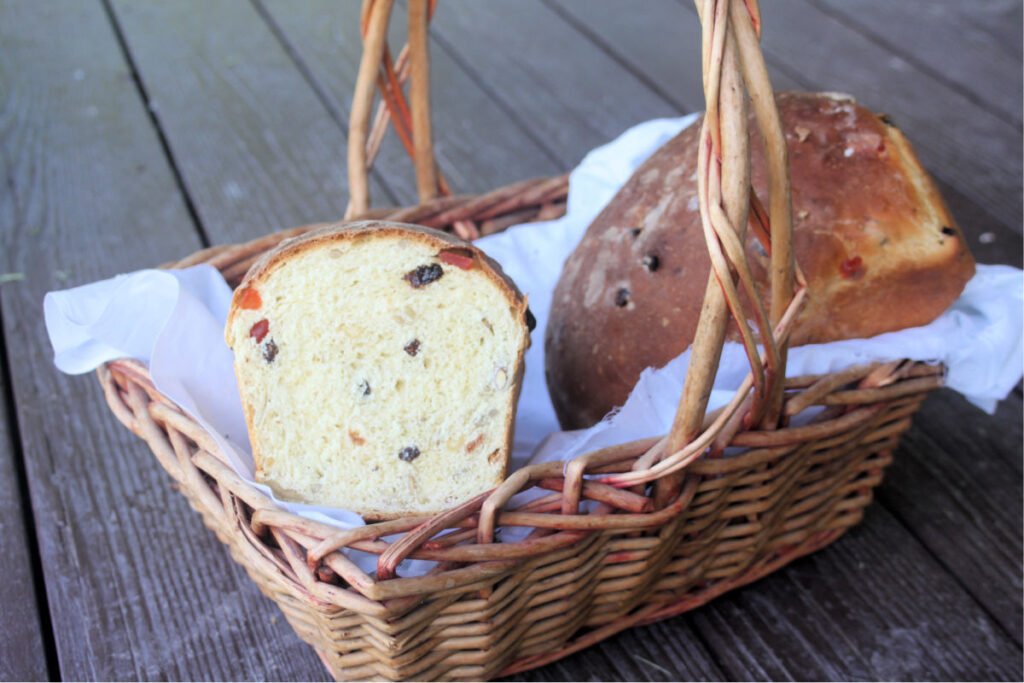 Alternatively buy a mix from the store. Many grocery stores and health food stores have bulk sections with trail mix type snacks. Something that is a mix of flavors you enjoy.
The only caveat – choose a mixture of seeds, nuts, and fruits not a granola with toasted oats.
Rich Dough
This is a rich dough with both milk and eggs. These ingredients give the bread dense, rich flavor that is more than delicious.
You could use water instead of milk, if desired. The bread will turn out just be slightly less rich than it would with milk.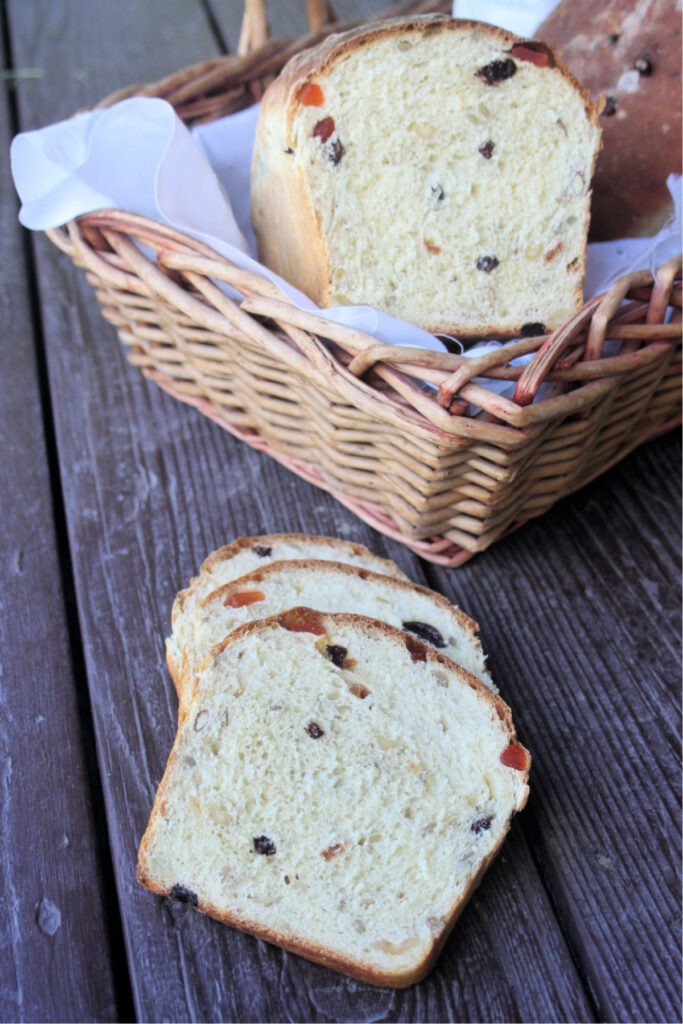 Serving Ideas
This isn't likely the bread one would use for say a salami sandwich. It does, however, work wonderfully for a peanut butter and jelly sandwich.
The bread toasts up a lovely golden color making it ideal for breakfast toast.
The richness lends itself well to french toast. Simply use your favorite recipe and proceed.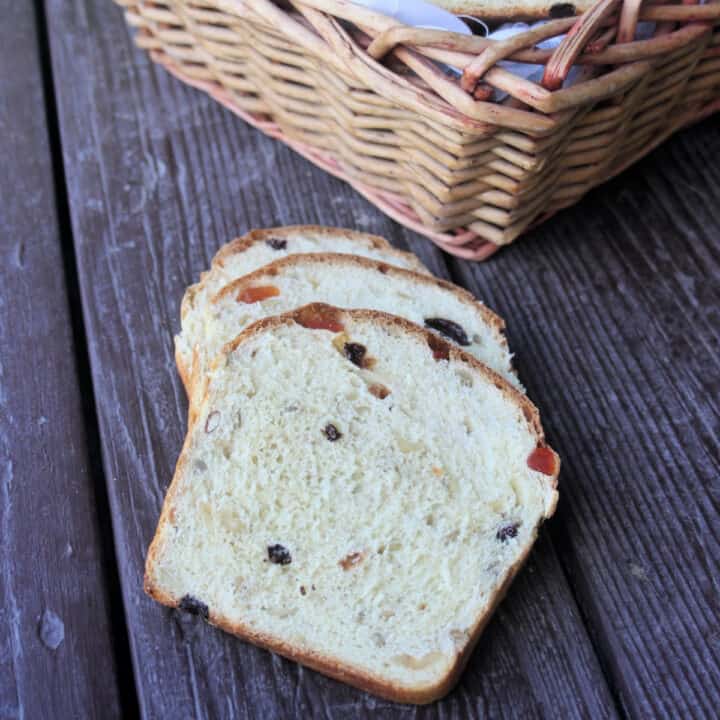 Harvest Bread
Rising Time:
1 hour
45 minutes
Total Time:
2 hours
50 minutes
Full of dried fruits, nuts, and seeds Harvest Bread is a delicious breakfast bread and toast.
Ingredients
1 Tablespoon Dry, Active Yeast
2 Cups Warm Milk (110 to 115 degrees Fahrenheit)
1/4 Cup Honey
3 Eggs
1 Tablespoon Salt
7 Cups Unbleached, All-Purpose Flour
2 Cups (about 10 ounces) Dried Fruit, Seeds, and Nuts 
Instructions
Mix together the honey, warm milk, and yeast. Let sit until foamy, about 5 minutes.
Add the eggs, mixed seeds and fruit, salt, and 4 cups of flour. Stir together well.
Continue adding more flour until a dough begins to form.
Turn out onto a floured board and knead until the dough is smooth and elastic. It will also be a bit shiny.
Grease a bowl and place the dough inside, turning to coat. Cover the bowl with a towel.
Let rise until doubled, about an hour.
Grease 2 bread pans.
Punch down the dough and divide in half. Knead and form loaves.
Place the loaves into the bread pans, cover with a towel and allow to rise until doubled. 30 to 45 minutes.
Meanwhile Preheat the oven to 350 degrees Fahrenheit.
Bake the risen loaves in the preheated oven for 45 minutes or until crust is golden and loaves sound hollow when tapped with a knuckle.
Remove from pans immediately to cool on wire racks.
Recommended Products
As an Amazon Associate and member of other affiliate programs, I earn from qualifying purchases.
Nutrition Information:
Yield:

32
Serving Size:

1 slice
Amount Per Serving:
Calories:

135
Total Fat:

2g
Saturated Fat:

0g
Trans Fat:

0g
Unsaturated Fat:

1g
Cholesterol:

19mg
Sodium:

216mg
Carbohydrates:

26g
Fiber:

1g
Sugar:

3g
Protein:

4g
I try but cannot guarantee this nutritional information is 100% accurate.