Walnut bread is a simple homemade loaf full of flavor and crunch, that will be a delight on your breakfast table and beyond.
There's nothing fancy in this walnut bread recipes, it's a fairly basic bread dough with the addition of walnuts and yet it's elevated and amazing in its final form.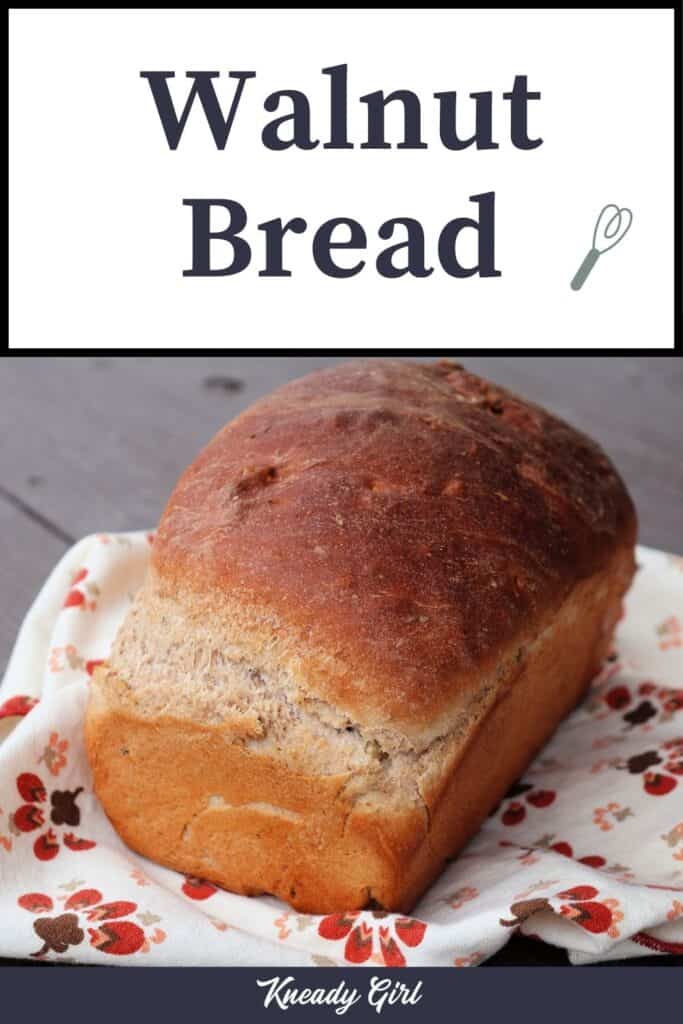 Creamy & Crunchy
The texture of this bread is simultaneously creamy and crunchy. The egg and maple syrup give a bit of depth but it is not a sweet roll kind of dough. Nor is it noticeably sweet in its final form.
It is very much a delicious and comforting homemade bread that is amazing slathered in butter or nut butter plain or toasted.
Difficulty Level: Beginner
Because this truly is a very basic bread dough, it's perfect for beginners to try something new and different but still feel good about success.
Chopped Walnuts
For a lovely contrast in texture, don't chop the walnuts uniformly. It's quite nice to have small pieces throughout but also wonderful to find a larger piece now and then.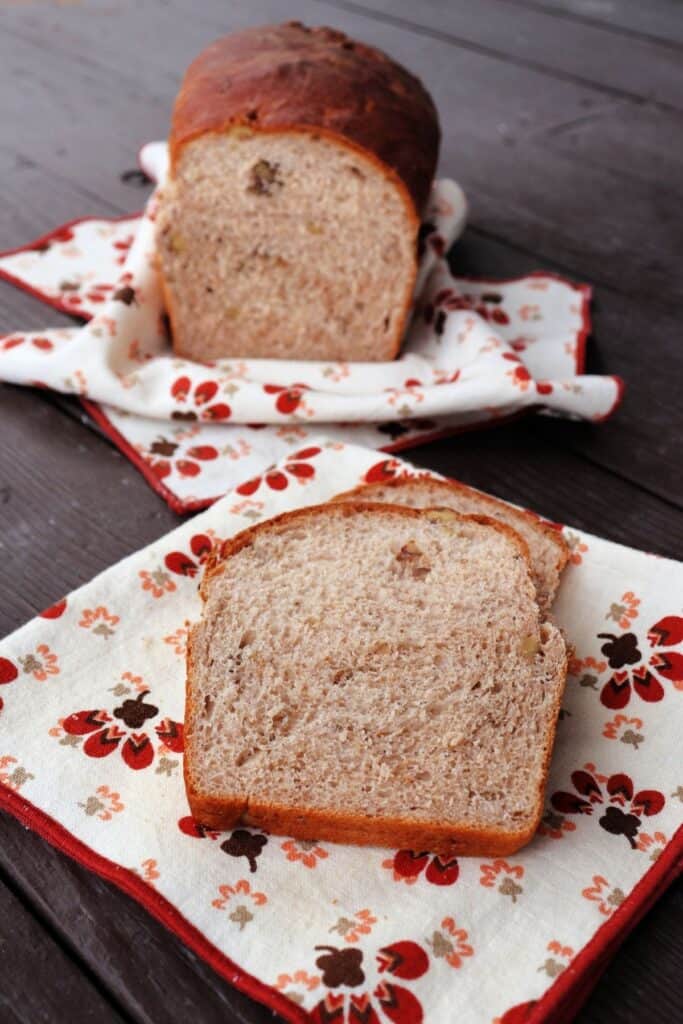 Remember you're going to slice the bread anyway, so it isn't that anyone is going to get too huge of a piece of nut in any one bite.
Do chop some of the pieces quite small so the flavor gets throughout the dough, but leave some medium and large pieces as well.
Substitutions
The recipe uses bread flour but you could substitute all purpose flour instead and still get a very beautiful loaf.
Loaf Shape
I used a loaf pan when making this loaf. However, a round or oval loaf baked on a baking sheet would be just as tasty and wonderful.
Shape the dough in whatever way feels good to you at the moment.
What to Eat with Walnut Bread
This isn't likely the kind of loaf you're going to put some mayo and ham on. Though give it a whirl if you want to try.
It will make a delightful peanut butter and jelly sandwich to tuck into a lunch box.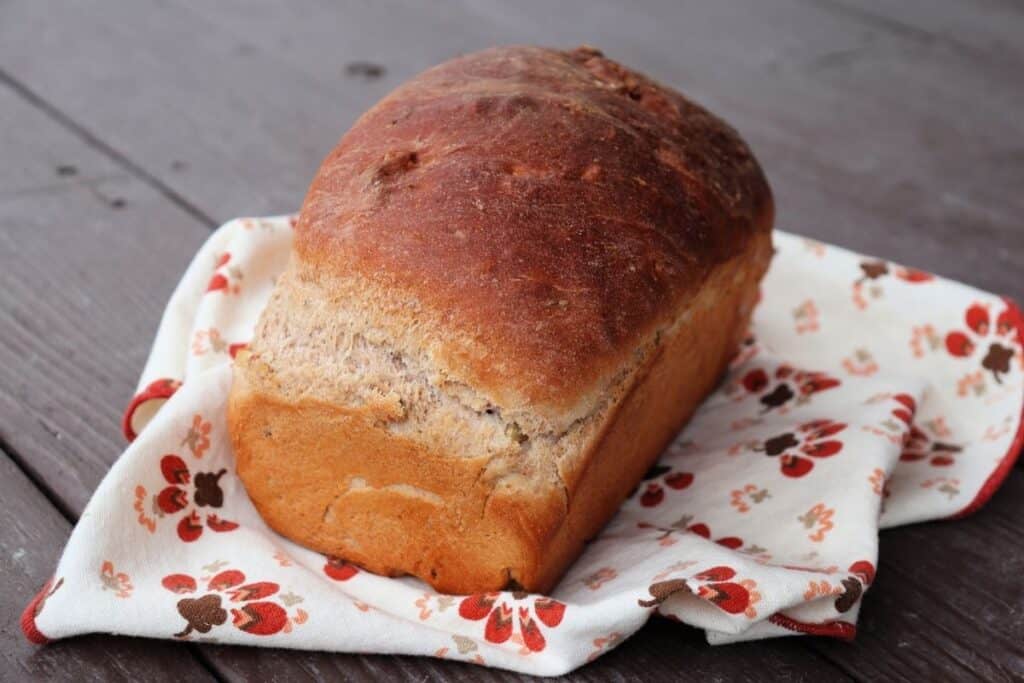 Toast it and slater in butter or cream cheese and serve with eggs for breakfast.
French toast it and serve with plenty of maple syrup for brunch.
How to Freeze
The recipe only makes one loaf. However, doubling is easy if you desire. Make one loaf to eat now, the other to freeze and eat later.
Simply place cooked and cooled loaves into airtight bags and freeze.
Alternatively, slice the bread and freeze slices in airtight bags. Freezing slices allows you to just grab what you need instead of an entire loaf at one time.
Use up within 6 months for best flavor and to prevent freezer burn
Walnut Bread
Rising Time:
1 hour
30 minutes
Total Time:
2 hours
35 minutes
Walnut bread is a creamy and crunchy homemade loaf perfect for toast and more.
Ingredients
1 1/2 teaspoons Dry, Active Yeast
1 Cup Warm Water
1/4 Cup Maple Syrup
1 Egg
3/4 Cup Walnuts, chopped
1 1/2 teaspoons Salt
3 Cups Bread Flour
Instructions
Combine the yeast and water in a bowl. Let sit until foamy about 5-10 minutes.
Add the maple syrup and 1 cup of bread flour. Mix well.
Add the egg, nuts, and salt. Stir to combine.
Stir in another cup of flour and mix well.
Continue adding more flour until the dough comes together into a soft ball.
Turn out onto a floured board and knead until soft and elastic.
Put the dough into an oiled bowl, cover with a towel, and let rise until almost doubled. About an hour.
Grease a loaf pan.
Punch down the dough and knead slightly. Form into a log shape and place into greased loaf pan. Cover with a towel and let rise 30 minutes.
Meanwhile, preheat oven to 375 degrees Fahrenheit.
Bake the dough in the preheated oven for 40 minutes or until golden and sounds hollow when tapped with a knuckle.
Remove from the bread pan and allow to cool on wire racks before slicing.
Recommended Products
As an Amazon Associate and member of other affiliate programs, I earn from qualifying purchases.
Nutrition Information:
Yield:

16
Serving Size:

1 slice
Amount Per Serving:
Calories:

136
Total Fat:

4g
Saturated Fat:

1g
Trans Fat:

0g
Unsaturated Fat:

4g
Cholesterol:

12mg
Sodium:

204mg
Carbohydrates:

20g
Fiber:

1g
Sugar:

0g
Protein:

4g
I try but cannot guarantee this nutritional information is 100% accurate.