Make homemade dinner rolls easily by using your bread machine dough cycle with this great recipe!
This simple method results in soft dinner rolls with very little hands on work thanks to a bit of modern machinery.
Use this bread machine recipe to make feast days or even weeknights a bit easier by letting the machine do the hard work for you.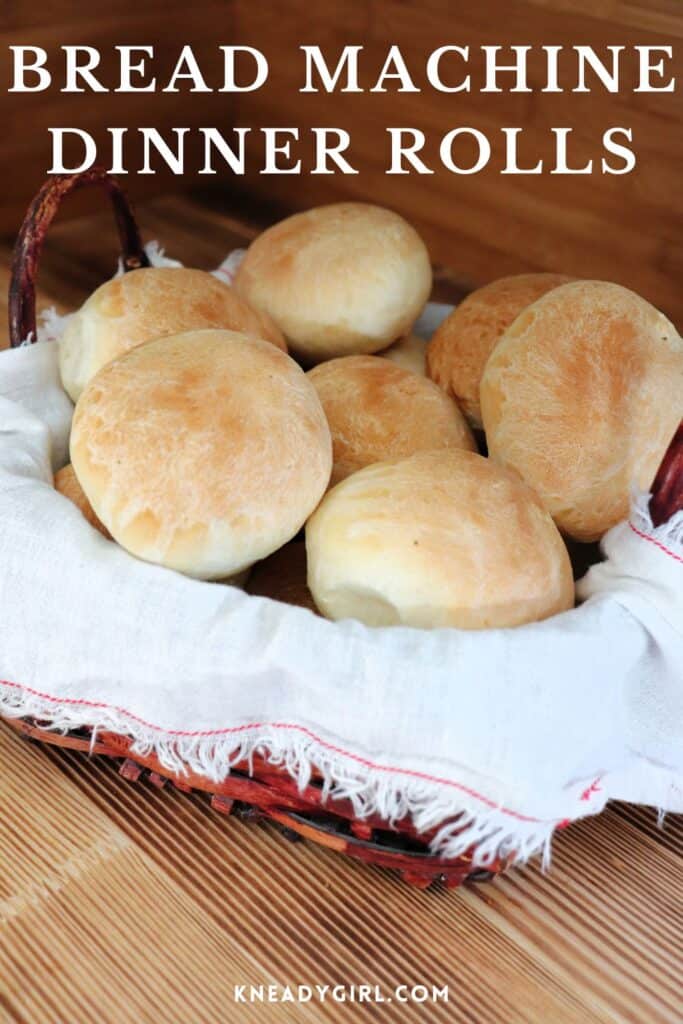 Simple Ingredients
These bread machine rolls need nothing fancy and like all the best breads that means simple, delicious, and comforting homemade bread.
Flour Choices
For the best results and fluffy rolls, do use bread flour here.
All-purpose flour would result in homemade rolls but they won't likely have the same softness or fluffiness.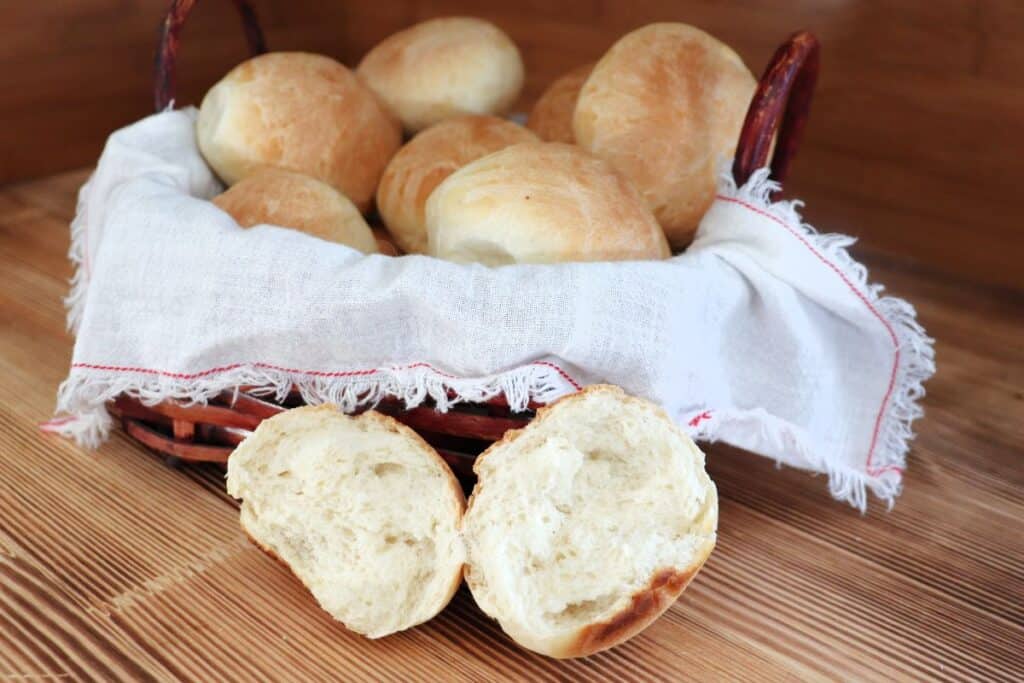 Yeast Choices
I use instant yeast for ease in every bread machine recipe I test. If you wanted to use active dry yeast or bread machine yeast, simply follow your manufacturer's instructions but I can't say for certainty in what amount.
Size of Rolls
Once your dough has finished rising in the bread machine, you can make the ball shape any size you desire.
Make smaller or larger size rolls based on your own needs or desire. Simply make sure to divide the dough equally for even baking. Use a kitchen scale to weigh the dough so that you can be sure each weighs the same.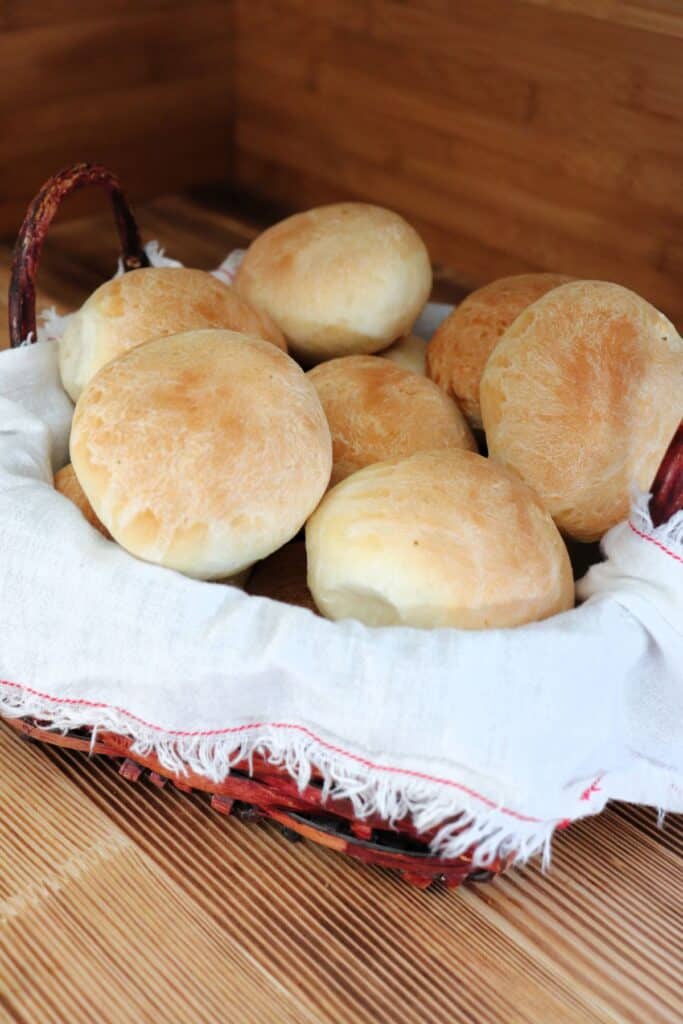 Just be sure to adjust the baking time as necessary depending on the size of the rolls.
How to Serve
Use these in the same way you would use any yeast rolls.
Serve warm bread rolls at holiday dinners or feast celebrations.
They go great alongside soups or salads.
Use them as homemade soft buns for hamburgers or sandwiches.
How to Store
After the baked dinner rolls have cooled, store them in an airtight container where they should stay fresh for up to 3 days at room temperature.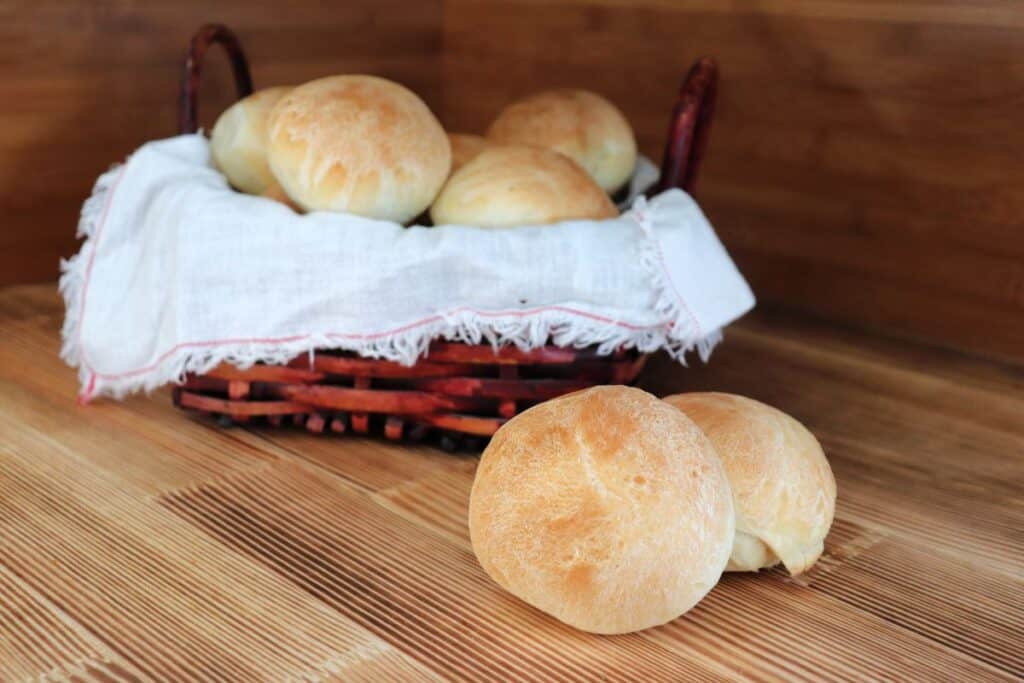 For longer term storage, place rolls in a freezer bag and freeze. Use frozen rolls up within 6 months for best flavor. Let rolls thaw on the counter prior to serving.
About My Bread Machine
My bread machine recipes are tested on a Welbilt Bread Machine. I bought it at a thrift store for $6.50. It makes great bread but every machine is different. Please follow any specific instructions provided by your bread machine manufacturer if they differ from how this recipe is written.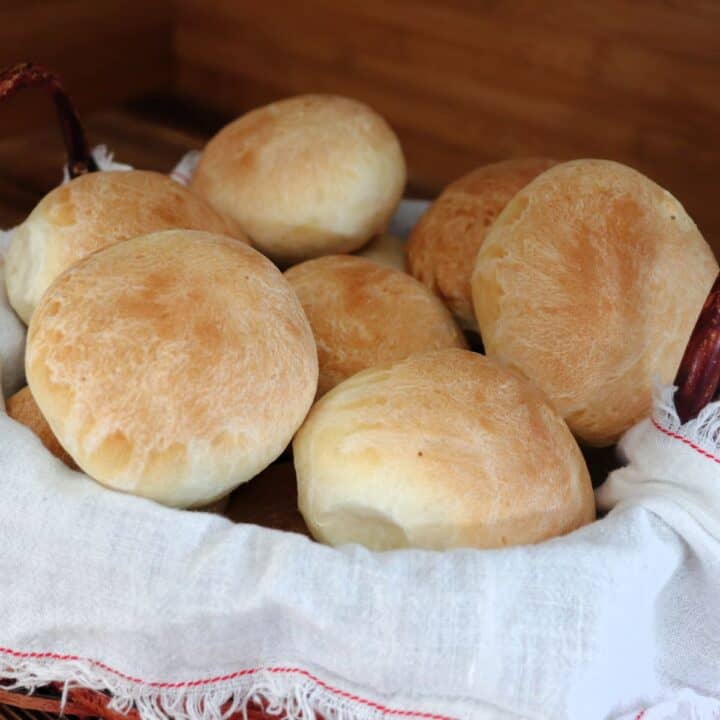 Bread Machine Dinner Rolls Recipe
Yield:
1 - Two Pound Loaf
Total Time:
2 hours
40 minutes
Make fluffy bread machine dinner rolls with simple pantry ingredients for an amazing way to complete any meal. 
Ingredients
1 Cup Water
1/4 Cup Milk
1 Large Egg
2 Tablespoons Melted Butter
2 Tablespoons Sugar
1 teaspoon Salt
4 Cups Bread Flour
2 teaspoons Instant Yeast
Optional Topping
3 Tablespoons Salted Butter, melted
Instructions
Place everything in the pan of your bread machine in the order written (or as directed by your machine's instructions). Usually liquid ingredients are followed by salt and the dry ingredients with the yeast being last, but again follow your bread machine manual for best results.
Put the bread machine pan in the bread maker and close the lid.
Select the dough cycle / settting for a 2 pound loaf.
Press Start.
After the dough cycle has finished, remove the dough from the bread machine and place on a lightly floured surface.
Grease a baking sheet.
Divide the bread dough into 15 equal portions and shape into rolls.
Place the rolls onto the greased baking pan.
Cover with a clean kitchen towel and let rise in a warm place until doubled, about 30 minutes.
Meanwhile preheat the oven to 400 degrees Fahrenheit.
Brush the tops of the rolls with melted butter.
Bake in the preheated oven for 20 minutes or until the rolls are golden brown and sound hollow when tapped with a knuckle.
Remove from baking sheet to cool on wire rack.
Nutrition Information:
Yield:

20
Serving Size:

1
Amount Per Serving:
Calories:

136
Total Fat:

4g
Saturated Fat:

2g
Trans Fat:

0g
Unsaturated Fat:

1g
Cholesterol:

17mg
Sodium:

135mg
Carbohydrates:

21g
Fiber:

1g
Sugar:

1g
Protein:

4g
I try but cannot guarantee this nutritional information is 100% accurate.