Slather your homemade bread in a wonderful, savory spread with this carrot jam recipe.
This is the kind of jam that you serve alongside cream cheese or sharp cheese not with peanut butter.
The Ultimate Guide to Preserving Vegetables
The original recipe came from the book The Ultimate Guide to Preserving Vegetables by Angi Schneider. This amazing book has so many tasty recipes for you to serve with and alongside many meals and, of course, with homemade bread.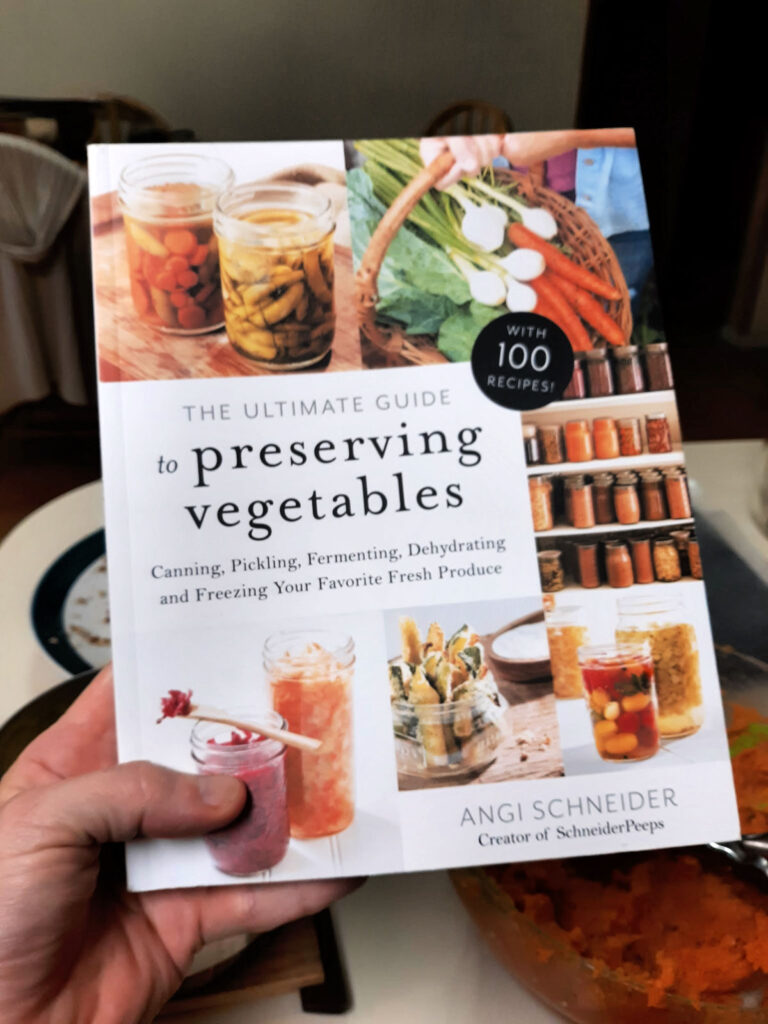 There are pickles and jams, ferments and soups, and so much more. The jams are inspired and unusual because they feature vegetables and are mostly savory applications.
The relishes, pickles, and slaws are perfect for featuring on sandwiches made from your homemade bread creations.
If you like to preserve vegetables and bake homemade bread, this is the perfect book to add to your cookbook collection.
Sweet and Tart
There is a fair amount of sugar in this recipe meaning that it is indeed sweet and yet the vinegar and lemon juice balance it all with a delightful sour note making it ideal for savory uses.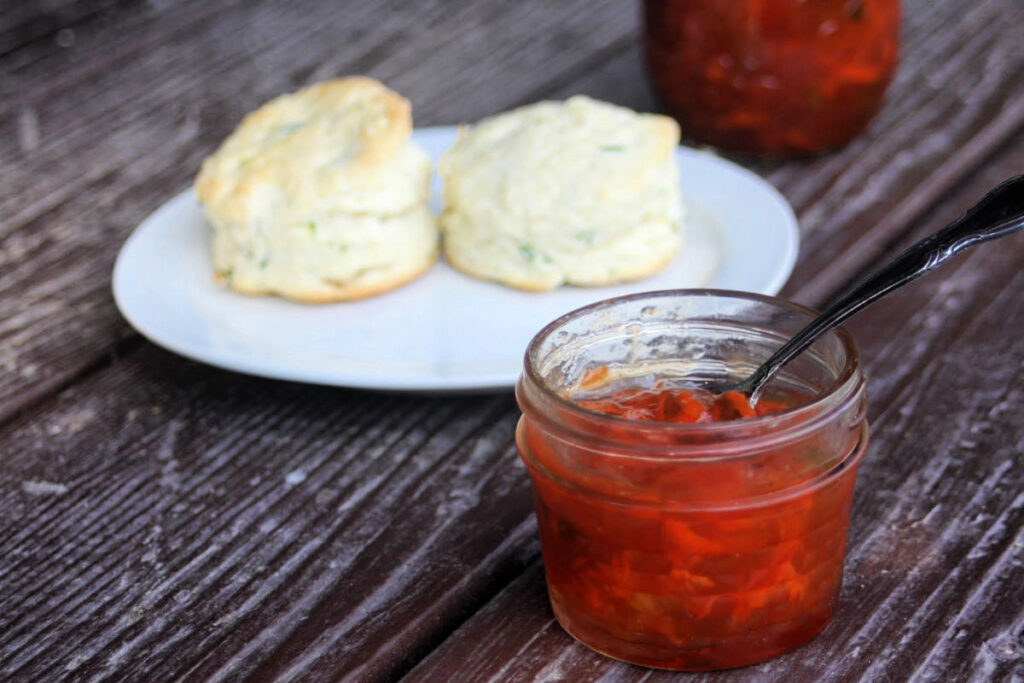 Jalapeno for Heat
There's just enough jalapenos in the recipe to give the jam a hint of heat. It's not overbearing nor is likely to send anyone running for a glass of milk.
Adjust the heat level by removing some or all of the seeds and veins of the peppers for a milder heat. However, there's enough sweetness here that leaving the seeds in still results in a mild heat level.
A Hint of Spice
When I first made this recipe, I considered leaving out the ground, dried spices. For my personal palate I felt like it wouldn't be quite right. I decided to follow the recipe exactly and leave them in. I'm glad I did.
The spices are barely there in the overall flavor and a quite wonderful addition for making this a more well rounded flavor.
How to Serve
Serve this jam alongside sharp cheese and bits of leftover roasted meats for a delicious and different sandwich.
Do slather it on top of biscuits, especially these savory chive biscuits.
Carrot jam is a natural choice for serving with crackers and cream cheese.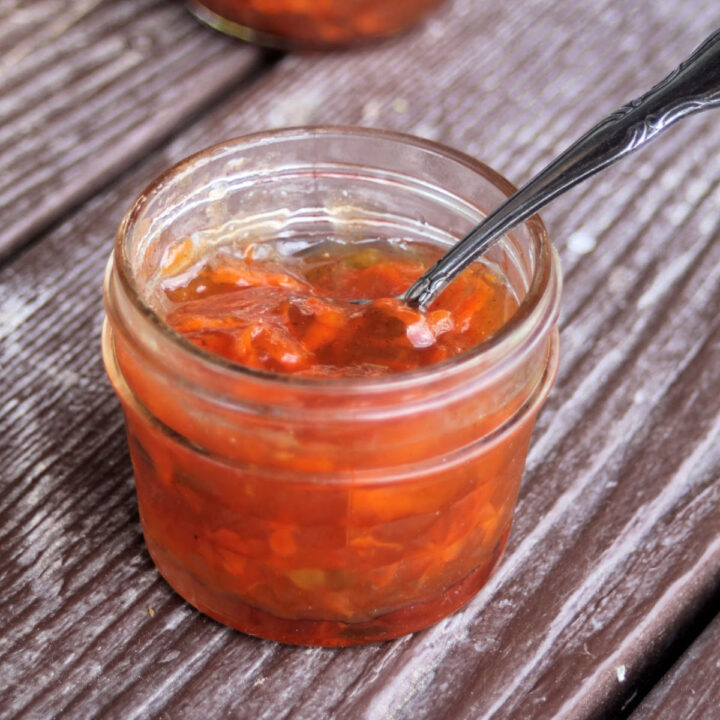 Carrot Jam
Sweet and tart, lightly spiced and mildly hot carrot jam is the ideal savory spread for crackers, biscuits, and more.
Ingredients
3 1/2 Cups Grated Carrots
1/2 Cup Chopped Jalapeno
1/2 Cup Apple Cider Vinegar
1 1/2 Cups Lemon Juice
1 teaspoon Ground Cinnamon
1/2 teaspoon Ground Cloves
1/2 teaspoon Ground Nutmeg
1/2 teaspoon Ground Allspice
4 Cups Sugar
Instructions
Get boiling water canner ready by filling half full and start boiling.
Prepare jars, lids, and rings.
In a heavy saucepan, combine carrots, jalapeno, vinegar, lemon juice, spices, and pectin. Stir well.
Get all the sugar measured and have it ready to add.
Bring the saucepan to a boil over medium high heat, stirring occasional.
Keep cooking until a full rolling boil is reached and the boil cannot be stirred down.
Add the sugar, all at once and stir well.
Bring the mixture back to a boil and boil hard for 1 minute.
Remove from heat.
Ladle the hot mixture into prepared jars, leaving 1/4" inch headspace.
Wipe rims, place lids, and tighten rings.
Process in a boiling water bath for 10 minutes, adjusting time for elevation.
Remove from canner, let cool. Check seals - if sealed, remove rings and store in the pantry. Store any unsealed jars in the refrigerator.
Recommended Products
As an Amazon Associate and member of other affiliate programs, I earn from qualifying purchases.
Nutrition Information:
Yield:

96 Tablespoons
Serving Size:

1 Tablespoon
Amount Per Serving:
Calories:

37
Total Fat:

0g
Saturated Fat:

0g
Trans Fat:

0g
Unsaturated Fat:

0g
Cholesterol:

0mg
Sodium:

5mg
Carbohydrates:

9g
Fiber:

0g
Sugar:

9g
Protein:

0g
I try but cannot guarantee this nutritional information is 100% accurate.